Discover more from Braddock Buzz
a weekly newsletter covering central Fairfax County
Over 1,000 subscribers
Cinema Arts Theater prepares for Phase 3 reopening - Fairfax City Council to vote on controversial Northfax West development - County supervisors to approve five-year infrastructure plan
Meet Lord Fairfax, the 65-pound alligator snapping turtle - Northam's Phase 3 to allow social gatherings of up to 250 - Fairfax High School nixes Rebel mascot
Welcome to Wakefield Weekly, where we're working to build community through hyperlocal news. We hope everyone enjoyed Father's Day as much as we did—we dropped the kids off with their grandparents and had a mom-and-dad weekend. Please reach out to us with news, tips, events, featured photo submissions, and more at wakefieldweekly@gmail.com
Cinema Arts Theater prepares for Phase 3 reopening: We recently caught up with Mark O'Meara, owner of the longtime community fixtures Cinema Arts Theater in Fair City Mall and the University Mall Theaters by George Mason. O'Meara, whose theaters have been shuttered since March, is preparing to reopen at 50% capacity as part of the Phase 3 guidelines released last week by Gov. Ralph Northam, who hasn't yet announced a target date. In the meantime, O'Meara has been selling curbside popcorn and other concessions and offering streaming movies through the Cinema Arts website—generating enough revenue to keep about half of his employees on the payroll.
Our conversation with O'Meara is below, edited for length and clarity.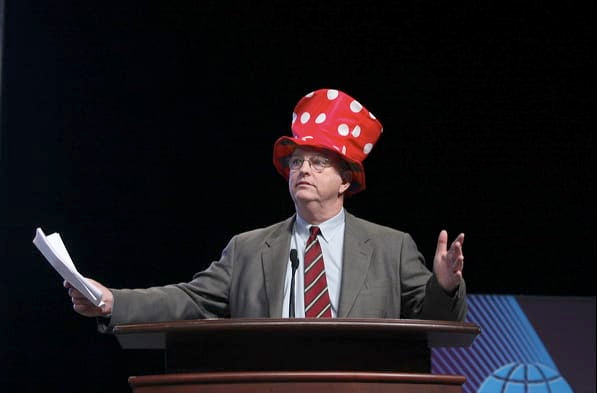 Pictured: Mark O'Meara
Wakefield Weekly: What has the COVID-19 shutdown been like for your theaters?
O'Meara: March 17 we just shut down. We go from regular, normal, to zero. It was pretty shocking. It's still shocking. You have to tell all the kids, "You can't work." It was unpleasant. Had to do it, but it was still unpleasant.
W.W.: What do you think about being able to operate at 50% capacity once we move to Phase 3?
O'Meara: We can do that. We can make that real easy. Fifty percent capacity I think is reasonable, but we're not in a huge rush. I've been asking people, and they really want to come, but they're not in a hurry. So I'm not in a hurry. 
W.W.: What has the shutdown been like for your employees?
O'Meara: I had to tell everybody they can't work for a while, then I said, "Let's try this popcorn thing." We got some really good publicity—an article in Variety. At University Mall, it's been kind of steady—about a third of the revenue that I normally do. Cinema Arts is worse. I looked at May and our total income, non-donation related, was like 95% less than last year's May. Thank God the [Paycheck Protection Program] loans came around. That helped.
W.W.: Have your landlords been understanding?
O'Meara: One place, they offered to let us postpone the rent. The other one is like, "Here's your due date—we'll give you an extra thirty days." So now I'm three months behind and I don't know what that means. I'm all about solutions—let's figure this out. They got their bills. They have to go to their big-money people, and they've got the same situation. It's tough. I'm not trying to lead a rent strike or anything—it's just, I don't got the money.
W.W.: How much longer can you operate like this?
O'Meara: It depends what they do. I'm a believer that we can all share the pain. I'm paying my common area maintenance and real-estate taxes. I'm paying that much—that's my good-faith effort because I can't afford the regular base rent. If we can share the pain, if they can reduce it somehow, or, there's things like adding time at the end of your lease so they know they have a tenant for longer. There's lots of little solutions, and so far they've just stuck to their guns in holding my feet to the fire. And I'm like, "We need to work together and share the pain."
W.W.: Are you worried about this being an existential threat to your business?
O'Meara: It's going to be very interesting and a slow comeback. I know people want to go to the movies, but they're going to be a little bit shy. We're going to try to open slowly, to bring in some old movies to have people come in and go, "Oh, wow, it's very safe—we all had our masks on in the theater and they had shields up and there were very few touches and I felt safe." The word will get out, and then when we get some better movies in later July, then we can rock and roll.
W.W.: Which old movies do you think will draw people back?
O'Meara: We had a call with theater guys from around the country, and they were doing "Indiana Jones" and one played "E.T." for families—they're getting back to some of the classics.
W.W.: You've been doing this almost three decades. What led you to get into the theater business in the first place?
O'Meara: We moved here and my wife had a job at Sibley as a nurse, and I was Mr. Mom, and I walked by University Mall and the theaters were closed. I thought, "I wonder what that business is like." I started doing research. I felt comfortable with the hiring and firing because I ran the student union at Columbia University. And I felt comfortable with HVAC and all that kind of stuff—I just didn't know how to run a projector and get a movie. So that's what I did the research on. I said, "Let's give it a shot," and I did it, and here 29 years later we're still going.
W.W.: Is there anything you'd like to add?
O'Meara: The customers have been wonderful. We've just had so much love come our way. It's awe-inspiring, humiliating, makes me feel humble. Unbelievable.
---
COVID-19
Northam's Phase 3 will allow social gatherings up to 250: Despite not having a target date yet, the governor has unveiled sector-specific guidelines for the next phase of his plan to reopen the state, which will allow social gatherings of up to 250 people, an increase from the current 50. Other loosened restrictions will include:
Restaurants will be able to expand from the current 50% max capacity for indoor dining to just the requirement that they maintain six feet of distance between tables

Fitness centers will be able to operate at 75% capacity, up from 30%

Swimming pools will be able to expand operations to allow free swim

Swim team practices and other water exercise classes will be permitted as long as 10 feet of distance is maintained between participants

Recreational sports will also be permitted with the 10-foot requirement
---
Featured Photo #1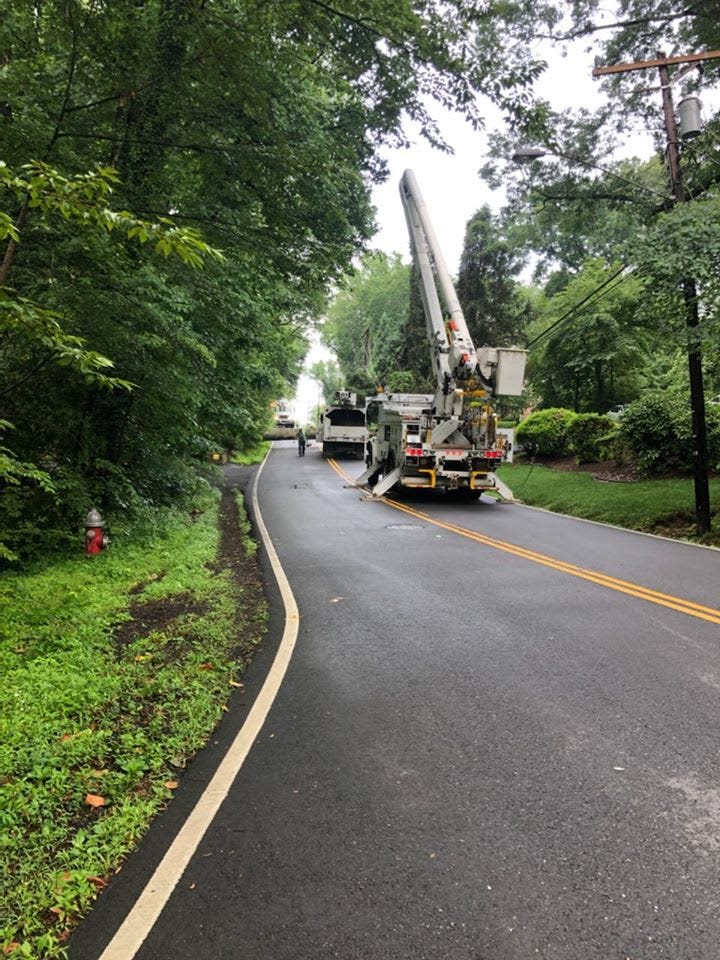 Power outage on Duncan and Briar Creek: Wakefield resident Kristen Anderson snapped the photo above of workers removing a tree that fell on power lines Friday night on Duncan Drive. Power was out for a good chunk of Saturday for houses on Duncan and Briar Creek.
---
Local Government
County supervisors to approve five-year infrastructure plan: The Fairfax County Board of Supervisors will meet tomorrow to approve the FY2021-FY2025 Capital Improvement Program, an infrastructure roadmap funded in part through a $441 million bond referendum that will be put before county voters this November. The 245-page plan lists hundreds of projects set to take place over the next five years—upkeep, renovations, and new construction—including several near the Wakefield area:
$30.5 million in FY22 for the dredging of Lake Accotink, which requires "remedial actions" to prevent silting, according to the plan. "The current recommended dredging strategy includes dredging to restore the lake to an average depth of 8-foot dewatering and disposal of dredged sediment off-site," the plan says.

$15 million to renovate George Mason Regional Library, which "is plagued with an antiquated layout that does not adequately reflect modern library design, usage, or aesthetics." In addition, the library has "suffered from recurring issues with the HVAC, inadequate electrical wiring to support device usage by customers, and a myriad of other facility related repairs/incidents." The renovation is scheduled for FY23-FY25.

$18.8 million to build 60 affordable housing units as part of the Little River Glen Senior Center off Little River Turnpike near Woodson High School. Construction is set for FY23-FY24.

$600,000 to continue an ongoing project to build 240 affordable housing units and 333 student housing units at the intersection of Route 123 and University Drive as part of the "One University" project supporting George Mason University.
Fairfax City Council to vote on controversial Northfax West development: The Fairfax City Council is set to vote tomorrow on the proposed Northfax West development that has drawn the ire of environmental groups. The 11-acre site is located at 3570 Chain Bridge Road, where the developer wants to convert a parking lot into 56 townhomes and a 200-unit senior living facility. But the current proposal would destroy a portion of the "North Fork" section of Accotink Creek, according to the Audubon Naturalist Society and Friends of Accotink Creek. The groups describe the area around the stream as a "green corridor" that supports birds, mammals, fish, and salamanders. They're asking the City Council to postpone approval of the project (and some related projects) to allow time to seek alternative development proposals that would preserve healthy portions of the stream. 
Information on how to participate in tomorrow's 7 p.m. hearing is here.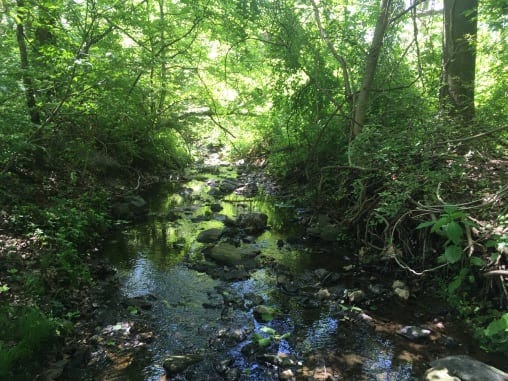 Pictured: North Fork section of Accotink Creek | Courtesy, Audubon Naturalist Society
---
Animal Control
Why did the turtle cross the road? Last week, we told you about a black bear that kept showing up in people's backyards. Our out-of-place animal this week is a 65-pound alligator snapping turtle who was found crossing a street in a residential area of Alexandria. According to the Virginia Department of Game and Inland Fisheries, the "common" snapping turtle is native to this area, while the "alligator" variety is native to the states that border the Gulf of Mexico—and this turtle likely would not have survived long in Virginia's climate.
But never fear: The turtle, who's been given the name Lord Fairfax, has found a suitable home at the Virginia Zoo in Norfolk. He has also gained quite a bit of notoriety—with his story being picked up by CNN. The Department of Game and Inland Fisheries has this message for anyone considering a turtle as a pet: "Please do your homework first and find out what it takes to provide adequate care for a lifelong commitment."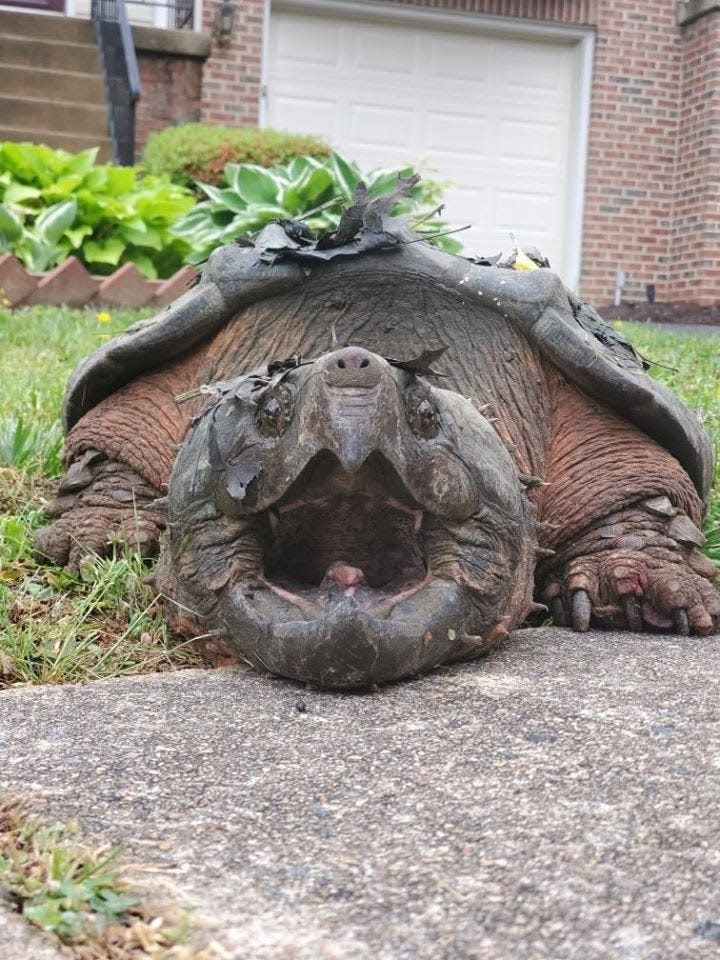 Pictured: Lord Fairfax | Courtesy, Fairfax County Police Department
---
News In Brief
---
Events
---
Featured Photo #2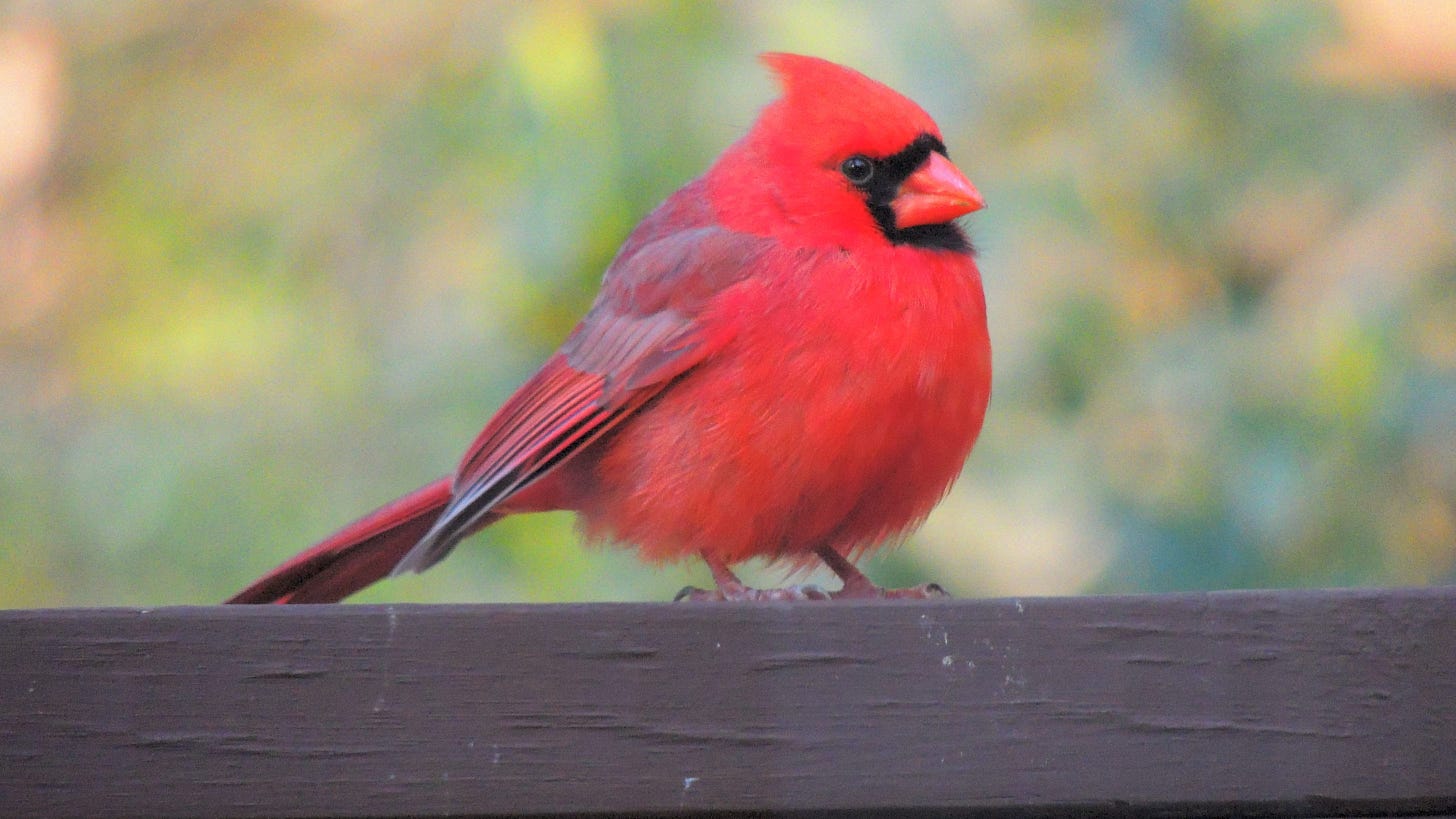 This one comes to us from neighbor Magaly Gomez, who spotted this bright cardinal in Chapel Square on Toll House Road. Submit your photos to wakefieldweekly@gmail.com to be featured!
---
Real Estate
On the market
4711 Wakefield Chapel Rd | $735,000
4 beds, 2.5 baths, 1,677 sf
Listed by Phan Pham | Fairfax Realty Select 
8200 Briar Creek Dr | $799,888
4 beds, 2.5 baths, 2,877 sf
Listed by Debbie Dogrul and Jay D'Alessandro | Long & Foster Real Estate, Inc.
4500 Fidelity Ct | $674,900
4 beds, 3.5 baths, 2,112 sf
Listed by Luis Lugo | LPS Real Estate, LLC 
8604 Norfolk Ave | $1,449,900
6 beds, 6.5 baths, 5,750 sf
Listed by Lynne DePaso | Land & Homes LC 
Recently sold
5129 Red Fox Dr | $677,500
4 beds, 2.5 baths, 2,390 sf
Listed by MaryAshley Rhule and Melanie Pissarius | Compass
Bought with Anna-Louisa Yon | Compass 
8405 Stone Gate Dr | $750,000
4 beds, 3.5 baths, 3,016 sf
Listed by Cary Fichtner-Vu | RE/MAX Allegiance
Bought with Cary Fichtner-Vu | RE/MAX Allegiance 
4510 Mullen Ln | $596,000
4 beds, 3 baths, 1,774 sf
Listed by Melissa Weinberg and Renee Mumford | RE/MAX Executives
Bought with Ryan Mills | Redfin Corporation
8925 Cheltonham Pl | $790,000
5 beds, 5 baths, 3,234 sf
Listed by Elizabeth Lucchesi | Long & Foster Real Estate, Inc.
Bought with Marcella Oakley | RE/MAX Distinctive Real Estate, Inc. 
---
Thank you for reading Wakefield Weekly! Contact us at wakefieldweekly@gmail.com with news, tips, events, featured photo submissions, volunteer opportunities, or just to say hello.