Discover more from Braddock Buzz
a weekly newsletter covering central Fairfax County
Over 1,000 subscribers
Woodson bids farewell to seniors - Area pools take different approaches to Phase 1 reopening - An interview with Peet's Coffee District Leader Will Crawford
FCPS to release Wakefield Forest Elementary design proposal this fall - Northam signs executive order requiring face masks - Deck renovation, before and after
Welcome to June—and to Wakefield Weekly, where we're working to build community through hyperlocal news. We continue to be thrilled and humbled by the response to the newsletter—we're up to more than 430 subscribers. We've gotten quite a bit of feedback over the past six weeks, including some readers who think we should change the name (since we cover more than just Wakefield) and others who'd like to see us break the newsletter into smaller chunks sent out over multiple days. Next week we'll include a link to a reader survey to gauge reaction to these and other suggestions as we continue to learn and adapt. Please feel free to contact us anytime with your thoughts on how we can deliver a better reading experience at wakefieldweekly@gmail.com.
State of Emergency
Protests erupt in D.C., Northern Virginia: Gov. Ralph Northam declared a state of emergency yesterday—mobilizing the Virginia National Guard and instituting an 8 p.m. curfew for the city of Richmond—as demonstrations spread across the state over the death of George Floyd while in police custody in Minneapolis on Memorial Day. The Washington Post has a live blog covering the protests in D.C. and across the nation here. Meanwhile, Inside Nova has coverage of demonstrations over the weekend in Woodbridge, Stafford, and Manassas, where five protesters were arrested Saturday night and seven law-enforcement officers were reported injured.
In a statement, Fairfax County Police Chief Edwin Roessler Jr. said Floyd's death "has troubled all of us in law enforcement," adding: "We must be mindful there is a healing process where righteous anger needs to be constructively exercised through the right to free speech." He noted that Fairfax County has updated its use-of-force policies in recent years based on feedback from the community.
---
Pandemic
A business leader's perspective
Peet's Coffee reopens as Northern Virginia begins loosening COVID-19 restrictions: We chatted with Wakefield Chapel resident Will Crawford to get a sense of what it means for area businesses now that Northern Virginia has entered Phase 1 of Gov. Northam's plan to reopen the state. Crawford is a Peet's Coffee district leader who manages the company's 16 stores in Northern Virginia, D.C., and Southern Maryland—including the Peet's on Pickett Road. The Pickett location and five others reopened last Thursday after being closed for two months, offering at-the-door service in what Crawford describes as a "glimmer of normalcy."
Our conversation with Crawford is below, edited for length and clarity.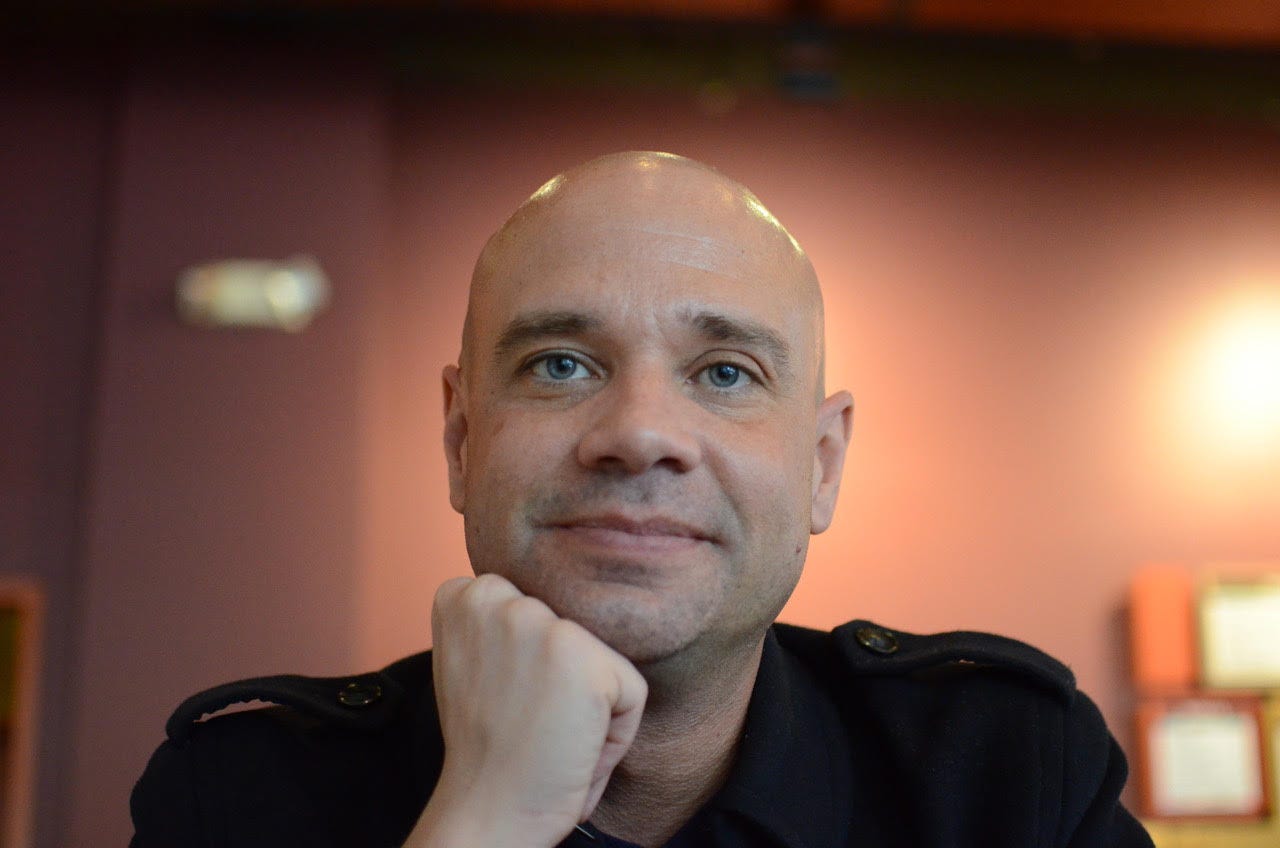 Pictured: Will Crawford
Wakefield Weekly: Describe what Thursday was like, your first day of reopening.

Crawford: It was very hopeful. I was very uplifted by what I saw. You know, we have fans. We have customers who are very loyal to our brand, and they came out. Sometimes you worry if you shut down that you're going to lose people permanently, but it was good to see our loyal customers come back, and it does give me hope that we'll be able to build on that and see more customers as we go along.

W.W.: From a customer's perspective, can you describe the modifications?

Crawford: We're serving everybody at the front door. You can just walk up to the front door and you won't be able to come into the store, but we've positioned all of our registers at the front door with tables to pick up your orders. So, you can order at the front door and pick up your order right there, or you can do mobile order ahead. Peet's has an app that you can get on Apple and Android devices and you can order your food and beverage ahead and just come pick it up. We also have a partnership with DoorDash, so you can order and have your coffee and food delivered to you.

W.W.: What are the modifications from an employee's perspective?

Crawford: Peet's provides masks for all of our employees, and we do practice social distancing, both with our customers and inside the store. For our customers, we've put lines on the sidewalk for social distancing purposes. Our employees, the way we deploy them inside the store, they're assigned certain stations so that way we keep separated. We also wear masks even if you're inside the store, so if you do have to walk by somebody and that's within six feet, you still have a mask on to stay safe. We have restaurant-grade, industrial-grade cleaning and sanitizing solution. We've always been good with cleanliness, but there's even more of a heightened awareness around wiping down surfaces. That includes things like the keypads at the registers. If a customer needs to type in a pin number on a keypad, once something like that is touched, it immediately gets wiped down before the next customer comes up. 

W.W.: What was the impact to employees of stores being closed for two months?

Crawford: The stores that were closed during the shutdown, those employees were furloughed—still employees of Peet's, but in a furlough status. Every two to three weeks we would update the employees on their furlough status. As we open up those stores, we do invite those employees to come back to work, and if they want to come back to work, then they do come back to us.

W.W.: Do you have a high rate of employees returning?

Crawford: Yes. We opened up six locations, and I would say 95% of those employees came back. There are some employees who have chosen to stay home, and they are still employees with us, but they're just on a leave of absence. They're still employed by Peet's and they'll return to work when they want to.

W.W.: Do you think Peet's reopening represents a small sign of a return to normalcy for people?

Crawford: Certainly. I think everybody's looking for that. But it is a new normal. My customers showed up with masks on Thursday. To be honest, I was watching that carefully, and I saw, out of hundreds of customers, maybe five people who came to the store not wearing a mask. Going to a coffeeshop is something that's part of a person's daily routine—you show up at the same time, the same day, and get the same beverage. That's a powerful thing. And that's a powerful thing that makes people feel whole and helps them connect with the community. Opening up and providing that again definitely has given our customers that sense of normalcy again, even though it's not normal to stand outside the store, you know, and wear a mask when you're there. But there's that glimmer of normalcy, that glimmer of hope that we'll get through this together.

W.W.: Last question—how many cups of coffee per day do you drink?

Crawford: Some days I lose count.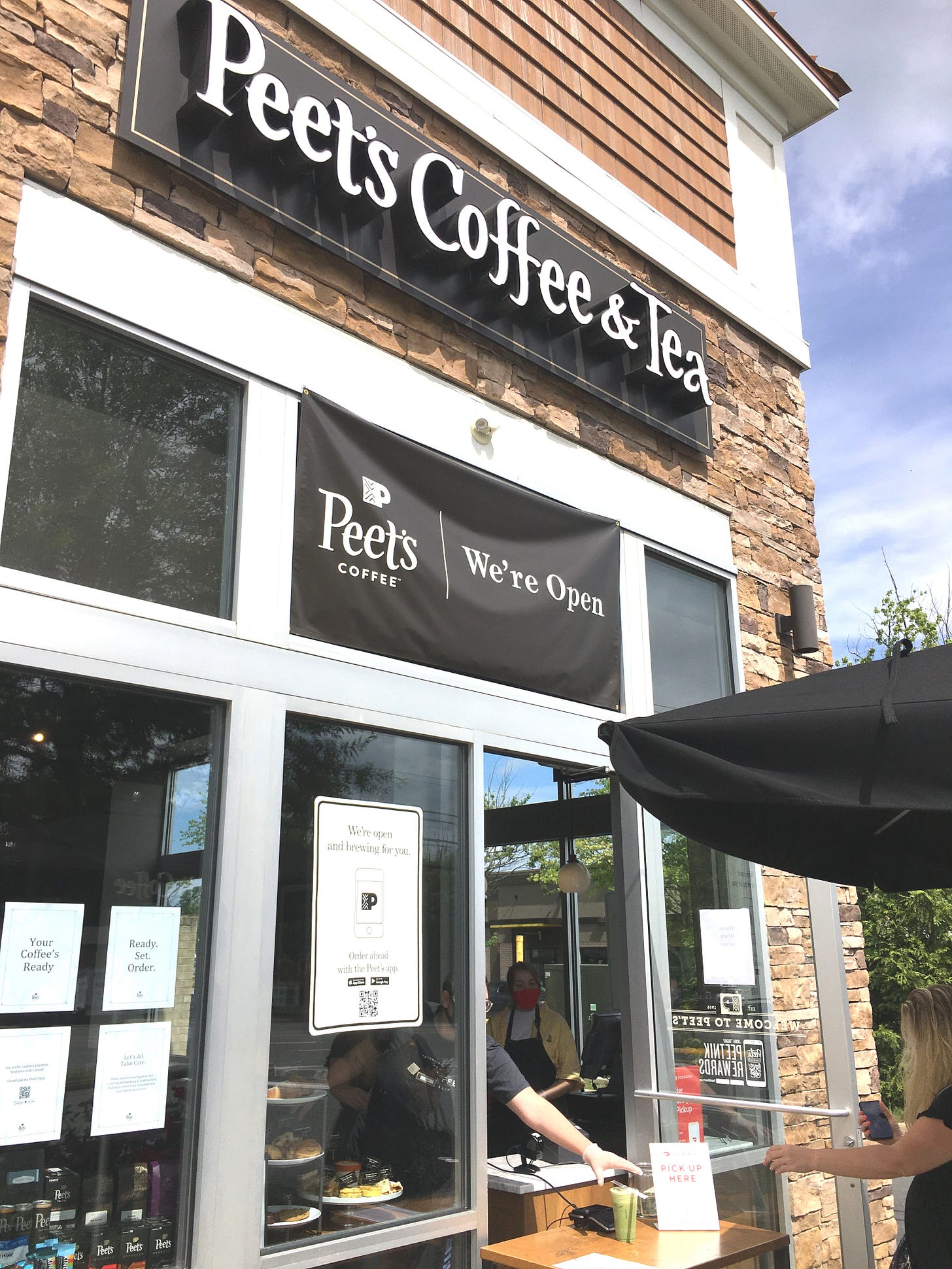 ---
Fun in the sun?
Area pools take different approaches to Phase 1: Northern Virginia's entry into Phase 1 on Friday means community pools can now open for the summer—but for lap swimming only, with a maximum of 10 guests at a time. The Mantua Swim and Tennis Club has announced it will do exactly that, operating each day from noon to 9 p.m. with lap swimmers reserving one-hour sessions. The Mantua swim team is also offering limited "fitness training"—an attempt to have a Mantua-only swim league this summer following the Northern Virginia Swimming League's decision to cancel the season.
The Camelot Community Club is also moving forward with its plan for a limited opening, allowing three member families at a time to rent pool slots. "We have a good number of signups (around 60% full), and we're learning a bit as we go along," Camelot President Abraham McAllister says in an email. 
For its part, the Wakefield Chapel Recreation Association will remain closed during Phase 1 and is looking to reopen once Northern Virginia enters Phase 2, which could be as early as June 13. In an email to members, WCRA President Brad Otto said that with 2,000 total members and a 10-guest limit, there would have been no way to "reasonably provide fair access to the facility." He also noted WCRA doesn't currently have enough certified lifeguards because of "local restrictions limiting the training required for new certifications." If the pool were to open, it would be required to have a pool operator and three guards on duty—a prospect Otto said would "not be fiscally responsible" given the 10-guest limit. He added that there would be a number of restrictions in place once the pool is able to open during Phase 2. These are likely to include:
Reserved time slots limiting total facility capacity

The elimination of most communal furniture for community use

Regular hard surface cleaning and hand sanitizing stations

A waiver explicitly detailing acceptable use and liabilities

No snack bar operations
---
Schools
FCPS to release Wakefield Forest design proposal this fall: In last week's edition, we provided an update on Wakefield Forest Elementary School's planned renovation, which is intended to stave off a looming overcrowding problem. Fairfax County Public Schools has since gotten back to us with additional information—including that officials plan to unveil a proposed design this fall that would increase the school's capacity from 560 to 800.
Rebecca Baenig, assistant superintendent for Region 5, says FCPS has completed a "preliminary site analysis," which was conducted in response to public feedback received during a community meeting held May of last year. The analysis has determined the school can be enlarged to handle the projected increase in student enrollment. This means boundary adjustments—which had previously been under consideration—will not be necessary through at least 2025, according to Baenig.  "FCPS staff conducted a preliminary site analysis and determined that enlarging the building can sufficiently provide capacity relief based on the projected student membership," she tells us.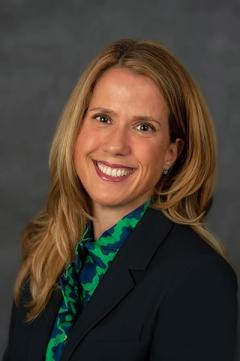 Pictured: FCPS Assistant Superintendent Rebecca Baenig
The renovation has moved into the "design phase," Baenig says, with the proposed design set to be presented to the community in the fall. She adds that the proposal will likely include measures to expand the school's roadway infrastructure to accommodate additional traffic. "A third-party traffic consultant may be utilized to analyze the impacts on the site and the infrastructure supporting the school," Baenig explains. "Early indications suggest improvements to the site to allow for more queuing through the design and development of an expanded kiss and ride. The expanded kiss and ride will be part of a plan which will alleviate the stress placed on the roadway infrastructure supporting the school site."
Construction is scheduled to take place from FY22-FY24 at a cost of about $30 million, with funding contingent on county voters approving a bond referendum planned for fall 2021.
Woodson bids farewell to seniors: What was surely one of the weirdest years in FCPS history came to an end last week for seniors, with teachers at Woodson High School saying goodbye to their graduates. In a message to the community, Principal Carlyn Floyd described it as a "bittersweet" moment. "While teachers are busily trying to wrap up the school year for everyone, they said goodbye to their seniors,"  Floyd said. "Knowing they are off to amazing opportunities in work, school or the military is comforting, yet knowing they may not see these students face to face in the school setting again as their teacher is definitely emotional."
Virtual art show highlights work of grads: As part of its sendoff to graduates, Woodson's 2020 art show was released virtually last week—and was dedicated to the work of the school's departing seniors. The entire art show can be viewed here. As a sampling, we got permission to feature the painting "Burke Lake" by senior Erik Brenner, who's set to attend Christopher Newport University in the fall: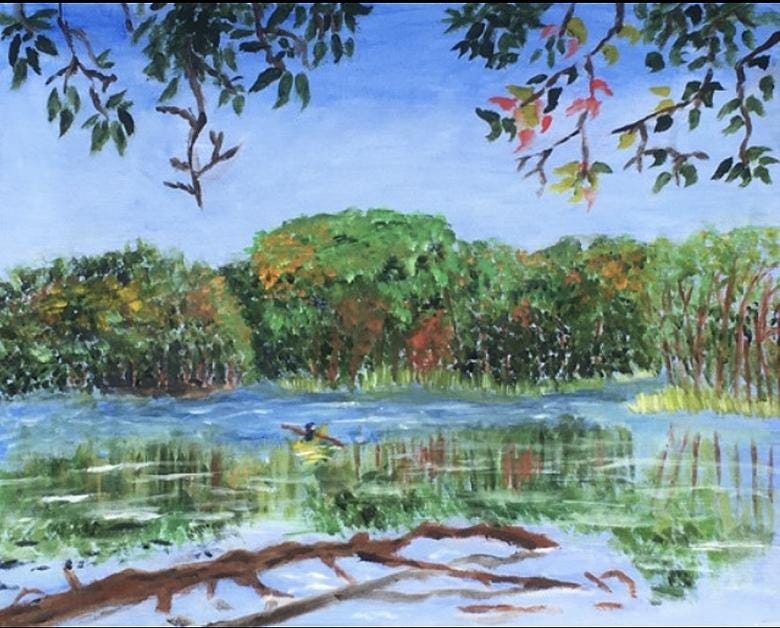 "I painted Burke Lake because I have many memories from there over the years, from riding the train, playing mini golf, getting ice cream, and walking my dogs," Brenner tells us. "We were on a W.T. Woodson art field trip and this was a great way to memorialize those memories as I finished up my senior year." Kudos to Brenner's art teacher, Jayne Matricardi-Burke, and the rest of the Woodson Fine Arts Department for putting together such a great senior show.
---
News in Brief
---
Public Safety
West Springfield District Crime Briefs
Weekend recap, 5/22-05/25:
Larceny: 6000 block of Burke Commons Road, wallet from vehicle

Larceny: Jeffery Farm Road/Hooes Road, purse from vehicle

Larceny: 7600 block of Roanoke Avenue, cell phone and wallet from residence

Larceny: 8400 block of Old Keene Mill Road, bicycle from location

Larceny: 6200 block of Rolling Road, merchandise from business
Tuesday, 5/26: 
Larceny: 9500 block of Old Creek Drive, lawn cart from location

Larceny: 9500 block of Old Keene Mill Road, merchandise from business

Larceny: 10300 block of Regency Station Drive, leaf blower from residence

Larceny: 5100 block of Bradfield Drive, leaf blower from residence
Wednesday, 5/27:
Larceny: 8900 block of Cotswold Drive, copper coils from business

Larceny: 7600 block of Allman Drive, package from residence
Thursday, 5/28:
Larceny: 5700 block of Rexford Court, license plates from vehicle

Larceny: 10300 block of Premier Court, bicycle wheels and seat from residence
Source: Fairfax County Police Department
---
Real Estate
Renovation Spotlight
With all time we're spending at home in quarantine, many of us are embarking on home improvement projects large and small. In this section, we bring you satisfying before-and-after photos of Wakefield-area home projects.
Email us at wakefieldweekly@gmail.com if you'd like to show off your recent reno!
Before:
Neighbor Rachel Albert, who's lived in her home in Truro for five years, says she had not done much to maintain her deck since moving in. With paint peeling and years of dirt accumulation, the deck was in need of some maintenance, so she called Miguel at Velasquez Services (708-916-0561).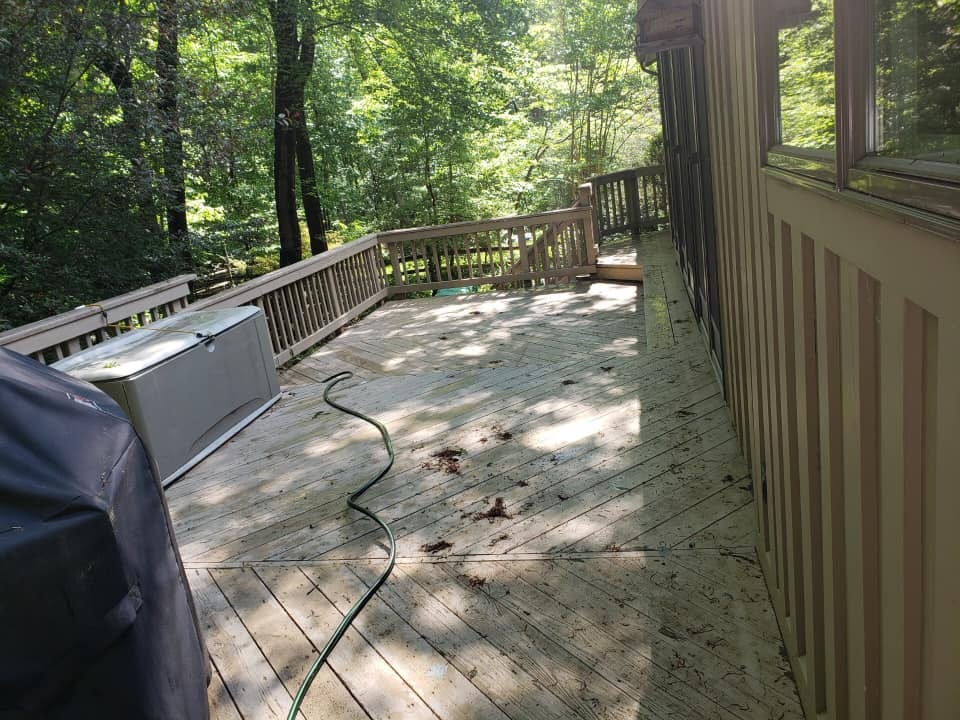 After:
Albert was so pleased with the results of her deck and the level of service that she recently shared Miguel's contact information with neighbors via Facebook. "Miguel and his team were great," Albert says. "The team wore masks when speaking to us, were prompt, efficient and friendly. ... I'll definitely call them again in the future."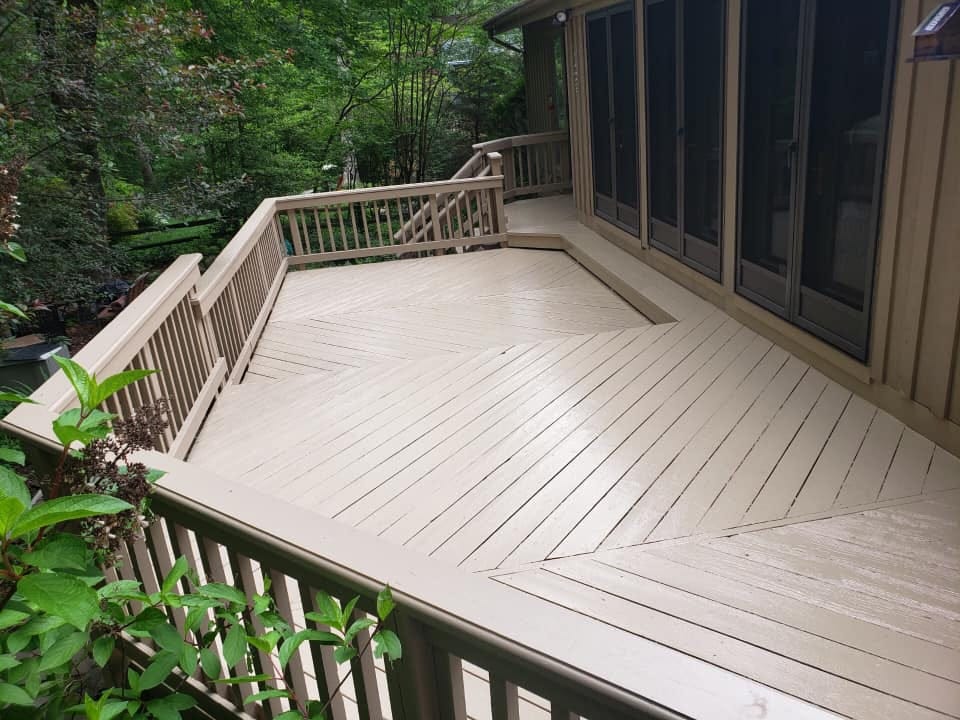 On the market
9021 Braeburn Dr | $600,000
4 beds, 3 baths, 2,250 sf
Listed by Jennifer Mack | Pearson Smith Realty, LLC 
4702 Declaration Ct | $749,999
5 beds, 3 baths, 2,363 sf
Listed by Cary Fichtner-Vu | RE/MAX Allegiance 
4500 Fidelity Ct | $689,900
4 beds, 3.5 baths, 2,112 sf
Listed by Luis Lugo | LPS Real Estate, LLC
4215 Holborn Ave | $765,000
4 beds, 3 baths, 2,600 sf
Listed by Amy Shafer | KW Metro Center
8604 Norfolk Ave | $1,449,900
6 beds, 6.5 baths, 5,750 sf
Listed by Lynne DePaso | Land & Homes LC
8618 Pappas Way | $705,000
4 beds, 2.5 baths, 2,562 sf
Listed by Jon DeHart | Long & Foster Real Estate, Inc.
Recently sold
5128 Bradfield Dr | $660,000
5 beds, 2.5 baths, 1,700 sf
Listed by Georgia McLaughlin | Long & Foster Real Estate, Inc.
Bought with Antonio Nguyen | Keller Williams Capital Properties 
---
Thank you for reading Wakefield Weekly! You can contact us at wakefieldweekly@gmail.com with news, tips, featured photo submissions, volunteer opportunities, or just to say hello. And, if you haven't already, we hope you'll subscribe using the button below.