Discover more from Braddock Buzz
a weekly newsletter covering central Fairfax County
Over 1,000 subscribers
Welcome to the second edition of Wakefield Weekly - WCRA President Brad Otto discusses summer pool season - Woodson football standouts profiled by college recruiting site
Debbie Dogrul tops our Q1 list of Wakefield's top real-estate producers - Wakefield Farmers Market remains closed as others begin re-opening - Police body-worn cameras delayed for Wakefield's district
Welcome to the second edition of Wakefield Weekly! We're so thankful for the enthusiastic response to last week's issue—more than 140 people have signed up. We hope you'll tell your friends and neighbors about the newsletter so we can continue to grow our subscriber list and be a trusted, independent source of news and information for the Wakefield community. Huge shoutout to those who've offered words of encouragement, including Lisa Sanshel, Amy Gardner, Siobhan Green, Kirsten Lee Howard, Kathleen Miller, Susan Gledhill, Barbara Young Rowe, Katie Roessler, Chris Sicks, Zeyneb Baber Pehlivan, and Tanya Munro Erway. And a special thanks to Braddock District Supervisor James Walkinshaw, who retweeted the newsletter to his Twitter followers.
For those receiving this newsletter for the first time, the goal of Wakefield Weekly is to foster a stronger sense of connection with our neighbors and encourage community engagement, which we believe people need now more than ever. We're also seeking to provide a model for hyper-local news in a difficult media environment in which national issues seem to grab all the attention. Wakefield Weekly is delivered to our subscribers' inboxes every Monday morning, offering a concise rundown of topics of importance to Wakefield residents, such as schools, crime, real estate, events, volunteer opportunities, and more. 
You can reach us at wakefieldweekly@gmail.com, and we hope you won't hesitate to reach out with news, tips, volunteer opportunities, submissions for our featured photo, or just to say hello.
For those who haven't already, you can subscribe using the button below.
Fun in the sun?
Local pools await governor's orders on summer pool season: It's a question on the minds of many Wakefield parents, especially with dues deadlines approaching: Will the pool be open this summer? The frustrating answer is that nobody knows. Pool leaders and county officials are awaiting direction from Gov. Ralph Northam, whose March 30 stay-at-home order remains in effect through June 10. Northam has issued general guidelines for a phased reopening—but the first phase won't begin until there's been a 14-day decline in COVID-19 cases and hospitalizations, and even then there will still be limits on recreational activities and public gatherings.
We emailed with Cathy Stephens, a senior commerce and trade official in the Northam administration, who told us the governor is working with public health officials and other experts to develop "guidance on operating procedures for different industries." She didn't indicate when that guidance would be issued, besides noting Northam's 14-day benchmark. In Fairfax, the Health Department is continuing to "monitor the situation" and is preparing its staff "for a delayed pool season," said spokesman John Silcox, adding that "decisions regarding limitations on recreational activities (to include social distancing requirements) are being made at the state level by the Governor's office."
In a forum last week with the Truro Homes Association, Braddock District Supervisor Walkinshaw said he understood the urgency of the situation and was pressing state and county health officials to move faster. "I am pushing to get some clarity and guidance because I know our pools are in the middle of needing to plan," he said. "If it's gonna be a delay, they need to know there's a delay, and if it's gonna be closed for the summer, they need to know it's gonna be closed. We got to figure out how to support them and keep them afloat, for lack of a better term, through the season."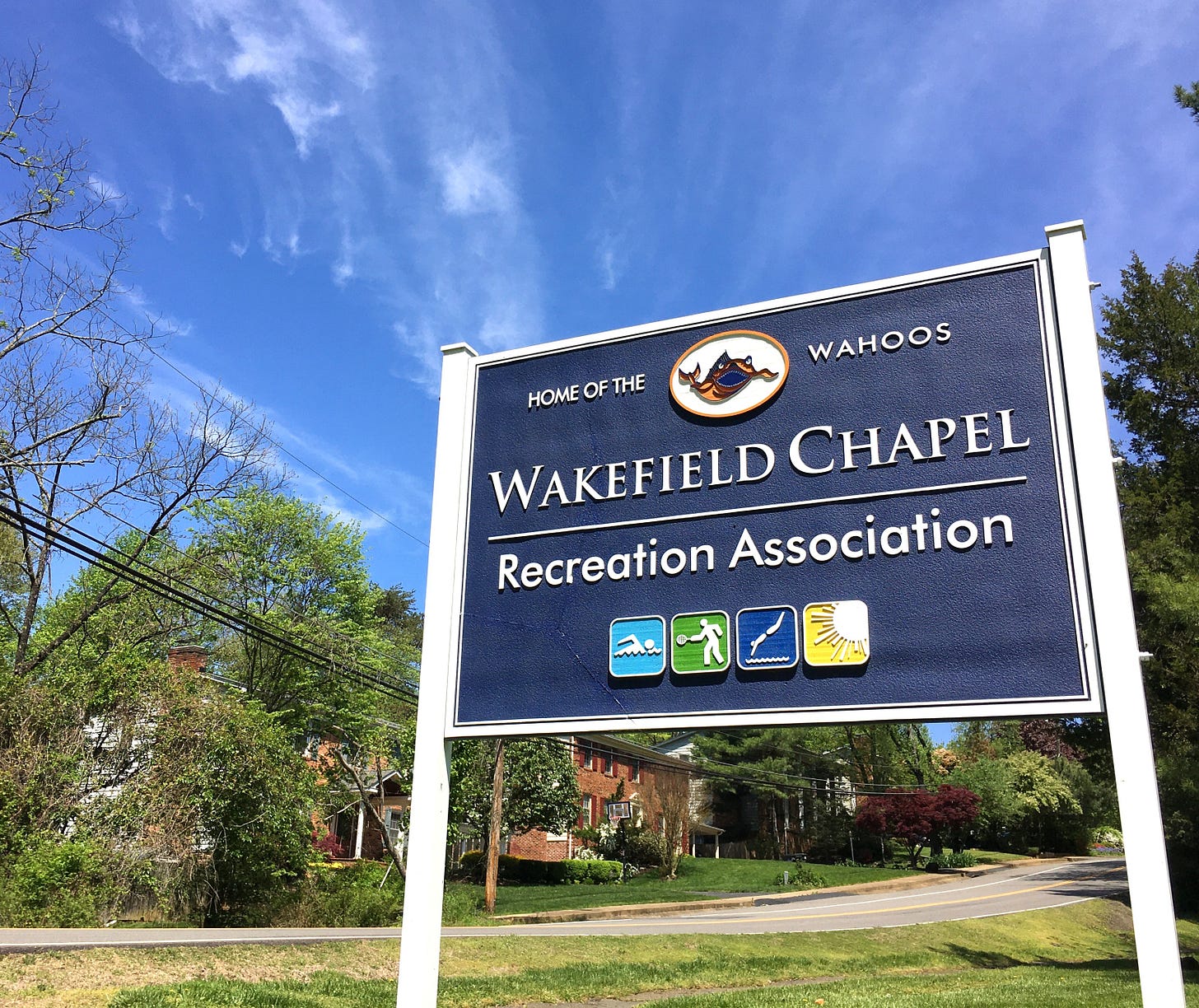 WCRA prepares to open "in some capacity:" In the absence of clear direction from the state and county, local pool leaders are doing their best to prepare for all possibilities. Below is an interview with one of those pool leaders—Brad Otto, president of the Wakefield Chapel Recreation Association, which has 518 member families and a budget this year of $356,000. Otto became WCRA's president in January after serving for two years as Director for Long Range Planning.
Wakefield Weekly: Is WCRA planning for the possibility of a cancellation or partial cancellation of the summer season due to COVID-19?  

Otto: We are preparing for the pool to be open in some capacity this summer, and are waiting on direction from state and local authorities as to what that capacity will be and when we will be able to open.

WW: How and when will a decision be made on whether a closure or partial closure is necessary? Is there any authority (for example, county or state government) offering guidance on this? 

Otto: We are hopeful that a decision will be reached during a regional meeting of NoVA health departments the week of May 3rd. The last scheduled meeting was in early April and was cancelled. There is presently no guidance from any state or local authorities other than the requirement that community pools be properly cleaned and treated to prevent them from developing into community health hazards.

The Health Department issues permits with the number of allowable patrons at any time. When we get a permit to open this summer, we anticipate this permit will be lower than what WCRA normally allows and expect the permit will spell out additional safety guidelines related to COVID-19.  

WW: If the pool is forced to close for all or part of the summer, would you still collect full dues from members? What would be the financial impact? 

Otto: Yes. Per our spring newsletter, we expect that as 1/500th owners of WCRA, bonded members will pay their dues by the extended deadline, which is currently midnight on May 22nd. WCRA is a 50-year-old, 7-acre facility and regardless of the capacity at which we will be able to open this summer there are significant costs associated with regular year-round maintenance. 

WW: Are there contingency plans for the swim/dive/tennis teams and other activities? What is the status of those? 

Otto: NVSL is working on contingency plans for the summer swim and dive seasons, though nothing has been finalized and likely will not be until we receive guidance from state and local authorities. Tennis and other activities are standing by as well.

WW: Which lifeguard management company does the pool use? Have there been discussions with the company about plans for the summer?

Otto: Our management company is Premier Aquatics. We meet with our account representative regularly to discuss expectations for the summer. Premier continues to prepare our pool for the summer season as well as recruit local and international lifeguards for the summer season once we are permitted to open. Anyone interested in lifeguarding at WCRA this summer can apply at www.premieraquatics.com or by calling Yana Koleva, the Domestic Recruiter and Safety Manager, at 703-373-0350. Premier offers free American Red Cross training, flexible hours and holiday, weekend and referral bonuses. Applicants must be at least 15.

WW: In the event of a closure or partial closure, would employees such as lifeguards and swim coaches still be paid? 

Otto: Until we have guidance from state and local authorities we cannot speculate as to how this will be handled.

WW: Are there other considerations or issues worth noting?  

Otto: The only other consideration is that the community continue to be patient and understand that our board constitutes all volunteers who have their own family, work, and other obligations. We each give our free time to WCRA because we all care deeply about our wonderful community and our members. These are uncharted waters we're navigating and we're doing the best we can with the information available.  
Next week's edition of Wakefield Weekly will feature an interview with another local pool president about the innovative approach his pool is taking to allow a limited opening on Memorial Day weekend.
---
Neighborhood News
Wakefield gets front-row seat to flyover from Blue Angels, Thunderbirds: Wakefield was directly in the path of Saturday's flyover from the Navy and Air Force demonstration squadrons, the Blue Angels and Thunderbirds. The flyover was part of the "America Strong" campaign honoring those on the front lines of COVID-19, including doctors, nurses, first responders, and other essential workers. The photo below—taken on Epinard Court—comes to us from Rich Fink, whose full portfolio of amazing photography is available here. Several other neighbors also answered our call for flyover photos—those can be viewed here.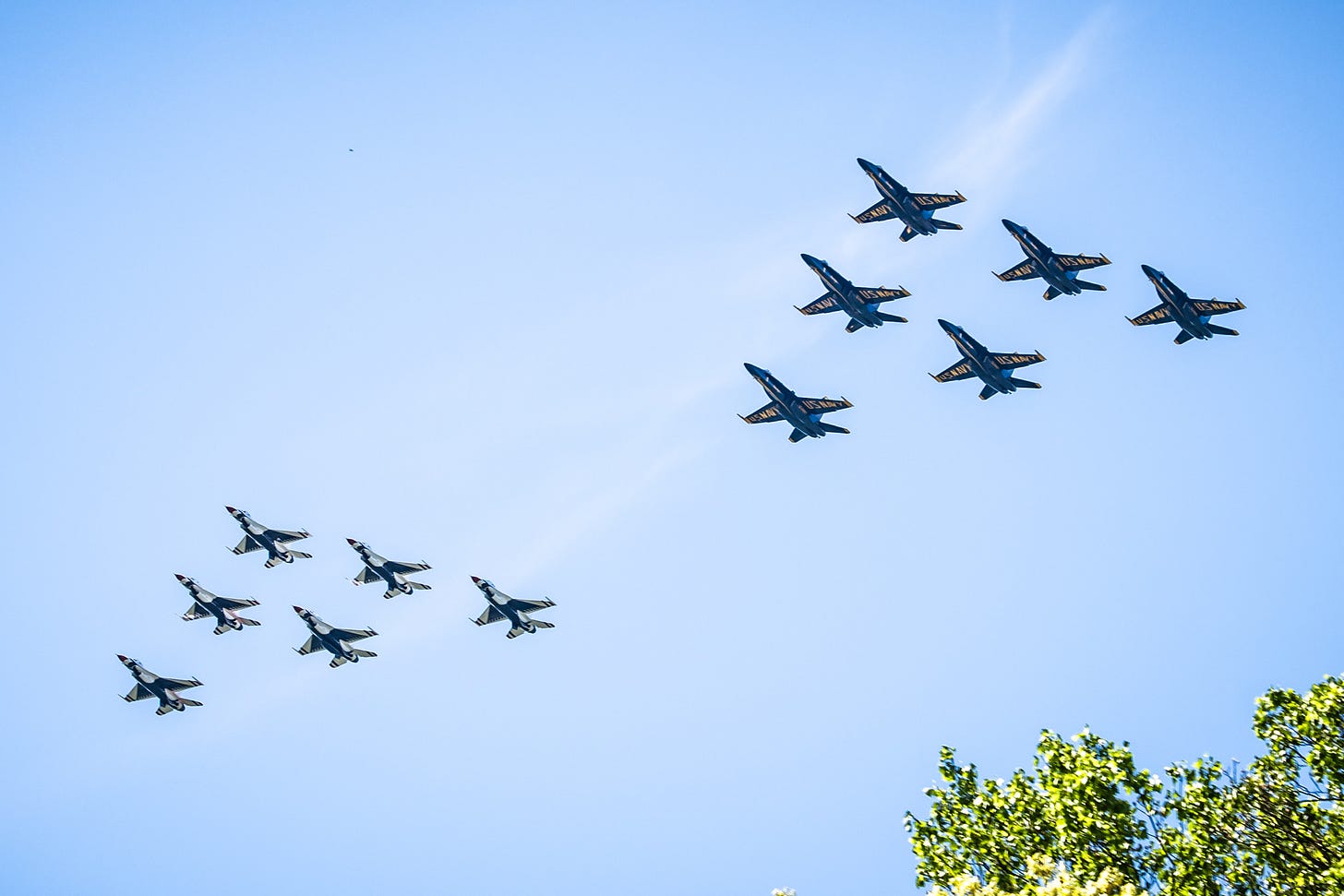 Chapel Square cancels annual yard sale: All those unloved toys will have to linger in your attic for another year. Camille Stern, president of the Chapel Square Civic Association, tells us the neighborhood's annual spring yard sale has fallen victim to the pandemic. "Unfortunately, given the COVID-19 'mess' there will be no Yard Sale this year," she says. "There would be really no way to control social distancing, etc." 
Get a mask, give a meal: Neighbor Traci Griffin is making face masks for our community. Proceeds from mask sales are donated to the Caboose Commons Inova donation program, with every $8 donated providing one meal for Inova staff. Griffin is also accepting donations of fabric, thread, and elastic. To purchase a mask or donate materials, she can be contacted at traci.griffin@me.com.
---
COVID-19
Cases "spike" in Fairfax: The Fairfax Health District experienced a "spike" last week in confirmed COVID-19 cases, as Fairfax County Board of Supervisors Chairman Jeffrey McKay said in an email Friday to the community. McKay attributed the spike, in part, to increased testing. But he also said the county "is in the exponential growth phase of our epidemic curve and we can therefore expect to see COVID-19 cases continue to increase for several more weeks."
The number of confirmed cases in our immediate area—which the Fairfax County Health Department defines as zip codes beginning with the three digits 220—climbed from 1,208 a week ago to 1,830 today, with 386.7 cases per 100,000 people, according to the latest county data. Our area's case rate continues to be slightly higher than the county's overall rate of 377.1 per 100,000. Overall, the Fairfax Health District has reported 4,407 confirmed cases, 750 hospitalizations, and 189 deaths—with 89 deaths in the past week. "If anyone doubted the deadly and highly-infectious nature of this virus, these numbers should dispel those doubts," Walkinshaw said in the May edition of his newsletter, The Braddock Beacon.
Wakefield Farmers Market remains closed as others begin phased re-opening: The Wakefield Farmers Market will remain closed, for now, as the county begins a phased reopening of other markets, which have been shuttered since mid-March. The Reston Farmers Market will be open on Saturdays starting May 9; the Mount Vernon/McCutcheon market on Wednesdays starting May 13; and the Burke market on Saturdays starting May 16. Shoppers will be asked to comply with the following social distancing requirements:
No more than 2 family members in the market

Face covering strongly recommended

No pets

Keep a 6-foot distance from others

One customer per stall

Do not touch surfaces. Let vendors bag purchases

Credit or debit card payments preferred

No on-site eating of purchases or sampling

Do not linger. Get in and get out quickly

Leave by Exits only
More information on the re-opening of farmers markets is available here. The county has also re-opened community garden plots after gardeners complained that growing their own food was safer than going to the grocery store, the Annandale Blog reports.
---
Schools
Graduation—to be or not to be? In last week's forum with the Truro Homes Association, Wakefield's school board representative, Braddock District's Megan McLaughlin, hinted at the possibility of live graduation ceremonies for this year's high school seniors, despite the pandemic. "Fairfax County Schools is still looking at how they will prepare for live graduations, whether it takes place later in the summer, early in the fall," McLaughlin said. "I'm really hopeful we can do something." Meanwhile, Woodson High School Principal Carlyn Floyd urged seniors to "hold tight" in a message to the community on Friday. "FCPS is working on the graduation plans," Floyd wrote. "We are looking forward to safely recognizing our graduates this year." 
Football recruiting site touts Woodson standouts: The website Ultimate Recruit, which provides scouting services for college football and basketball programs looking to recruit from high schools in Virginia, is urging college coaches to take a look at two Woodson High School football players—wide receiver Moses Raff and quarterback Joe Pesansky. Both rising seniors already have offers from at least one Division II program but deserve more attention from recruiters, Woodson Head Coach Jared Van Acker tells the website. An excerpt from the story:
W.T. Woodson High School may have missed the playoffs in 2019, but college coaches shouldn't overlook the duo of Moses Raff and Joe Pesansky. Both have college ready size and a college ready skill set. Raff (2021 WR 6-5 200) is a long and rangy wide out that has the confidence and ability to go up and get the ball almost anywhere on the field. Of course with Pesansky (2021 QB 6-4 210) finding him with pin-point precision, it's not often that Moses has to contort himself to make catches. They were the primary weapons for Coach Jared Van Acker's offense in 2019 and they're sure to be the go to combo in 2020.
Read the full article here.
---
Featured Photo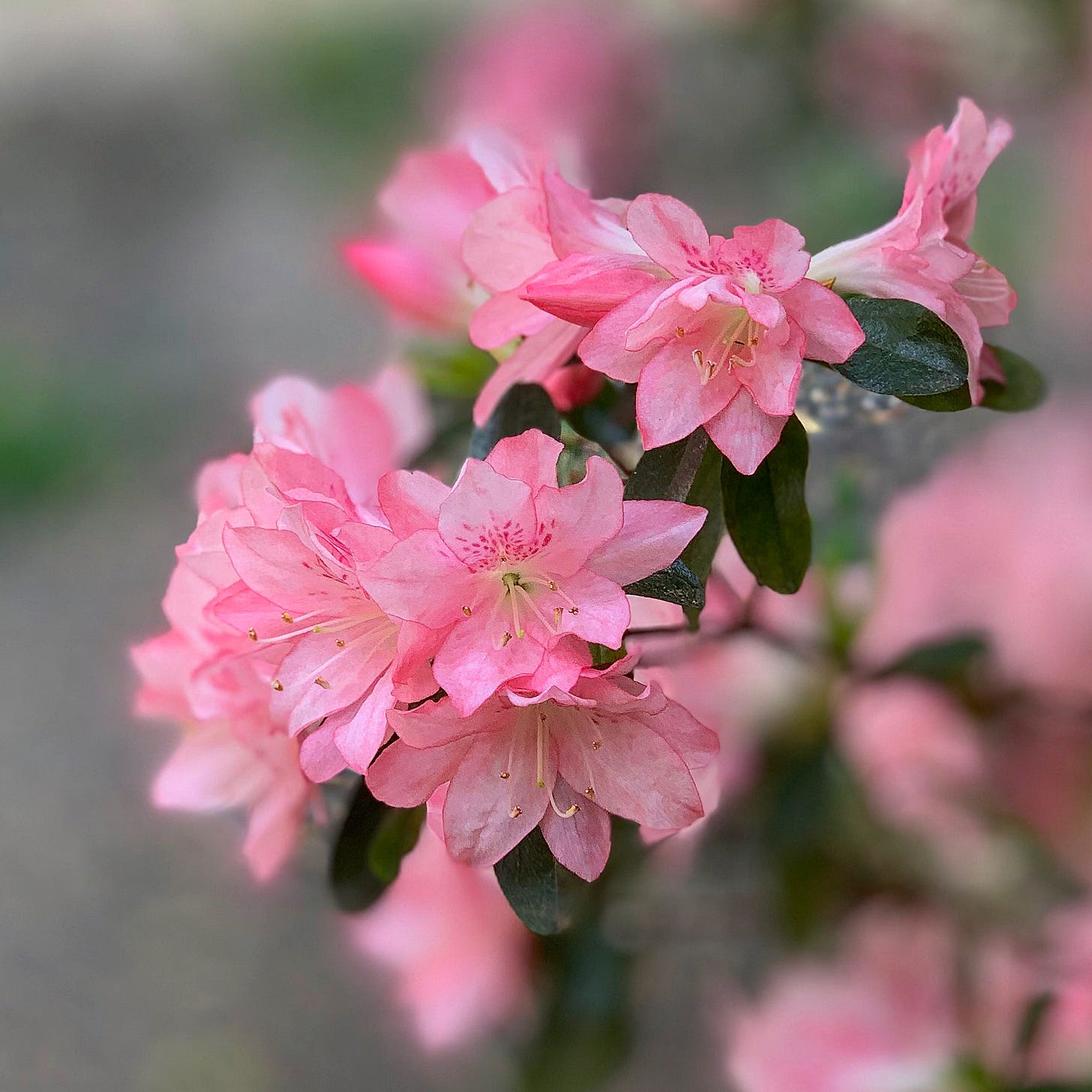 Azaleas abound throughout the neighborhood! This week's featured photo comes from Sandi Goldman of Duncan Ave, who is an avid flower photographer. You can follow her daily posts on Instagram at goldman_sandi. Send neighborhood photos to wakefieldweekly@gmail.com for your chance to have your work featured.
---
Public Safety
Body-worn cameras delayed for Wakefield's police district: The Fairfax County Police Department announced last week it's moving forward with this month's rollout of "Phase 1" of its multi-year effort to equip police officers with body-worn cameras, which are intended to "build and sustain trust" with the community. This means 416 cameras will soon be issued to the Reston, Mason, and Mount Vernon police districts. But "Phase 2" of the project, which would have provided cameras for the West Springfield District that includes Wakefield, has been put on hold—a victim of the funding cuts necessitated by COVID-19, according to the county's revised FY21 budget. "We are committed to seeing the body-worn camera program through to full implementation as the economy improves in the future," said Fairfax County Police Chief Edwin C. Roessler Jr.
Fire Department releases 2019 annual report: The Fairfax County Fire and Rescue Department responded to 8,227 incidents in the Braddock District in 2019, down from 8,419 in 2018, according to the department's latest annual report, released last Tuesday. The Braddock District's 2019 total included 6,180 EMS incidents, 1,307 fire incidents, and 740 public service incidents, with an average response time of 5 minutes, 8 seconds for EMS and 5 minutes, 58 seconds for fire. We contacted the fire department to ask how it judges its response-time performance—and whether there are any standard benchmarks—but we haven't yet heard back. We hope to have an update next week.
Overall, the Fire and Rescue Department responded to 106,546 incidents across the county in 2019, a 1.09% increase from 2018, according to the annual report. Fairfax recorded three fire fatalities in 2019, down from seven the year prior.
---
Real Estate
Debbie Dogrul was Wakefield's top Q1 producer: Local real-estate titan Debbie Dogrul has a commanding lead in our inaugural list of the top-producing real estate agents in Wakefield by quarter, with more than $6,169,900 in transactions from Jan. 1 to March 31, according to data compiled from Redfin. Wakefield resident Cary Fichtner-Vu came in second with $1,885,000. In all, Wakefield saw $22,954,711 in home sales last quarter, with 33 transactions at a median price of $670,000.
Wakefield Weekly will continue compiling quarterly and annual lists of the community's top-producing real-estate agents, along with our analysis of sales trends. We're interested to see how home sales fare in Q2 2020 and the extent to which COVID-19 has disrupted the market. Below is our Q1 top producers list, which awards credit to both listing agents and buyers' agents for each transaction within Wakefield, as defined by this map. Partial credit is given when multiple agents are listed.
Debbie Dogrul, Long & Foster Real Estate, Inc.
13 transactions | $6,169,900 cash volume

Cary Fichtner-Vu, RE/MAX Allegiance
2 transactions | $1,885,000 cash volume

Khalil El-Ghoul, Glass House Real Estate
1 transaction | $1,421,000 cash volume

Rong Ma, Libra Realty LLC
2 transactions | $1,160,000 cash volume

Elizabeth Lucchesi, Long & Foster Real Estate, Inc.
1 transaction | $1,150,000 cash volume
On the market:
5113 Bradfield Ct | $649,950
4 beds, 4 baths, 1,728 sf
Listed by Larisa Sawhney & Patricia Sawhney | RE/MAX 100
8604 Norfolk Ave | $1,449,000
6 beds, 6.5 baths, 5,742 sf
Listed by Lynne DePaso | Land & Homes LC 
9204 Claytonia Ln | $679,900
4 beds, 2.5 baths, 2,434 sf
Listed by Shaoping Wu | 8Star Realty, LLC
8618 Pappas Way | $705,000
4 beds, 2.5 baths, 2,562 sf
Listed by Jon DeHart | Long & Foster Real Estate, Inc. 
8611 Virginia Ave | $1,499,000
6 beds, 6.5 baths, 6,022 sf
Listed by Khalil El-Ghoul | Glass House Real Estate 
4918 King David Blvd | $634,900
5 beds, 3.5 baths, 3,075 sf
Listed by Kevin Boyer | Samson Properties 
Last week's sales:
4920 Springbrook Dr | $700,000
4 beds, 2.5 baths, 2,056 sf
Listed by Debbie Dogrul | Long & Foster Real Estate, Inc.
Bought with Debbie Dogrul | Long & Foster Real Estate, Inc.
4524 Starr Jordan Dr | $650,000
5 beds, 3 baths, 1,537 sf
Listed by Linda Zenker | RE/MAX Real Estate Connections 
Bought with Jon DeHart | Long & Foster Real Estate, Inc. 
4221 Saint Jerome Dr | $689,000
4 beds, 2.5 baths, 2,823 sf
Listed by James Fullerton | Summit Real Estate
Bought with Eugene Fisher | Pearson Smith Realty, LLC 
8813 Woodland Meadows Ct | $870,000
4 beds, 3.5 baths, 3,536 sf
Listed by Cristina Dougherty | Long & Foster Real Estate, Inc.
Bought with Sarita Sethi | Long & Foster Real Estate, Inc. 
---
Thank you for reading Wakefield Weekly! We look forward to fostering connections and being an independent source for news and information of importance to the Wakefield community. Contact us at wakefieldweekly@gmail.com, and, if you haven't already, we hope you'll take a minute to subscribe using the button below.