Discover more from Braddock Buzz
a weekly newsletter covering central Fairfax County
Over 1,000 subscribers
Welcome to the first edition of Wakefield Weekly - Local food bank sees triple its usual demand - Woodson named sixth-best high school in Virginia - Sting operation nabs 30 alleged sexual predators
Fairfax launches COVID-19 data website - County to hold virtual hearings on revised budget - Walkinshaw encourages residents to #BuyBraddock - Police offer reward for info on fatal hit-and-run
Welcome to the first edition of Wakefield Weekly, a newsletter covering the Wakefield community of Fairfax County, Va. Our goal for this newsletter is to foster a stronger sense of connection with our neighbors and encourage community engagement -- which we believe people need now more than ever. We're also seeking to provide a model for hyper-local news in a difficult media environment in which national issues seem to grab all the attention. Wakefield Weekly will be delivered to our subscribers' inboxes every Monday morning, offering a concise rundown of topics that affect Wakefield residents such as schools, crime, real estate, events, volunteer opportunities, and more. 
First, a quick note about us - Leanne and Austin Wright. We live on Toll House Road in the Chapel Square neighborhood with our two children and can often be seen on runs or walks on the Lake Accotink Trail. Leanne oversees environmental health and safety at American University in Northwest D.C., and Austin is a former congressional reporter for POLITICO who now works in communications. Our email address is wakefieldweekly@gmail.com, and we hope you won't hesitate to reach out with news, tips, volunteer opportunities, submissions for our featured photo, or just to say hello.
We also hope you'll take a minute to subscribe using the button below.
COVID-19
Fairfax launches new COVID-19 data website: The Fairfax County Health Department last week launched a website with local data on COVID-19, including the ability to drill down by groupings of zip codes. Our area—as defined by zip codes beginning with the three digits 220—has reported 1,208 confirmed COVID-19 cases, a rate of 255.3 cases per 100,000 people. This is slightly higher than the county's overall rate of 250.4 cases per 100,000. The Fairfax Health District—which includes the cities of Fairfax and Falls Church, plus Herndon and Vienna—has reported a total of 2,938 cases, 516 hospitalizations, and 100 deaths, with the weekly count continuing to climb. The graph below plots total confirmed cases in Fairfax vs. new confirmed cases: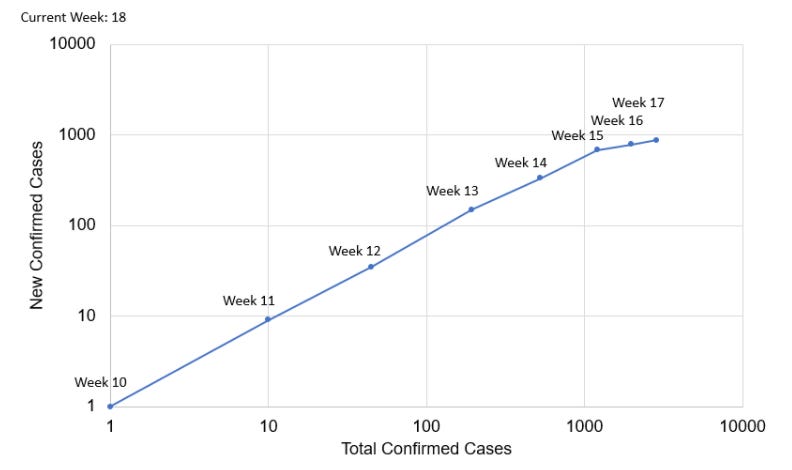 In a press release, Fairfax Health Director Gloria Addo-Ayensu noted "that these data are an underestimate of the true burden of COVID-19 in the community, as it is a reflection of who is being tested more than a measure of the virus' prevalence." She added that many people with mild and moderate symptoms are not being diagnosed or tested, meaning "the data primarily represents people with more severe illness and should be interpreted with caution and not used to determine individual risk."
More data is available on the Health Department's new website, including breakdowns by age group and ethnicity.
Local food bank sees triple its usual demand: With COVID-19 wreaking economic havoc across the country, many people are wondering how they can help. One way is by working to ensure that no one goes hungry, even as job losses continue to mount. A local food bank, the Annandale Methodist Church supplemental food site located at the church's community center on Heritage Drive, has seen triple its usual demand as a result of the pandemic, according to Wakefield resident Patty Kinsley Fink, who volunteers there. Fink is currently collecting food donations, paper bags (reusable and paper), egg cartons, and other supplies—and has a donation box located at 8306 Epinard Court.
"Everything that has been donated has been needed and used," Fink tells us, adding a message of thanks to those who've donated so far.
County to hold virtual hearings on revised budget: The Fairfax Board of Supervisors will hold virtual hearings this week to review the county's FY21 budget, which has been updated to "reflect the new economic realities" of COVID-19, as County Executive Bryan Hill wrote in an introduction to the amended plan. Among other revisions, the updated budget nixes a proposed property tax increase of three cents per $100 of assessed value, which would have gone toward affordable housing and balancing the county's General Fund. The hearings are set for Tuesday at 4 p.m., Wednesday at 3 p.m., and Thursday at 3 p.m. Information on how to stream the meetings is available here.
Walkinshaw encourages support for local restaurants amid the pandemic: Braddock District Supervisor James Walkinshaw is encouraging residents to support local restaurants through the #BuyBraddock campaign, announced in the latest edition of his "Walkinshaw Advisory." The campaign encourages residents to order takeout or delivery from featured restaurants and post photos on social media with the hashtag #BuyBraddock. The first restaurants selected were Coyote Grill on 10266 Main Street in Fairfax City and Giardino Italian Restaurant at 8944 Burke Lake Road in Springfield, where Walkinshaw says he "enjoyed the Chicken Parm!"
Library collects COVID-19 stories: The Fairfax County Public Library has launched the "COVID-19 Project," collecting stories that could one day be used by historians studying life in a time of pandemic. The project is run by the Virginia Room, which maintains historical records about Fairfax County. Stories can be submitted via this online form. (hat tip: the Annandale Blog)
---
Schools
Woodson named sixth-best high school in Virginia: Woodson High School was ranked sixth-best in Virginia and 280th nationally in U.S. News & World Report's latest annual list of the best high schools in America, released April 21. The headline news for Northern Virginia was that the region's most prestigious magnet school, the Thomas Jefferson High School for Science and Technology, jumped into the top spot nationally, up from its fourth-place national finish last year.
In addition to Woodson and T.J., Fairfax County boasted six other schools in the state's top 10: Langley (2), McLean (3), Marshall (4), Madison (5), West Springfield (7), and Chantilly (8). The much-watched U.S. News ranking puts heavy emphasis on "college readiness," as measured by the percentage of 12th-graders who take and pass Advanced Placement and International Baccalaureate exams. Luckily for Fairfax, the ranking doesn't take into account readiness for online learning.
Inside Nova has more here on how schools in the region fared.
NOVA offers free online summer classes to high school students: High schoolers bored at home in quarantine might want to consider getting a jumpstart on college, with Northern Virginia Community College now offering tuition-free online courses. NOVA is using federal stimulus funds to make the classes available for free this summer for graduating and rising high school seniors—and the credits can be applied at most universities across the country. Course options include Cloud Computing, Quantitative Reasoning, Art History, Communication, College Composition, and World Civilization II. Program details and a link to the application are available here.
At a time when many members of our community are struggling with the COVID-19 fallout, NOVA has an obligation to ensure our future workforce is prepared for success. The current downturn in our economy does not solve our region's critical skills gap in information technology, healthcare and skilled trades. When our economy bounces back, our students must be ready. -NOVA President Anne Kress, in a statement
---
Featured Photo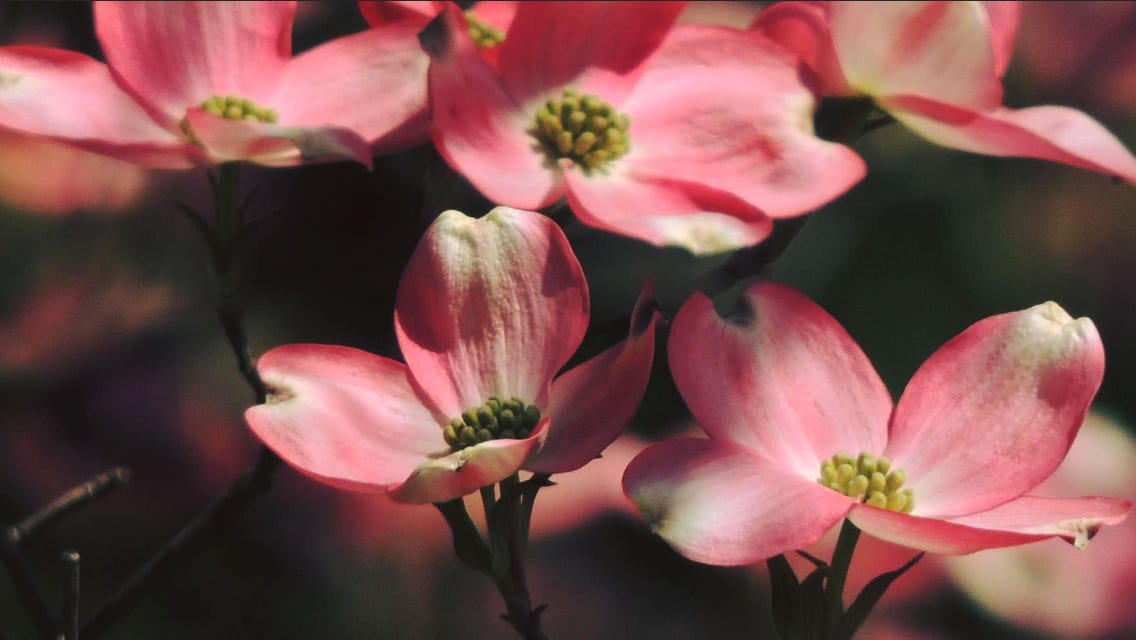 Flowering Dogwoods are in full bloom! Our featured photo comes to us from neighbor Magaly Gomez of Toll House Road. Send your favorite neighborhood photos and a quick description to wakefieldweekly@gmail.com for a chance to be featured.
---
Crime
"Operation COVID Crackdown" nabs 30 alleged sexual predators: Detectives with the Fairfax County Police Department arrested 30 men this month in a sting operation targeting alleged sexual predators, dubbed "Operation COVID Crackdown." The operation "sought to identify and apprehend predators who use the internet to exploit children," according to the police department, which described the operation like this:
In each case, offenders used online platforms to initiate explicit conversations and solicit sex from police officers posing as children. When each of the suspects arrived at agreed upon locations, detectives took them into custody. The men, who ranged in age from 20 to 74, were charged with a combined 68 felonies.
A news release on the operation includes the names and mugshots of the 30 men arrested. The release explains that school closures as a result of COVID-19 have "increased many children's online presence and inadvertently placed them at higher risk of exploitation," urging parents to closely monitor their children's online activities.
Police offer reward for information on hit-and-run that killed pedestrian on Hummer Road: Alexandria resident Angel Paz Lopez, 42, was killed April 21 in a hit-and-run around 6:08 a.m. while walking on Hummer Road near Royce Court. Police are seeking the public's help in identifying the driver of the gray sedan believed to have struck Lopez, offering cash rewards for information leading to an arrest. Tipsters can reach the Crash Reconstruction Unit at 703-280-0543 or Crime Solvers at 866-411-8477. On the Nextdoor app, Sergeant Greg Bedor of the Fairfax County Police Department posted a blurry photo of the "vehicle of interest:"

Lopez's death is the 10th pedestrian fatality in the county to date in 2020.
---
Real Estate
On the market:
8604 Norfolk Ave | $1,449,000

6 beds, 6.5 baths, 5,742 sf

Listed by Lynne DePaso | Land & Homes LC 
5138 Bradfield Dr | $629,900

4 beds, 4 baths, 2,206 sf

Listed by Quoc Ngo | Top Century Realty, Inc. 

9204 Claytonia Ln | $689,000

4 beds, 2.5 baths, 2,424 sf

Listed by Shaoping Wu | 8Star Realty, LLC 

8618 Pappas Way | $725,000

4 beds, 2.5 baths, 2,562 sf

Listed by Jon DeHart | Long & Foster Real Estate, Inc. 

8611 Virginia Ave | $1,499,000

6 beds, 6.5 baths, 6,022 sf

Listed by Khalil El-Ghoul | Glass House Real Estate 
Last week's sales:
8314 Highcliffe Ct | $525,000

3 beds, 4 baths, 2,236 sf

Listed by Michael Malferrari | Classic Realty, Ltd. 

Bought with Areej Kuraishi | A-K Real Estate, Inc. 

8639 Chapel Dr | $720,000

4 beds, 2 baths, 2,320 sf

Listed by Renee Mumford & Melissa Weinberg | RE/MAX Executives

Bought with Joanne Malcuit | Weichert, REALTORS 

5102 Althea Dr | $640,000

4 beds, 3 baths, 1,500 sf

Listed by Debbie Dogrul | Long & Foster Real Estate, Inc. 

Bought with Rachel Rajala | RE/MAX Allegiance 

8517 Sugarbush Ct | $807,000

5 beds, 3.5 baths, 2,112 sf

Listed by Carolyn Connell | Keller Williams Realty 

Bought with Cathy Poungmalai | FRANKLY REAL ESTATE INC 
---
Thank you for reading Wakefield Weekly! We look forward to fostering connections in the community and being a source for news and information of importance to Wakefield residents. You can contact us at wakefieldweekly@gmail.com, and, if you haven't already, we hope you'll take a minute to subscribe using the button below.