Discover more from Braddock Buzz
a weekly newsletter covering central Fairfax County
Over 1,000 subscribers
Wakefield Forest renovation remains on schedule - Little Free Library owners see uptick in interest - Camelot deck fire under investigation
Inside Annandale's COVID-19 numbers - Parks reopen in time for Memorial Day - Should county loosen restrictions on Accessory Dwelling Units?
Happy Memorial Day from Wakefield Weekly, where we're working to build community through hyperlocal news. Big thanks to everyone who answered our call for information on Little Free Libraries—read on to see what we found. For next week's issue, we're looking to talk to local businesses about what Friday's Phase One reopening means for them. Please reach out if you or someone you know has a story to tell at wakefieldweekly@gmail.com.
Schools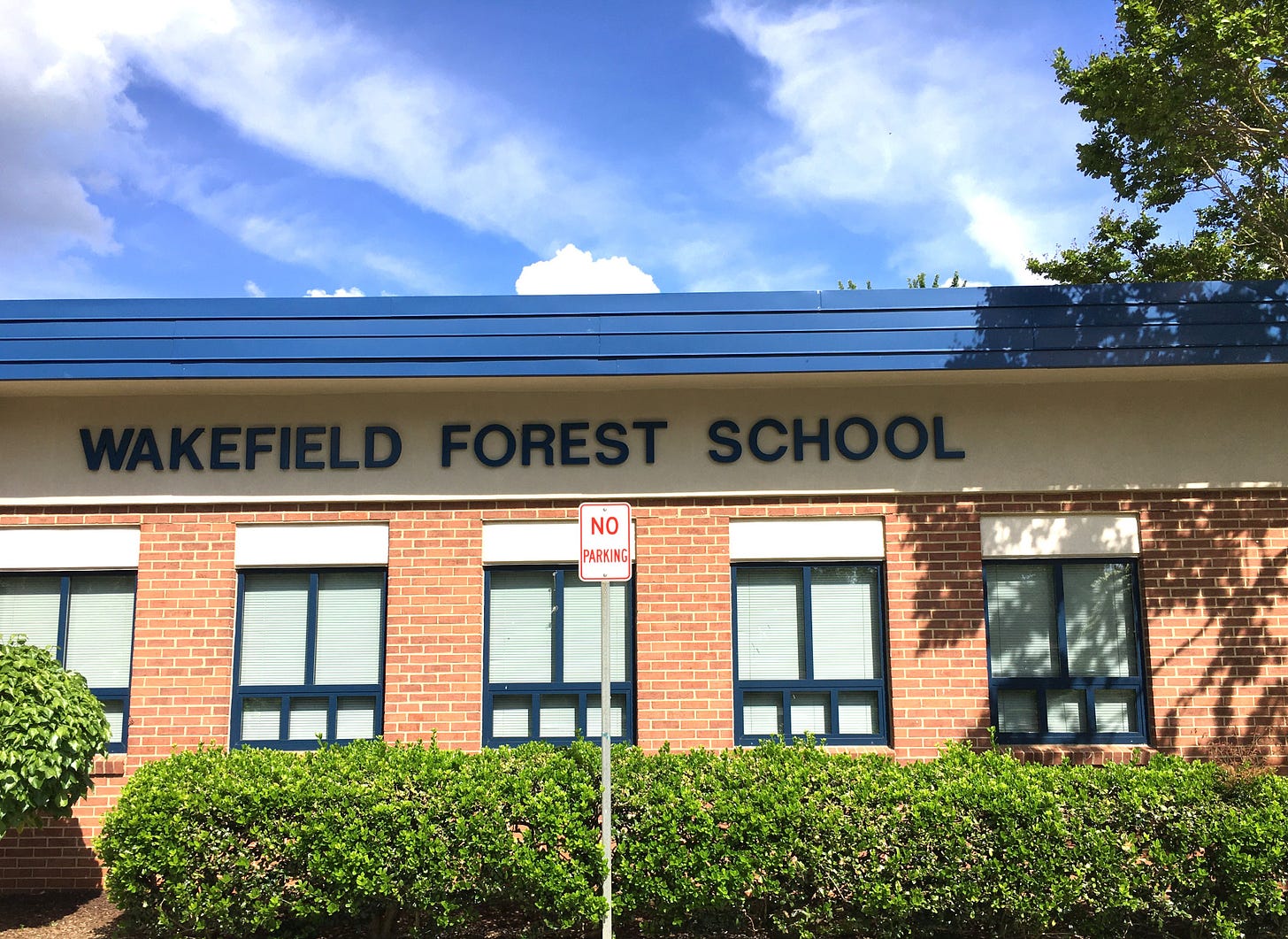 Wakefield Forest renovation remains on track: The planned renovation of Wakefield Forest Elementary School is moving forward despite the pandemic, according to WFES Principal Sharyn Prindle. "We are on track with renovation and progress has continued during this time," Prindle tells us. "We are in the planning stage and elementary school remodels typically take four years."
We checked in with Prindle because the timing of the renovation is key to alleviating an overcrowding problem at WFES that could necessitate redistricting—an unsettling prospect for the Wakefield community. The school had been listed as a priority candidate for "boundary adjustments" in the FY2020-24 Capital Improvement Program but was removed from the list in the FY2021-25 program. Instead, the county is looking to expand the school's design capacity from 560 to 800 to accommodate a growing student body.
"In the last briefing that I received (pre-COVID closure), FCPS remained hopeful the WFES site can accommodate an addition (as part of the renovation) and thus not require a boundary change," says Braddock District School Board Member Megan McLaughlin. "Per community input, FCPS is presently conducting a site analysis (versus a boundary study) to see if the property, as well as the roadway infrastructure, can handle a larger student enrollment."
FCPS has allocated nearly $1.2 million for planning and permitting in FY20 and FY21—funded through the $360 million bond referendum approved last year. The school system expects to spend nearly $30 million on construction from FY22 to FY24—with funding contingent on county voters approving another bond referendum planned for fall 2021. 
---
Neighborhood News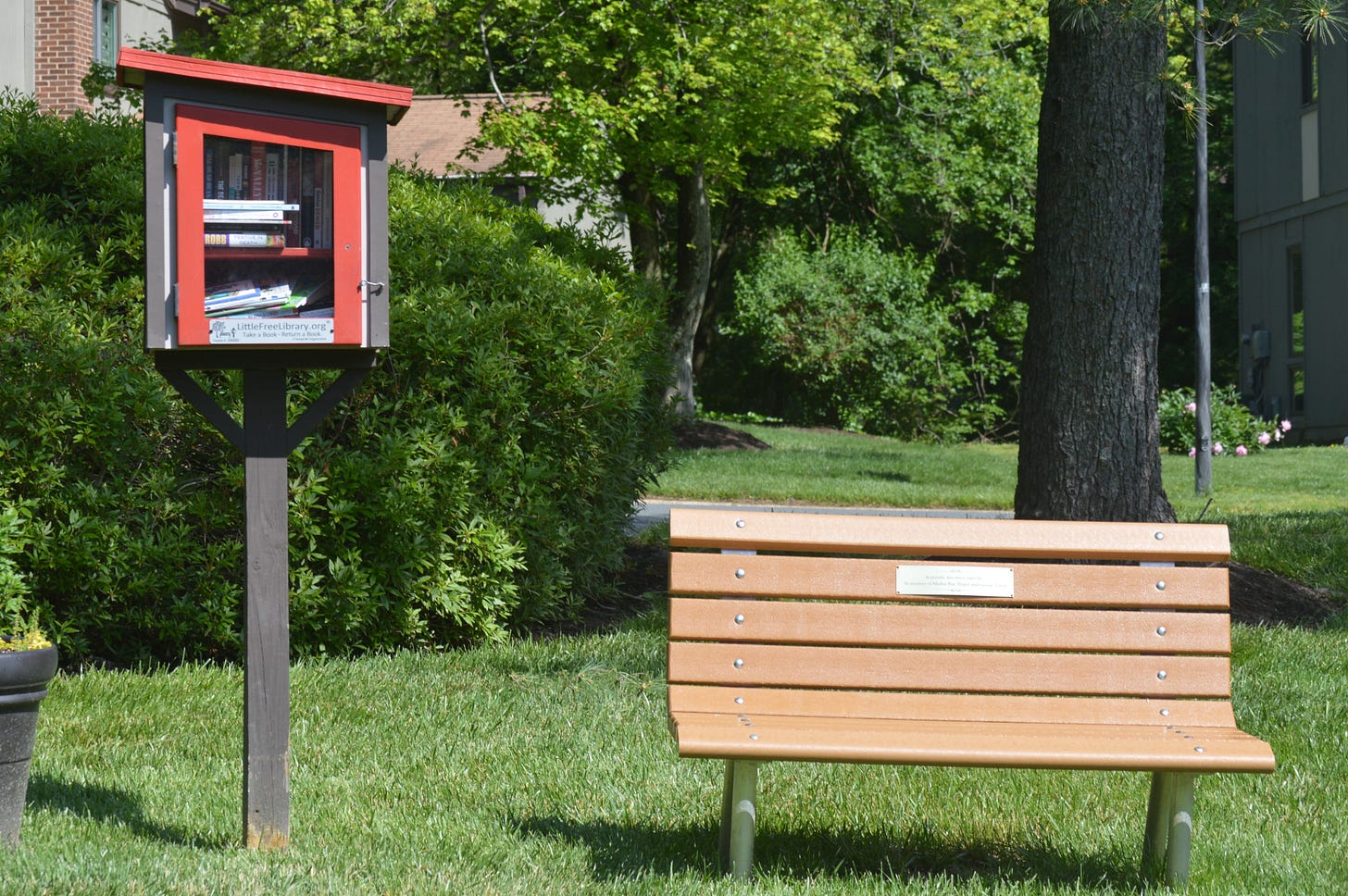 The Little Free Library tour of Wakefield: With Fairfax County libraries shuttered for the foreseeable future and families taking frequent walks through the neighborhood, Little Free Library owners have noticed an uptick in interest. "Our street has been getting more foot traffic since the stay-at-home order went into place, so it has been fun to see people stop and explore what is there," says Laura DeVito, whose Little Free Library has been in operation for four years.
A common theme among the library owners we talked to was the sense of community and reciprocity a Little Free Library brings. "My favorite part of having the Little Free Library is when I see a kid excited about a book they found there," says owner Catherine Backmeyer. Adds DeVito: "I just really love feeling that connection to fellow like-minded readers."
Due to their size, Little Free Libraries can be easy to miss, so we compiled a list of locations for you to check out on your next neighborhood stroll:
4604 Duncan Dr

8515 Virginia Ave

4401 Wakefield Dr

8317 Briar Creek Dr

4221 Saint Jerome Dr

5043 King Richard Dr

8600 Canterbury Dr

5018 Woodland Way

8900 Braeburn Dr
Ilda Pool Parking Lot

4146 Elizabeth Ln
Truro Pool Parking Lot
As for tips to keep in mind while browsing, DeVito advises, "Little Libraries are not meant to be used as a dumping ground but rather as an opportunity to share the love of reading a good story. Everyone is encouraged to come find a book or leave a book—especially classics or best sellers. There is something so gratifying about checking the library and finding that one of your books has been chosen or on the flip side, discovering a book that you have been wanting to read is there waiting for you to take."
---
Pandemic
Inside Annandale's COVID-19 numbers: We reported last week that newly released zip code data shows Annandale has one of the highest case counts in the state. We've since exchanged emails with the Fairfax County Health Department to get a better sense of what's driving the numbers. Contributing factors include a large number of nursing homes, a dense population, and a "high proportion of Latino residents who are being affected disproportionately by the epidemic for a variety of reasons," according to Health Department spokesman John Silcox.
Braddock District Supervisor James Walkinshaw offered a similar explanation in a statement provided to Wakefield Weekly: "Unfortunately COVID-19 has exposed the inequities that continue to exist here in Fairfax and across the nation. While the Hispanic population is just 17% of Fairfax's total population, they make up 63.5% of total COVID-19 cases in the county. The 22003 zip code, particularly the inside-the-beltway neighborhoods of Annandale, have a large and vibrant Hispanic population, many of whom work in service industries or as frontline employees and were never 'shut down.' Additionally, they are more likely to live in housing that doesn't allow them to safely isolate from their families."
Both Walkinshaw and Silcox note the county is taking steps to mitigate the outbreak in Annandale, offering free testing and providing hotel rooms for individuals who've tested positive but can't safely isolate at home. Over the weekend, county and state officials set up free drive-through and walk-up testing sites in Annandale and Bailey's Crossroads and will be "working with our safety net healthcare providers to provide clinical follow-up for those who test positive and to link them to available county services as needed," Silcox says. The Washington Post reported on the free testing that was offered Saturday at Annandale High School that had people waiting in their cars for hours:
The demand for testing in the region was apparent Saturday at Annandale High School, where Fairfax officials offered free testing to residents, including those without symptoms or a doctor's referral. By 1:30 p.m., all 1,500 available tests had been claimed, prompting county officials to announce nearly five hours early that they would stop taking in more residents.
Northern Virginia could begin Phase One reopening on Friday: Northern Virginia is set to begin loosening COVID-19 restrictions on Friday unless Gov. Ralph Northam announces another delay of his Phase One reopening plan. Much of the rest of the state entered Phase One on May 15, but the plan was pushed back for Northern Virginia, Richmond, and Accomack County after local leaders lobbied Northam for an extension. If our region does enter Phase One on Friday, restaurants will be able to offer outside dining at 50% capacity, hair salons and barbershops will reopen by appointment only, and non-essential retail will be allowed to operate at 50% capacity. Community pools likely won't be able to open until Phase Two at the earliest. A full list of sector-specific guidelines is here.
---
Featured Photo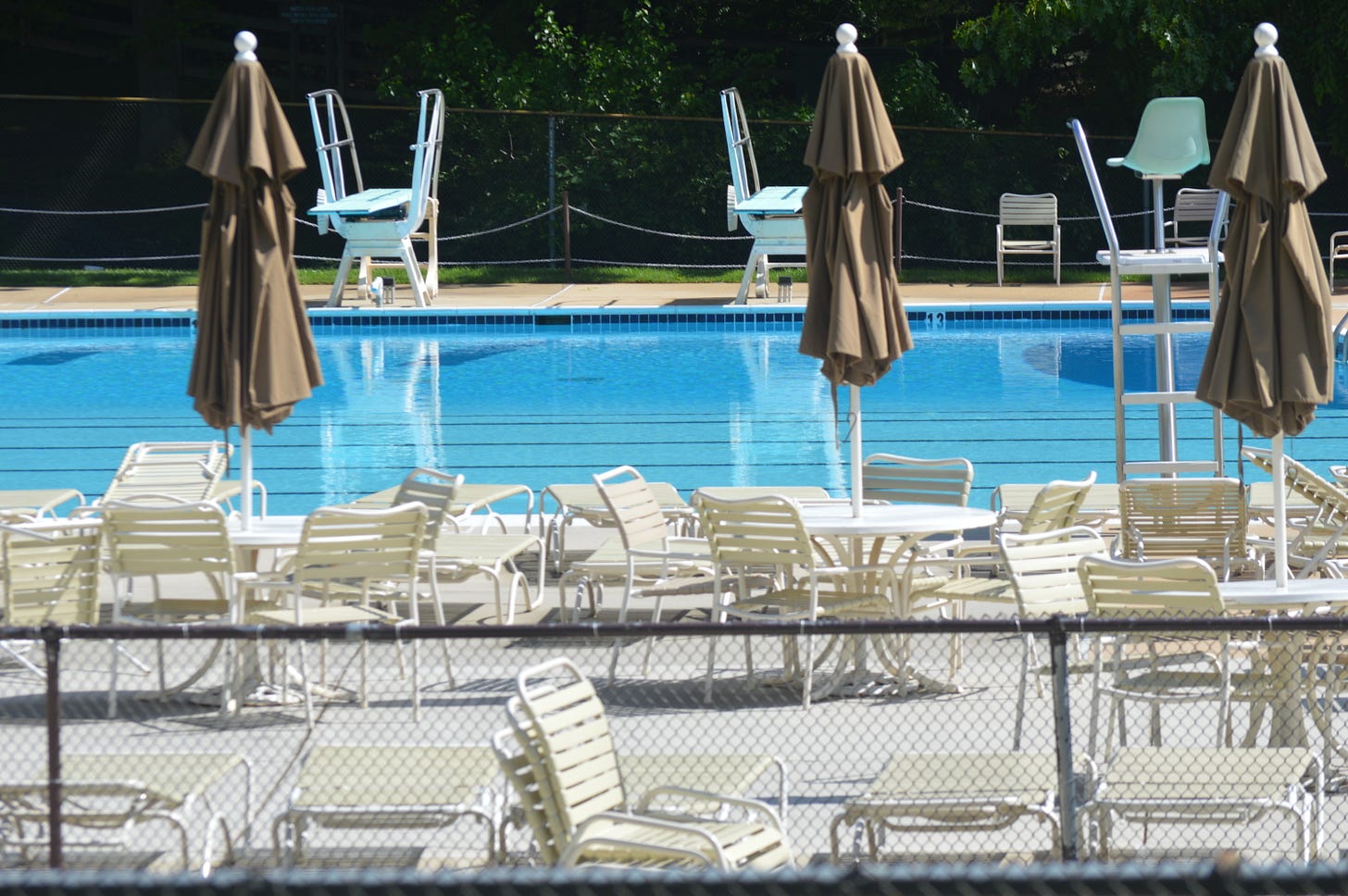 Marco? …Marco? Truro pool, like others in the area, was ready this weekend for a Memorial Day opening—but instead remains closed pending orders from the governor. This week's photo was taken by Wakefield Weekly. Send us your neighborhood photos at wakefieldweekly@gmail.com for a chance to be featured.
---
County Affairs
It's the last week to respond to a county survey on Accessory Dwelling Units, home-based businesses: The Fairfax County Board of Supervisors is considering loosening restrictions on Accessory Dwelling Units (ADUs) and home-based businesses—proposals that have caught the attention of civic and homeowners associations in the area, some of which are concerned about the potential for increased traffic and other impacts to neighborhoods. The proposals are part of the county's ongoing efforts to modernize its 40-year-old Zoning Ordinance, an initiative dubbed "zMOD." 
ADUs, sometimes called "mother-in-law suites," are secondary units within or detached from a single-family home that can include kitchens, bedrooms, and exterior entrances. The approval process for building one entails a public hearing to get a "special permit" from the Board of Zoning Appeals, which requires that someone in the home be over 55 or have a disability, among other rules. The new proposal would create a less-stringent "administrative permit" process for ADUs located within a home, while leaving in place the existing process for detached ADUs (which will still have a two-acre minimum lot size requirement). The Board of Supervisors is also considering standardizing the size limit for all ADUs to 1,200 square feet and eliminating the age and disability requirements. 
In February, Braddock District Supervisor Walkinshaw described the existing ADU process as overly burdensome, as the Washington Business Journal reported at the time. "I hear from a lot of people in my district whose biggest concern with regard to affordable housing is, 'Will my kids be able to afford to live in Fairfax County when they graduate?'" Walkinshaw said. "I don't quite understand why I could build an ADU for my mother but I wouldn't be able to build an ADU for my adult child." In an email to Wakefield Weekly, a spokesman clarified that Walkinshaw "plans to review the results of the county-wide community survey and continue to get feedback from Braddock residents before determining the specific improvements to the ordinance he'd like to see."
The county is seeking public input on the proposals for ADUs and home-based businesses through May 31—both surveys are available here. The link also includes informational videos on both proposals.
County briefs
Fairfax County parks reopened last week in time for Memorial Day, though facilities and restrooms remain closed. The Park Authority also announced last week the cancellation of all 2020 summer camp programs.
Public Safety
Cause of deck fire in Camelot neighborhood under investigation: The Fairfax Fire and Rescue Department is investigating the cause of an early-morning deck fire that occurred last Sunday, May 17, at the 3500 block of King Arthur Road, near Camelot Elementary School. Eight occupants were home at the time—all were able to self-evacuate, according to a news release. Firefighters contained the blaze, which caused about $81,000 in damages.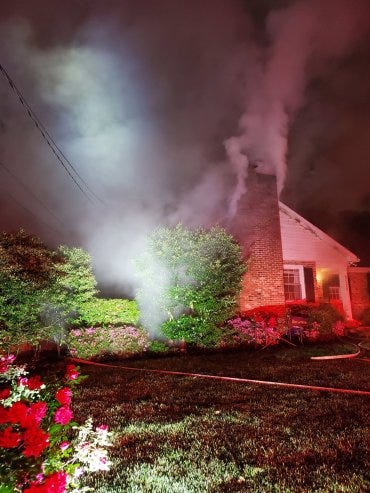 West Springfield District crime briefs
Weekend recap, 5-15-5/17:
Larceny: 4300 block of Markham Street, purse from location

Larceny: 5500 block of Yorkshire Street, sunglasses from vehicle

Larceny: 8200 block of Kings Charter Lane, shoes from residence

Larceny: 6100 block of Calico Pool Lane, wallet from vehicle
Monday, 5/18:
Larceny: 5700 block of Burke Centre Parkway, merchandise from business

Larceny: 10100 block of Commonwealth Boulevard, plants from location

Larceny: 8400 block of Canyon Oak Drive, money from vehicle

Larceny: 7800 block of Lakeland Valley Drive, bicycle from residence

Larceny: 8300 block of Luce Court, wallet from vehicle
Tuesday, 5/19:
Burglary: 9350 Crosspointe Drive (Silverbrook Elementary School), 11:36 p.m.: School security and officers responded to a school alarm. Officers arrived and saw two men running out of the school and took them into custody. An investigation revealed the two men were inside the school and stole items. Liam Stripling, 23, and Kellum Stripling, 20, both of Fairfax Station, were charged with burglary and petit larceny.
Wednesday, 5/20:
Larceny: 9000 block of Adams Chase Circle, tires from vehicle
Thursday, 5/21:
Larceny: 7800 block of Heritage Drive, merchandise from business
Source: Fairfax County Police Department
---
Real Estate
On the market
8261 The Midway | $1,050,000
4 beds, 3.5 baths, 3,384 sf
Listed by Glen Baird | VirginiaMLS.com Realty
8324 Briar Creek Dr | $784,000
5 beds, 2.5 baths, 3,165 sf
Listed by Jana Gilbert & Kay Graff | Weichert, REALTORS
8925 Cheltonham Pl | $774,000
5 beds, 5 baths, 3,234 sf
Listed by Elizabeth Lucchesi | Long & Foster Real Estate, Inc.
4702 Declaration Ct | $749,999
4 beds, 2.5 baths, 2,363 sf
Listed by Cary Fichtner-Vu | RE/MAX Allegiance
9209 Burnetta Dr | $659,000
5 beds, 3 baths, 2,286 sf
Listed by Debbie Dogrul & Nicole Dash | Long & Foster Real Estate, Inc.
5111 King David Blvd | $745,000
4 beds, 3.5 baths, 3,221 sf
Listed by Kathleen Stark | Weichert, REALTORS
4215 Holborn Ave | $765,000
4 beds, 3 baths, 2,600 sf
Listed by Amy Shafer | KW Metro Center
4500 Fidelity Ct | $689,900
4 beds, 3.5 baths, 2,112 sf
Listed by Luis Lugo | LPS Real Estate, LLC
8604 Norfolk Ave | $1,449,900
6 beds, 6.5 baths, 5,750 sf
Listed by Lynne DePaso | Land & Homes LC
8618 Pappas Way | $705,000
4 beds, 2.5 baths, 2,562 sf
Listed by Jon DeHart | Long & Foster Real Estate, Inc.
4112 Duncan Dr | $699,900
4 beds, 3 beds, 2,272 sf
Listed by Mark Middendorf | Long & Foster Real Estate, Inc.
Recently Sold
5121 Red Fox Dr | $661,000
4 beds, 2.5 baths, 1,890 sf
Listed by MaryAshley Rhule & Melanie Pissarius | Compass
Bought with Douglas Ackerson | Redfin Corporation
8800 Woodland Meadows Ct | $925,000
5 beds, 4 baths, 3,993 sf
Listed by Cristina Dougherty | Long & Foster Real Estate, Inc.
Bought with Debbie Dogrul | Long & Foster Real Estate, Inc.
4918 King David Blvd | $615,000
5 beds, 3.5 baths, 3,075 sf
Listed by Kevin Boyer | Samson Properties
Bought with Munirshah Dellawar | Samson Properties
4941 Red Fox Dr | $675,000
4 beds, 2.5 baths, 2,400 sf
Listed by Jennifer Young | Keller Williams Chantilly Ventures LLC
Bought with David Shumaway | CityWorth Properties LLC
5118 Bradfield Dr | $630,000
4 beds, 3.5 baths, 2,900 sf
Listed by Debbie Dogrul | Long & Foster Real Estate, Inc.
Bought with Thai-Hung Nguyen | Better Homes and Gardens Real Estate Premier
---
Thank you for reading Wakefield Weekly! You can contact us at wakefieldweekly@gmail.com with news, tips, featured photo submissions, volunteer opportunities, or just to say hello. And, if you haven't already, we hope you'll subscribe using the button below.