Truro comes together for socially distanced parade - Local swim teams mull options after NVSL cancels season - PTA fundraising grinds to a halt
FCPS distance learning could extend into fall - Superintendent announces graduation plans - Annandale has third-highest COVID-19 case count in Virginia
Welcome to Wakefield Weekly, where we're working to build community through hyper-local news. Big thanks to those who offered words of encouragement last week—we're now up to 320 subscribers.
For next week's edition, we'll be featuring information about Little Free Libraries in the area. With Fairfax County libraries still shuttered, these neighborhood libraries are a great way to expand your reading options. The official Little Free Library website shows seven registered in the Wakefield area—if you know of additional ones, please reach out so we can include them. And if you're the owner of a Little Free Library, please contact us if you're interested in discussing the experience. Our email address is wakefieldweekly@gmail.com—we look forward to sharing what we find!
Truro comes together for socially distanced parade: The Truro Social Committee organized a neighborhood car parade on Saturday in honor of those who deserve recognition during the pandemic. A long line of decked-out vehicles (and one row boat) drove through the neighborhood as onlookers waved and cheered. Groups honored included teachers, healthcare workers, scouts, graduates, first responders, delivery workers, and members of the military. There were also surprise guest appearances from the Frost Middle School Falcon, the Wakefield Forest Elementary School Wolf (Wolfie), and the Truro Pygmy Bald Eagle, a neighborhood mascot of sorts.
"We want[ed] to inject some fun into it," says organizer Meredith Hedrick, highlighting the event's balance between celebrating heroes in a time of crisis and fun community spirit. The event was planned following the cancellation of two annual Truro traditions—the Spring Egg Hunt, usually held in April, and the Polar Bear Swim, typically held in May to mark the opening of the neighborhood pool. 
See the two photos of the event below, taken by Truro resident Brian Scott McMurry: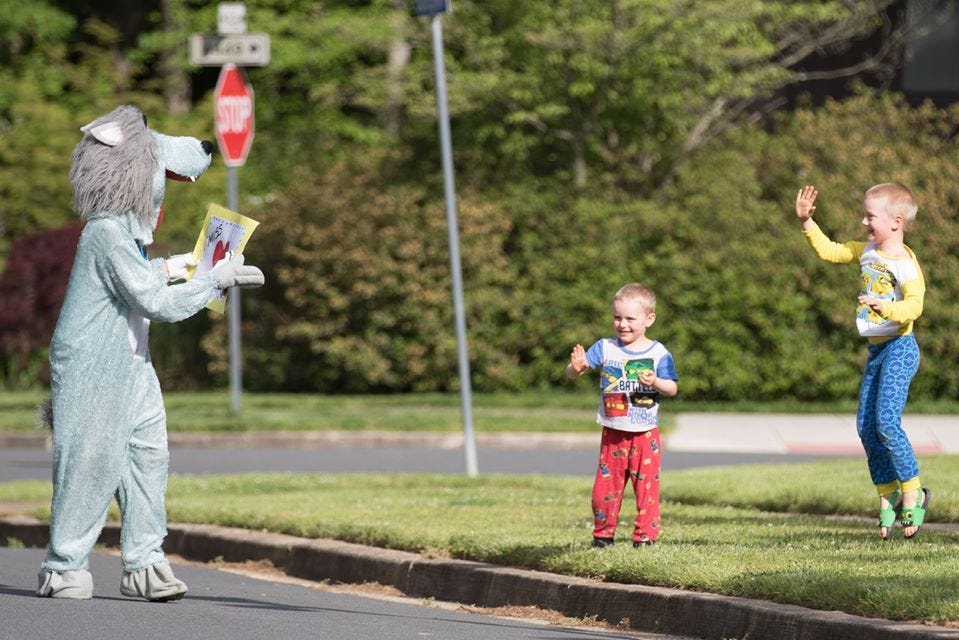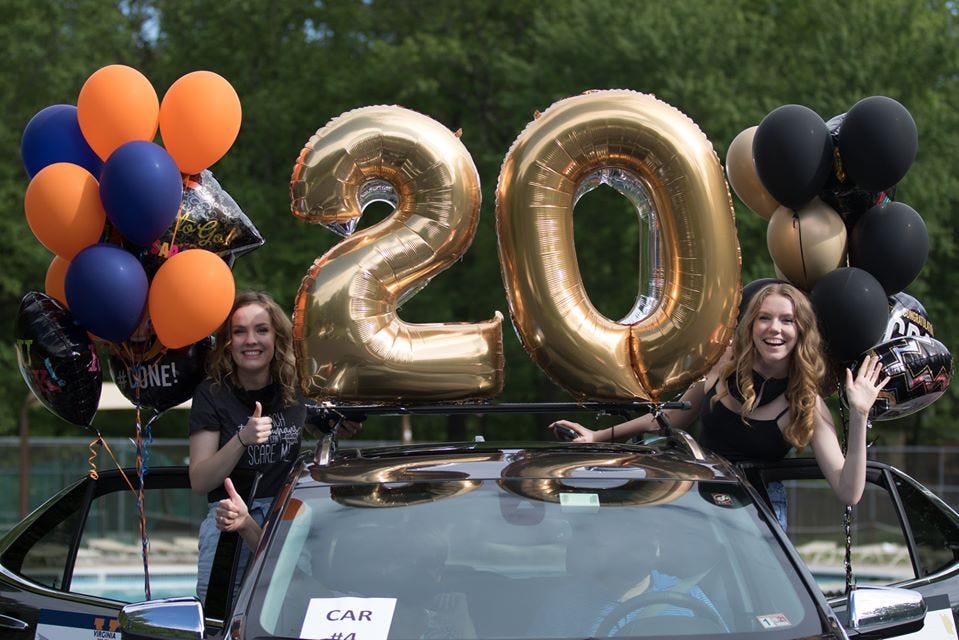 ---
Schools
PTA fundraising grinds to a halt: As schools have shuttered, so too have the fundraising efforts of local PTAs, with Frost Middle School canceling its Bingo Night—its biggest fundraising event of the year—and Woodson High School cutting short a fundraising mail campaign. The lost revenue will have little immediate impact, because most PTA-sponsored events have also been called off, but the decline could make it harder to support cash-strapped schools if and when students return in the fall. 
"I suspect fundraising next year will continue to be difficult because of the vast economic impacts of the pandemic," says Melissa French, president of the Woodson Parent Teacher Student Organization, which, among other initiatives, organizes a teacher/student grant program that provides items not funded through the county budget. These have included science lab supplies, water bottle filling stations, equipment for a student broadcasting facility, and virtual reality headsets for immersive learning. 
Frost PTA President LaTisha Elcock notes that the impact won't just be monetary: "The PTA is more than just fundraising. Parent volunteers are more inclined to serve when they can see firsthand what the PTA does in the school. While our volunteer recruiting for the next school year has been negatively impacted, we are optimistic about our ability to fill committee chair vacancies."
At Wakefield Forest Elementary School, fundraising efforts have also been affected, bringing in less than in previous years, but the PTA was able to raise more than $11,000 through an annual auction that was moved from in-person to online. "We have definitely seen some impacts to our events and fundraising efforts as a result of COVID-19," says PTA President Susan Johnson. PTAs are especially important at the elementary-school level, with the Wakefield Forest association managing an annual budget of nearly $70,000 that funds assemblies, Odyssey of the Mind, the spelling bee, art supplies, a math and reading intervention consultant, and family engagement events. With the county absorbing a major economic blow from the pandemic, schools could be looking to PTAs more than ever next year to fill crucial gaps.
Superintendent announces graduation plans: An in-person graduation ceremony for this year's high school seniors is being delayed until fall at the earliest, Fairfax County Public Schools Superintendent Scott Brabrand said last week. In the meantime, seniors will be able to schedule individual photos starting in June where family members can watch their grads receive diplomas while "wearing their cap and gown along with the appropriate cords and medals," Brabrand said. In addition, a Class of 2020 celebration video is being produced. 
In her weekly message to Woodson students, Principal Carlyn Floyd said she's been "working diligently with the region principals as well as our graduation staff here at Woodson on the details around each of these events and we will be sending information out early next week to senior families." She noted that caps, gowns, and diplomas have not yet arrived and that she's been in touch with the vendors regarding the delivery timeline.
Distance learning could extend into fall: There was a lengthy—and at times heated—discussion on the Nextdoor app after former School Board candidate Zia Thompkins posted, "FCPS considering not opening in the fall!" In the nearly 400 comments that followed, some parents defended a cautious approach to reopening the schools that prioritizes health, while others voiced alarm about the implications for their children's education and the economy. The discussion stemmed from a presentation that Superintendent Brabrand delivered to the School Board last week outlining three "preliminary" scenarios for the fall. A final decision isn't expected until after a state task force issues guidelines next month. The scenarios put forward by Brabrand are:
The school year begins virtually with distance learning still in place. In this scenario, the school system would attempt to provide childcare for working parents through partnerships with community and faith-based organizations.

Some students return to school with social distancing measures in place, while others continue distance learning or attend school on alternating days.

Some students return to school full-time while other students and staff, based on individual health circumstances, continue distance learning.
Brabrand's presentation makes clear the extraordinary logistical hurdles the school system will have to overcome to bring students back while implementing social distancing. In one example, the presentation notes that having one student per seat on buses would reduce capacity by 50% for middle and high schoolers and 67% for elementary schoolers, who sit three-to-a-seat. This would necessitate an increase of 779 buses and drivers across the county. In another example, Brabrand says socially distanced classrooms would be able to accommodate a maximum of just 12 students, as illustrated in this slide from the presentation: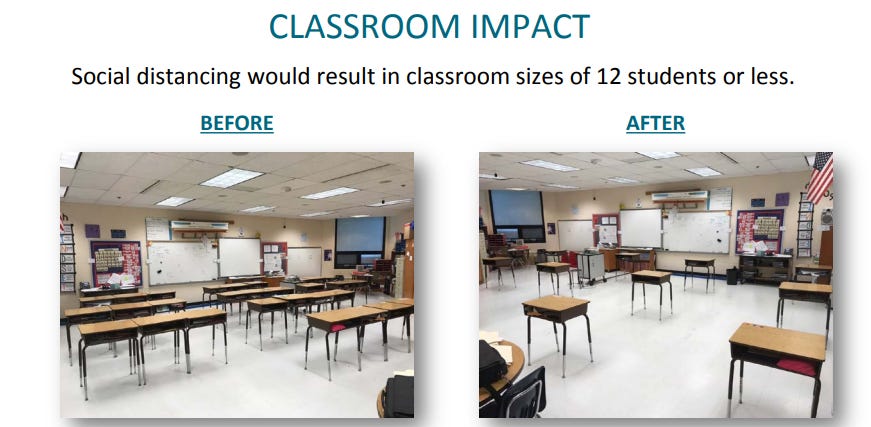 FCPS has also announced plans to continue distance learning this summer—more information on the impact to summer programs is available here.
---
Neighborhood News
"Unofficial" swim meets? Swim and dive programs across Northern Virginia are trying to come to terms with the Northern Virginia Swimming League's decision to cancel the 2020 season, with local pool leaders still unsure exactly what it will mean for their swim teams. But some of the biggest programs in the region are already exploring workarounds, with Overlee of Arlington and Chesterbrook of McLean looking into holding an "unofficial" meet between the two Division 1 powerhouses. "Depending on comfortability of the situation, that has already been talked about and could be set up," Overlee Coach Andrew Coons told Sun Gazette Newspapers.
In our area, Ilda Pool leaders said in a statement they're "working on ways for our summer swim team family to connect" and will "recognize our seniors in an amazing way." Meanwhile, the Mantua Swim and Tennis Club is "investigating options for a Mantua-only swim league for the summer," according to a statement on the swim team's website.
For its part, the Wakefield Chapel Recreation Association announced plans to move forward with some of its summer tennis programs—with coaches and players kept at least six feet apart at all times, among other rules. "With the current situation, there are very few outlets for kids and adults to exercise and de-stress," WCRA Tennis Coach Mitchell Frank said in an email to members. "Tennis is one of the few sports that in general requires a certain level of social distancing naturally due to the net and two sides of the court."
---
Pandemic
Beloved Annandale doctor dies of COVID-19: There was an outpouring of grief last week over the news that longtime Annandale doctor Steven Perez died May 7 of COVID-19. Perez, who served many families in the area, had run the Medical Center of Annandale since 1995. The Annandale Blog has more here, including an obituary by Perez's daughter-in-law and an email address where community members can share stories.
Annandale has third-highest case count in the state: Much of Virginia began loosening COVID-19 business restrictions on Friday, but Phase 1 of Gov. Ralph Northam's reopening plan was delayed for Northern Virginia until May 29 after local leaders made clear they don't think the region is ready. The decision came as the state for the first time began releasing case count data down to the zip code level. This new data shows that the Annandale area, zip code 22003, has the third-highest confirmed case count in Virginia, at 682. Annandale trails zip codes 22191 and 22193, which are in the Woodbridge/Potomac Mills area. The case rate for our zip code is 1,218.1 per 100,000 people, which is far higher than Fairfax County's overall case rate of 664.1 per 100,000. The Fairfax Health District has reported a total of 289 deaths, an increase of 43 from a week ago, according to the latest county data.
A business owner's perspective
"There hasn't ever been anything like this:" We chatted with Truro resident Jay Thomas to get a sense of how the pandemic is affecting small business owners. Since 2000, Thomas and his wife have owned an Alphagraphics printing franchise in Old Town Alexandria that has seven full-time employees. He says March had been shaping up to be one of his best months ever—and then things "fell off a cliff."
"I've been through a couple of recessions. I've been through 9/11. I've been through the Great Recession—and there hasn't ever been anything like this," he tells us. "This is definitely not one of the fun times, thinking about payroll and thinking about all the employees and the families they need to support."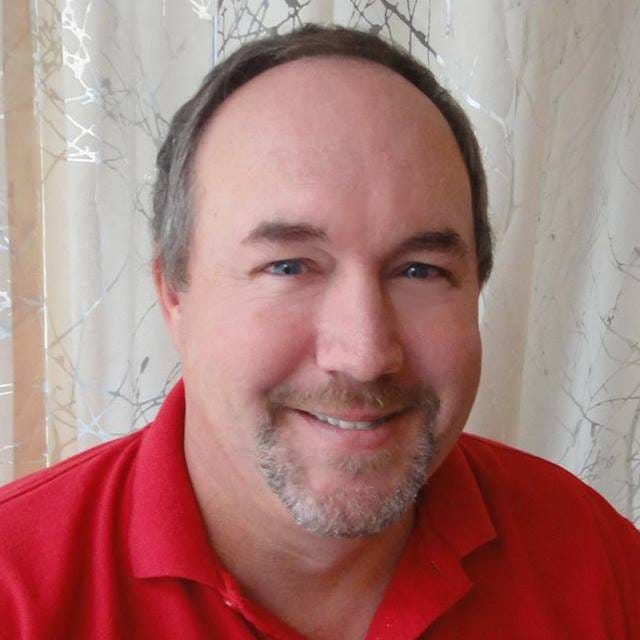 Thomas' print shop saw sales decline 51% this April compared to last April, and he says he's on track for a similar decline in May. In response, he has cut employee hours by 40%, furloughed one employee, deferred some debt payments, and reduced his own pay by half. But he was recently able to restore employee hours and pay after receiving funds through the federal government's Paycheck Protection Program (PPP)—a loan that will be forgiven as long as 75% is spent on payroll. Thomas expects the federal stimulus dollars to tide him over for eight weeks. "Once I brought everybody back, I told them, 'When this PPP money is used up, I don't know what the cash flow situation will be—it could be worse than ever before,'" he explains. "I was straight up with them on that."
Meanwhile, Alphagraphics corporate headquarters has been trying to come up with creative ways for franchise owners to replace the lost business. One of those is by selling personalized yard signs for students whose graduation ceremonies have been canceled or delayed. "We're selling a fair amount," says Thomas, whose twins boys are seniors at Woodson. "On a personal level, it's scary," he adds, "being 59 years old and not looking at a steady income at my age."
To support Thomas through the shutdown, graduation signs can be ordered here. Contactless delivery can be arranged by clicking "local delivery."
Wakefield Weekly is looking to feature more stories about how area residents have been affected by the pandemic. If you have a story to tell, please contact us at wakefieldweekly@gmail.com.
---
Featured Photo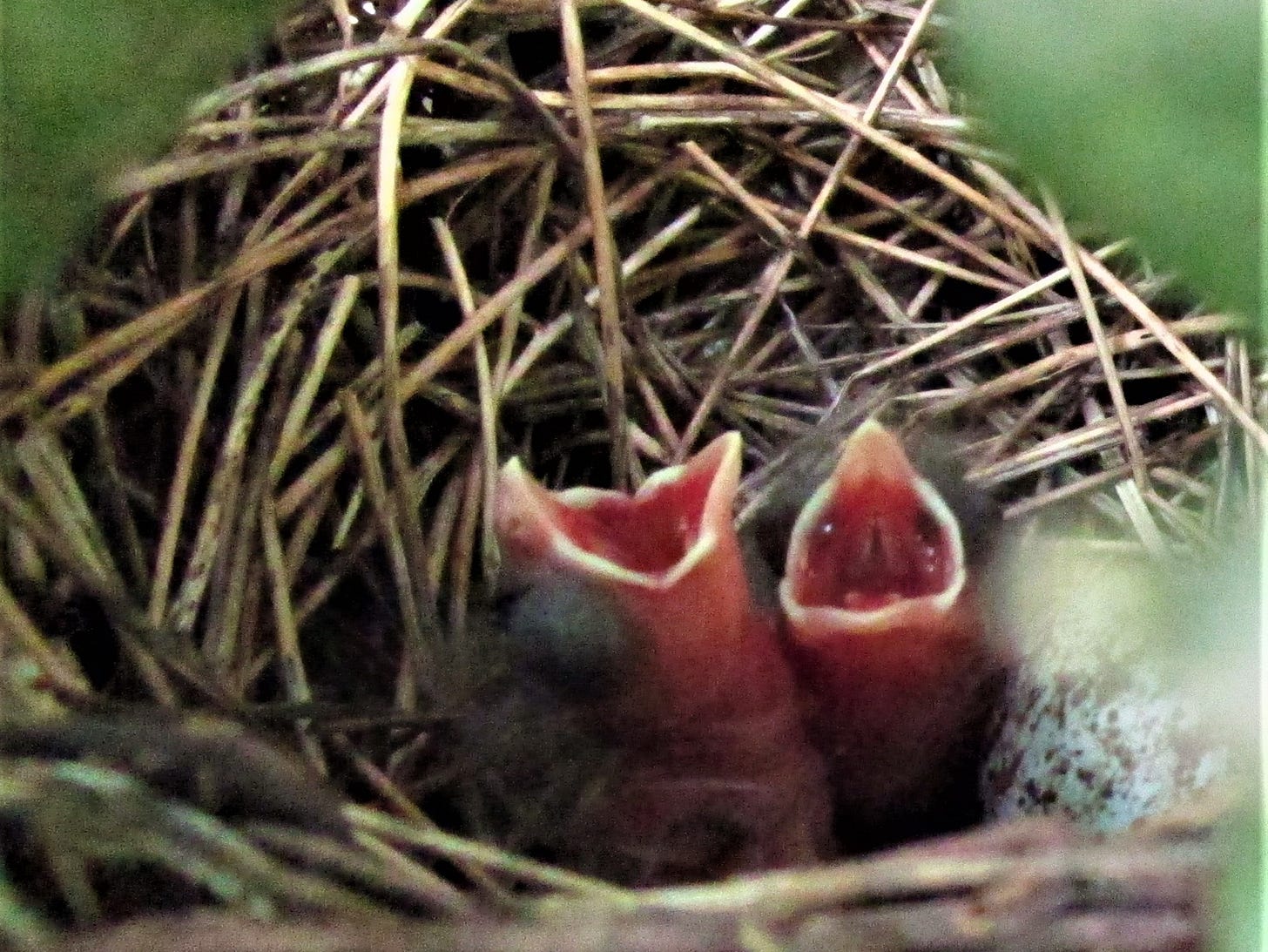 Cardinals hatch while lucky family observes from a distance: This week's pick comes to us from 12-year-old photographer James Giffen of Toll House Road, who recently received a camera for his birthday. The Giffen family was fortunate (and observant) enough to notice a nest with three eggs in one of their bushes. They had a wonderful time tracking the baby birds' development and even got to watch one of the eggs hatch. Keep up the great photography, James!
Send neighborhood photos to wakefieldweekly@gmail.com for your chance to be featured.
---
Public Safety
Traffic pursuit near King's Park: Darren Anthony Cochran, 19, of Stanardsville, was arrested and charged last Tuesday with two counts of hit-and-run, disregarding a police signal to stop, assault on a law enforcement officer, and driving without a valid license. The early-morning incident occurred at the intersection of Morrissette Drive and Rolling Road, just south of Kings Park, after officers attempted to stop a 2006 Acura TSX that they believed had been involved in an earlier hit-and-run. In a news release, the Fairfax County Police Department said Cochran failed to stop, resulting in a pursuit in which he "intentionally crashed his car into an officer's SUV." Police disabled the vehicle, resulting in Cochran's arrest. No injuries were reported.
West Springfield District crime briefs
Sunday, 5/10:
Commercial burglary: 8912 Village Shops Drive (Crosspoint Market), 1:33 a.m.: Someone broke into the business and stole merchandise.
Monday, 5/11:
Larceny: 8900 block of Cotswold Drive, HVAC unit from business

Larceny: 5100 block of Concordia Street, headphones from vehicle

Stolen vehicle: 8600 block of Pin Oak Drive, 2011 Honda Accord
Tuesday, 5/12:
Larceny: 8600 block of Wind Song Court, snow blower from residence

Larceny: 4600 block of Lawn Court, purse from residence
Wednesday, 5/13:
Larceny: 4300 block of Wedgewood Drive, license plates from vehicle

Larceny: 4300 block of Wedgewood Drive, license plate from vehicle

Larceny: 8300 block of Luce Court, license plate from vehicle

Stolen vehicle: 7900 block of Saint George Court, 2018 Jeep Cherokee
Thursday, 5/14:
Robbery: 6900 block of Shackle Place, 3 p.m.: Four teenagers approached another teenager, displayed a weapon, assaulted him, and stole personal property. The victim received minor injuries. The suspects were described as teenage males.
Friday, 5/15:
Larceny: 8200 block of Springwood Meadow, credit card from vehicle

Larceny: 6300 block of Karmich Street, chainsaw from shed
Source: Fairfax County Police Department
---
Real Estate
On the market:
8331 Epinard Ct | $737,900
4 beds, 2.5 baths, 2,250 sf
Listed by Cary Fichtner-Vu | RE/MAX Allegiance 
8909 Braeburn Dr | $689,900
5 beds, 3 baths, 2,303 sf
Listed by Denae Judd | Pearson Smith Realty, LLC 
4112 Duncan Dr | $714,900
4 beds, 3 baths, 2,272 sf
Listed by Mark Middendorf | Long & Foster Real Estate, Inc. 
4655 Country Vale Ct | $850,000
6 beds, 3.5 baths, 3,266 sf
Listed by Cary Fichtner-Vu | RE/MAX Allegiance 
4500 Fidelity Ct | $689,900
4 beds, 3.5 baths, 2,112 sf
Listed by Luis Lugo | LPS Real Estate, LLC 
8604 Norfolk Ave | $1,449,900
6 beds, 6.5 baths, 5,750 sf
Listed by Lynne DePaso | Land & Homes LC 
5129 Red Fox Dr | $669,000
4 beds, 2.5 baths, 2,390 sf
Listed by MaryAshley Rhule and Melanie Pissarius | Compass
8618 Pappas Way | $705,000
4 beds, 2.5 baths, 2,562 sf
Listed by Jon DeHart | Long & Foster Real Estate, Inc. 
Recently sold:
8711 Mary Lee Ln | $790,000
4 beds | 3 baths | 2,387 sf
Listed by Melissa Weinberg and Renee Mumford | RE/MAX Executives
Bought with Eric Hernandez | Compass 
---
Thank you for reading Wakefield Weekly! You can contact us at wakefieldweekly@gmail.com with news, tips, featured photo submissions, volunteer opportunities, or just to say hello. And, if you haven't already, we hope you'll subscribe using the button below.