Discover more from Braddock Buzz
a weekly newsletter covering central Fairfax County
Over 1,000 subscribers
Trash petition organizer responds to Walkinshaw - Dominion plans 15 underground projects in Wakefield zip code
A conversation with a Wakefield-area early childhood education expert - Additional meetings planned on Braddock Road improvements
Welcome to Wakefield Weekly! If you enjoy this newsletter, we hope you'll help it grow by forwarding it to a friend or sharing it on social media. You can contact us with news, tips, featured photo submissions, and more at wakefieldweekly@gmail.com
Big thanks to our sponsor, Realtor Jennifer Mack, whose column today is about whether sellers should get a home inspection and appraisal done in advance. You can reach Jennifer with real-estate questions at jennifer@jennifermackproperties.com
Childcare
"It's a lot of juggling that families are having to do"
A conversation with early childhood education expert Colleen Vesely
Last spring, many parents found themselves juggling work and overseeing their children's online education—against a backdrop of mass layoffs and economic uncertainty. It was a struggle, but the saving grace was that it seemed temporary: We would distance, the pandemic would subside, and life would return to normal in the fall.
Things have turned out quite differently. COVID-19 is raging across the country, many school systems have announced all-virtual starts to the school year, and there's no end in sight.
We chatted with Ilda Woods resident Colleen Vesely, a professor at George Mason who specializes in early childhood education, to get a sense of what the ongoing crisis will mean for parents and children, both in our immediate area and in the wider community. The interview has been edited for length and clarity.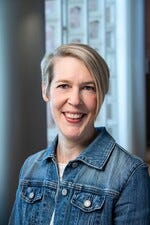 Q: Can you describe your research?
Much of it focuses on childcare, particularly from birth to five. I work predominantly in immigrant communities, low-income communities, doing community-based participatory research. This means we're actually doing research with communities. They're helping us collect data, they're helping us analyze the data, and we use that to inform actions and advocacy in the communities.
Q: How would you describe access to childcare right now with schools being closed?
Home-based providers have been open. Many of them have remained open. A lot of the center-based programs, especially the bigger ones—and even the publicly funded ones—closed for a period of time. Many of them reopened in June and, I think, so far, so good. Summers are always hard in general for parents because we still work on an outdated agrarian model that keeps children out of school in the summer. While there are many things this year—summer camps, and the like—that are virtual, it's not the same as in-person. If you have to get your child onto a device or monitor your child on a device to "attend" summer camp, that's not providing you, likely, with the space that you need to work.
Q: Especially depending on the age of your children...
Yes. It's a lot of juggling that families are having to do. Even in the most egalitarian of households, if it's a two-parent heterosexual couple, women shoulder this burden far more than men. And that's because of so many of the structures that still exist in society in terms of men earning on average more than women do. During the pandemic this responsibility has increased exponentially. As women are working to hold down full-time, high-power jobs, they are faced with figuring out how to care for, and teach, their children at home. This dual burden is sure to take a toll on women's long-term physical and mental health.
Q: What do you think children are missing out on by not being physically present in school?
They're missing out on being taught by experts in the classroom. Educators have gone to school to learn and implement best practices for teaching and to understand how to best support children's development. In the state of Virginia, up until recently you had to complete post-graduate work to receive a teaching license, which was two courses shy of a Master's Degree—so our teachers in Virginia are highly educated and trained to work with children and families. I think that's a piece that they certainly will miss, and being among so many peers. A lot of parents are also worried about organized sports. I think I worry less about that because I actually think kids today are a little bit too over-scheduled. 
Q: What do you consider the top short- and long-term concerns for children and families when it comes to school closures?
Short-term is the level of stress in households, particularly among parents who are trying to juggle so much right now. This stress may be spilling over to children. Also, children not being in school physically means some of them lack access to all of the support that school brings, including mental health services.
As we consider the long-term consequences on children, one of the tools to look at is ACEs, or Adverse Childhood Experiences. This measure was created by a partnership between the CDC and Kaiser Permanente, and it examines the number of traumatic events a child experiences before the age of 18, and how this number is linked with adverse outcomes later in life. There are 10 specific experiences—personal and familial—considered, and some of these include abuse and neglect, parental alcoholism, domestic violence, parental incarceration, parental mental illness, and the disappearance of a parent through divorce, death, or abandonment. Given the stress that parents are under right now, there's increased vulnerability to many of these, especially for families and children who were already marginalized by society prior to the pandemic.
Q: How do you think we can best support our neighbors and people in the wider community who are struggling financially and emotionally as a result of the pandemic and school closures?
Ask your neighbors and families in your community what they need. So often, we assume we know what others need, so be in contact with your neighbors and your neighbors' neighbors to understand what people in your community need. This is especially true for those who may be in more challenging circumstances like single parents, families with children with special needs, multigenerational households with concern for aging parents, essential workers, low-income families, and families with limited English proficiency. 
Q: Is there anything you'd like to add?
I just would say that—and I say this as much to myself as to other parents—let's be gentle with ourselves and gentle with our children. I just think that that is most important, and really trying to focus on what are the positive aspects of everything that's happening right now.
---
Neighborhood News
Trash petition organizer responds to Walkinshaw: In last week's edition, Braddock District Supervisor James Walkinshaw offered a cautious take on the successful petition in Canterbury Woods to move from private to county-run trash and recycling pickup—which will require approval from the Board of Supervisors to take effect. Walkinshaw cited the concerns of county waste-management officials, noting that a national shortage of qualified drivers, along with the fact that Canterbury Woods isn't adjacent to any existing county pickup locations, "raise serious questions about our ability to effectively serve new and existing county collection customers." Walkinshaw encouraged other neighborhoods considering the "time-consuming" petition process to consult with his office first.
The organizer of the Canterbury Woods petition, Dale Johnson, sent us a point-by-point response in which he took issue with what he called an insinuation that the Canterbury Woods petition will not be supported. "I don't think it is wise to ignore the wishes of the majority of the residents within Canterbury Woods, and to discourage adjacent neighborhoods from submitting trash petitions," said Johnson, who's in his fifth year as president of the Canterbury Woods Civic Association.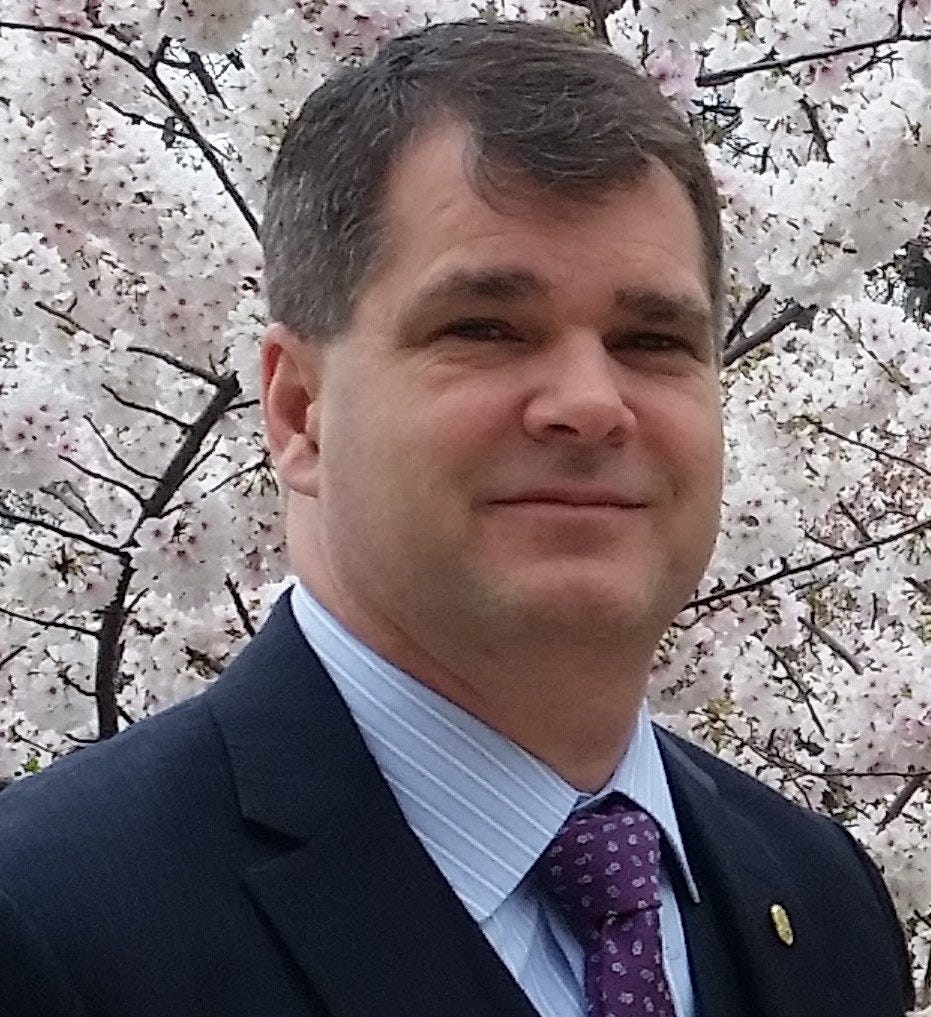 Pictured: Dale Johnson
Here's the rest of Johnson's statement:
Canterbury Woods is only half a mile away from a group of hundreds of homes serviced by the county between Rolling Road and Burke Lake Road and although it's not contiguous, the trucks are already passing by our entrance on the way to this group of homes AND there is another group of homes in the Lee Meadows area that is adjacent to Truro that is close. Truro, Stonehaven, and other communities that are adjacent to us stated that they would start the petition process if Canterbury Woods gets approved and if they are approved this would create a contiguous sanitary district to the existing Lee Meadows area.  

Canterbury Woods met the minimum percentage to submit the petition, but that minimum that we achieved was based upon one large section of Canterbury Woods not submitting their votes resulting in a lower percentage. I requested all votes to be counted whether or not our residents were for or against the county collection. Out of the votes collected 66% of the residents were for county services and 34% were against county services. 
The Board of Supervisors is expected to hold a hearing and vote on the issue in October. Our most comprehensive report on the topic, which includes the reasons for the petition and a response from an executive with American Disposal Services, was in our June 8 edition, which can be found here.
Dominion plans 15 underground projects in the Wakefield zip code: Dominion Energy currently has 15 active projects to put power lines underground within the 22003 zip code that includes the Wakefield area, representing 702 customers, according to data provided by the company. These projects are part of Dominion's Strategic Underground Program, which "uses a data-driven process to determine which overhead electric distribution lines are most prone to outages and that can be relocated cost-effectively," says Dominion spokesperson Tony Robinson.
Over the past four years, Dominion has placed 1,300 miles of overhead lines underground. The company believes that if it can convert 4,000 miles of outage-prone power lines to underground, it will reduce restoration times after major storms by up to 50%. "By burying these lines, Dominion reduces the number of repairs needed to restore service following a major storm," Robinson explains. "This benefits all customers, even those whose lines remain overhead, because there will be fewer lines to repair and fewer locations to reach on a house-by-house basis, allowing crews to focus on other outages."
He notes that individual projects might not directly impact every resident of the street where the project is taking place and that utility poles will remain "to continue providing phone and cable service as well as streetlights."
Dominion provided Wakefield Weekly with the list below of all current underground projects within two zip codes—22003 and 22031, which includes Mantua. You can click the image to see a larger, higher-resolution version.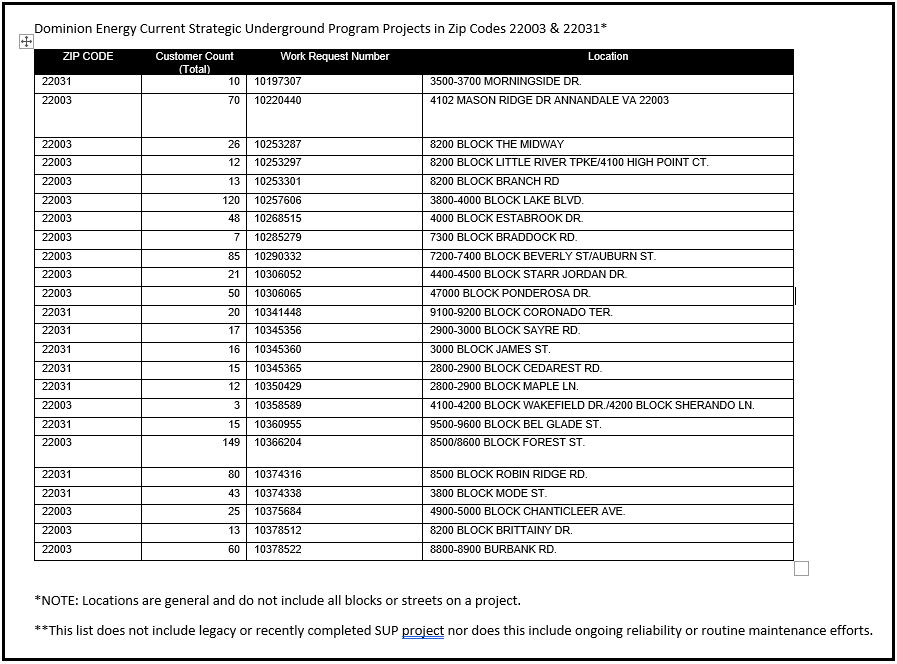 Additional community meetings planned on Braddock Road improvements: Additional meetings are set to be held this spring after residents voiced "significant confusion and concern" during a meeting August 3 about a portion of the Braddock Road Multimodal Improvements Project, Supervisor Walkinshaw said in the latest edition of his "Walkinshaw Advisory." The concerns were about proposed design changes at the intersections of Braddock Road, Wakefield Chapel Road, and Danbury Forest Drive (see this presentation for more details).
Here's the statement on the issue from Walkinshaw:
The design changes at Braddock Rd./Port Royal Rd./I-495 received strong community support during the meeting, in the survey, and in your emails and phone calls to my office and the Fairfax County Department of Transportation. But while the revised design proposal at Wakefield Chapel Dr. and Danbury Forest Dr. would save $24 million, prevent the destruction of hundreds of trees, and improve traffic flow on Braddock Rd., it generated significant confusion and concern. Therefore, we will revisit that intersection design during an additional round of community meetings next Spring.
---
Real Estate
Sponsored Content
Jennifer Mack column: Should sellers have their homes inspected or appraised in advance?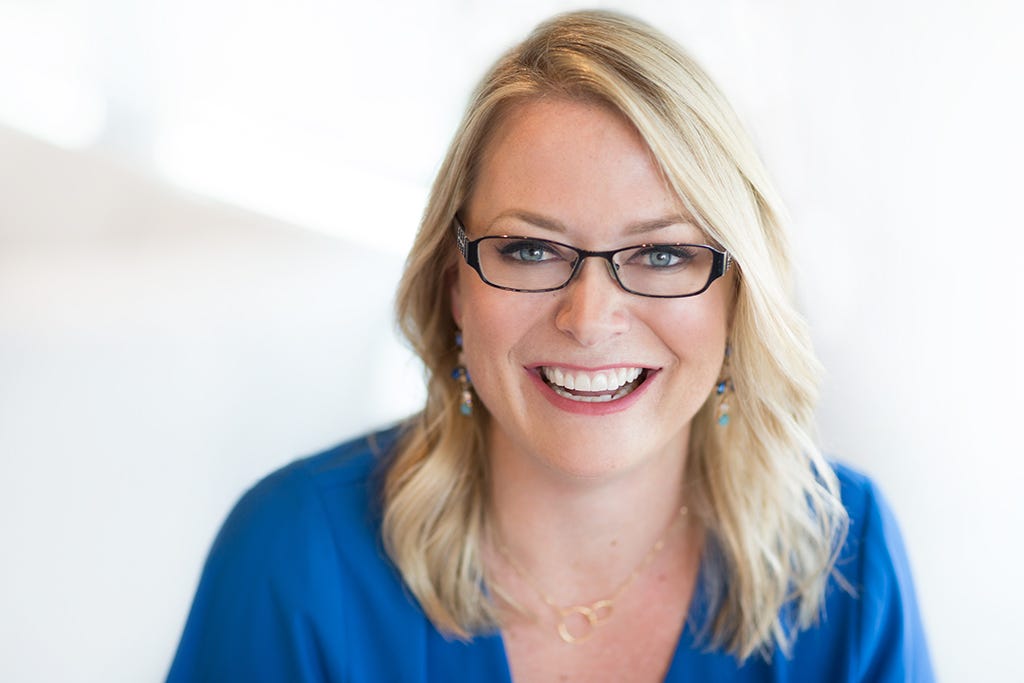 Today, I'll answer a question I often get from people who are in the early stages of preparing their homes for a sale:
Should I get a home inspection and appraisal done in advance to prevent issues when I sell?
Getting a home inspection done in advance of selling can be a good idea. But there are some big caveats.
Homeowners must understand that no two inspectors are the same—and they will likely identify different issues. If you have your home inspected a year in advance of selling, you should expect that some new issues will be identified by the buyer's inspector a year later. Additionally, if the home inspection uncovers large issues that the homeowner decides not to address—such as mold or a foundation problem—the seller would be obligated to disclose those items to buyers. Some sellers will provide a copy of the report to a buyer with notations as to what they addressed in hopes that a buyer might waive their own inspection. Another thing to keep in mind is that, because the market is so hot right now, some buyers might choose to waive their inspection anyway—which would make getting an inspection in advance a waste of time and money.
In my opinion, getting an appraisal done in advance is only prudent in the case of an unusual property where comparable sales are difficult to find. Otherwise, a qualified and experienced real estate agent should be able to pinpoint the value pretty easily and without additional expense for a seller. Appraisals are more of an art than a science and it is impossible to predict what comparable sales an appraiser will choose for your home. They tend to look for the most recent sales, so having an appraisal done far in advance of selling may not yield accurate data applicable to when you actually go on the market.
Jennifer Mack has more than 15 years of experience in the real estate industry. Her team services Virginia, Maryland, and D.C., with the bulk of her business in the Woodson High School area. You can contact her with real estate questions at jennifer@jennifermackproperties.com. She's happy to answer specific questions privately or more general questions publicly in this column.
On the market
4945 Sabra Ln | $670,000
5 beds, 2.5 baths, 2,388 sf
Listed by Lauren de Lima | Patriot Properties Inc. 
4807 Autumn Lake Way | $1,250,000
5 beds, 4.5 baths, 5,905 sf
Listed by Debbie Dogrul Associates and Jamie Petrik | Long & Foster Real Estate, Inc.
4235 Willow Woods Dr | $634,888
5 beds, 3 baths, 2,668 sf
Listed by Debbie Dogrul and Jay D'Alessandro | Long & Foster Real Estate, Inc.
5002 Wakefield Chapel Rd | $650,000
5 beds, 3  baths, 2,464 sf
Listed by Chris Colgan | Keller Williams Realty/Lee Beaver & Assoc. 
4702 Declaration Ct | $739,900
5 beds, 3 baths, 2,363 sf
Listed by Cary Fichtner-Vu | RE/MAX Allegiance
Recently sold
4915 King Solomon Dr | $775,000
5 beds, 3.5 baths, 2,220 sf
Listed by Deborah Mullan | Century 21 Redwood Realty
Bought with Gary Fitzgibbon | RE/MAX Gateway, LLC 
8412 Georgian Way | $753,500
5 beds, 3 baths, 2,451 sf
Listed by Elvish Black | Coldwell Banker Residential Brokerage
Bought with Matene Okoye | Sold 100 Real Estate, Inc.  
8519 Queen Elizabeth Blvd | $669,000
5 beds, 3 baths, 2,006 sf
Listed by Debbie Dogrul Assocaties and Kathlene Holzhauer | Long & Foster Real Estate, Inc.
Bought with Wendy Lachowicz | RLAH Real Estate
4704 Ponderosa Dr | $715,000
4 beds, 3 baths, 2,668 sf
Listed by Alexander Osborne | KW Metro Center
Bought with Kimberly Peele | McEnearney Associates, Inc. 
5105 Bradfield Ct | $624,000
3 beds, 2 baths, 1,560 sf
Listed by Alexandra Eldredge | Century 21 New Millennium
Bought with James Nellis | Keller Williams Fairfax Gateway