NVSL cancels 2020 swim season - Camelot pool plans "limited" opening Memorial Day weekend - Cary Fichtner-Vu says Wakefield remains a seller's market - Annandale nonprofit gets budget boost
Flocking flamingos for Woodson seniors - Superintendent to unveil plan for fall schools reopening - Northam releases sector-specific details of "safer at home" plan
Welcome to the third edition of Wakefield Weekly, where we're working to build community through hyper-local news. We're so thrilled by the response so far, with more than 240 total subscribers, including over 100 who signed up in the past week. We hope you'll tell your friends and neighbors about the newsletter so we can continue to grow our subscriber list and be a trusted source of news for the Wakefield community. 
For those joining us for the first time, you can learn more about Wakefield Weekly here, and we can be reached at wakefieldweekly@gmail.com.
NVSL cancels 2020 swim season: Some sad news for Wakefield-area swimmers—the Northern Virginia Swimming League has canceled its 2020 season because of the pandemic. "We have reached the difficult decision that the 2020 season must be canceled," NVSL's executive board said in a statement. "We feel profound sadness knowing the disappointment this will cause, but the decision was made to prioritize the safety of our participants, supporters, and communities."
The league, which has more than 17,000 swimmers and divers, will refund 2020 team dues, according to the statement, which adds: "We are looking ahead and already planning how to make the 2021 season the best one yet."
Schools
Flocking flamingos for Woodson seniors: With graduation ceremonies canceled or delayed, the moms of two Woodson High School seniors have devised a new—and socially distanced—way to celebrate. Kim Adams of Fair Oaks and Nicole Jabaley of Little Run both purchased 20 plastic flamingos—representing the 2020 graduation year—and arranged them in their front yards as a surprise for their graduating seniors, Abigail and Christian. The idea quickly took flight, with 12 other parents purchasing flocks.
The flamingos aren't supposed to remain in one yard for long. Once a senior is "flocked," Adams says, it's up to that student to continue the migration, assembling the flamingos in the yard of a fellow classmate, with a goal of reaching every senior in the graduating class—more than 500 of them—by early summer. The journey is being tracked on a dedicated Facebook page, where students are encouraged to post photos of their flock before sending them on their way.
"We wanted to do something informal and fun for the Woodson seniors who found themselves at home missing the final months of high school," Adams tells us. "This was a way for them to reach out to each other with a shared fun experience." She adds that more flocks are needed to meet the goal of reaching the entire graduating class: "We are looking for more parents to get involved." Adams, who provided the two flock photos below, can be reached at kimadamsnewlookdesign@gmail.com.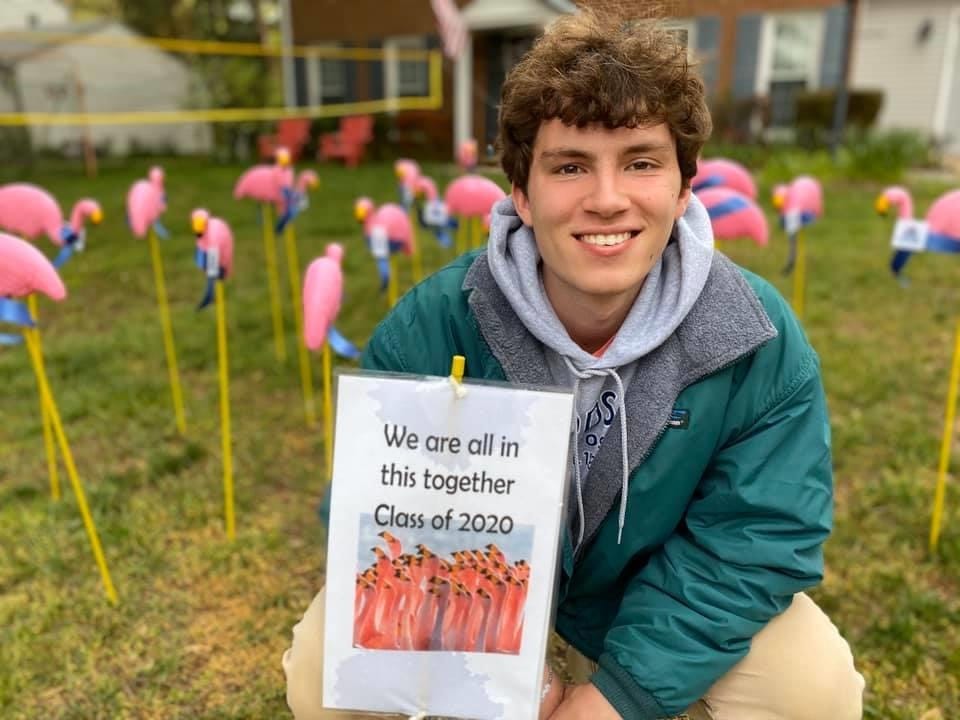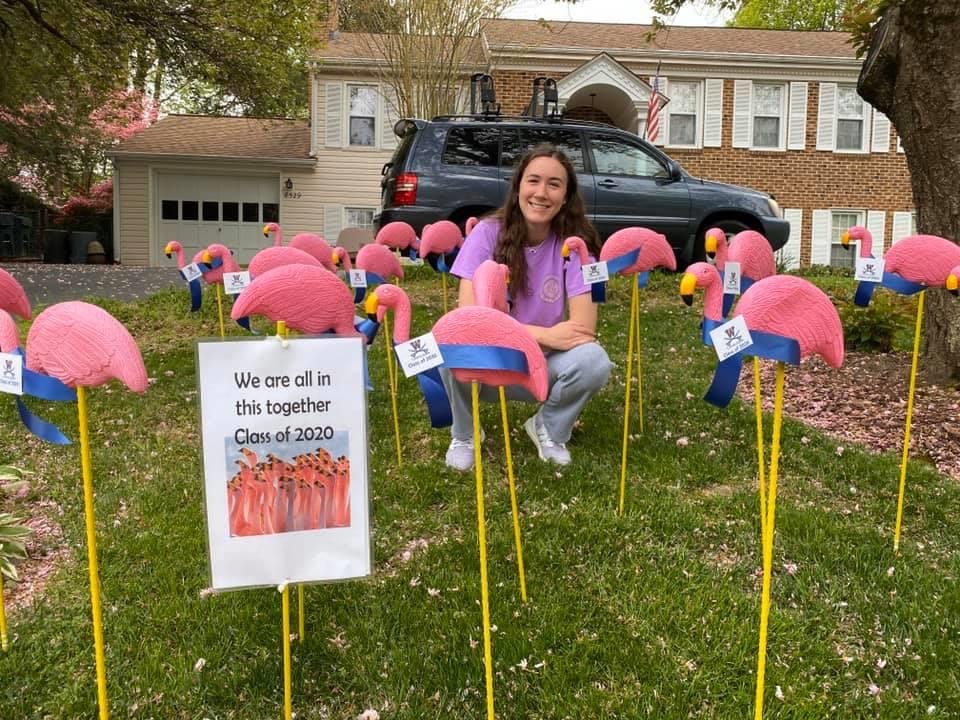 pictured top: Zane Smith, Canterbury; pictured below: Sarah Leaming, Willow Woods
Superintendent to unveil preliminary plan for fall reopening: Fairfax County Public Schools Superintendent Scott Brabrand today will present "scenarios" for reopening schools in the fall, along with options for summer programming. Addressing the School Board last week, Brabrand described the fall plans as "preliminary," explaining that a state task force is also looking into the issue and is expected to release findings early next month. "We'll be looking for additional support and detail from the state to help inform our final thinking about how we will approach return-to-school in the fall," Brabrand said.
In a telephone forum with constituents, Braddock District School Board Member Megan McLaughlin said, "It is our goal to reopen our schools," adding: "We know it's so important to not only our students and our teachers, but also the impact on working families." Tomorrow, the School Board will hear public input on its revised FY21 schools budget, which has been updated to reflect the economic effects of COVID-19, eliminating all but the most essential new spending. The board is set to adopt the slimmed-down budget May 21.
---
COVID-19
Budget blues
Board approves pandemic-adjusted spending plan: As the COVID-19 case count continues to rise in Fairfax County, the Board of Supervisors moved forward last week with plans to significantly curtail its FY21 budget in response to the pandemic. By a 9-1 vote, the board approved a revised spending blueprint that nixes planned tax and fee increases—including a property tax hike of three cents per $100 in assessed value—and scales back previously proposed spending boosts for schools, affordable housing, and a host of other priorities.
The lone dissenting vote came from Springfield District Supervisor Pat Herrity, who argued that holding property taxes steady at $1.15 per $100 amounts to an effective tax increase because of rising assessed values. He might have supported such an increase in the past, he said. "However, these are not normal times and residents are struggling with over 72,575 residents on unemployment and thousands more furloughed or seeing wage cuts."
Annandale nonprofit gets a boost: There was some good news to come out of last week's budget deliberations: The board allocated $20 million of the $200 million it received in federal COVID-19 stimulus spending to community-based nonprofits. This includes $2.3 million for Annandale Christian Community for Action, which provides support for low-income families in this area. "I was proud to join my colleagues in voting to create a $20 million basic needs fund to help residents of Fairfax County meet needs including rent, mortgage, security deposits, housing fees, utilities, and prescription assistance," said Braddock District Supervisor James Walkinshaw.
Help stave off hunger amid the pandemic through food drive donations: The "Stuff the Bus" food drive has helped stock the shelves of local food pantries for the past nine years—but this year they're doing things "a little bit differently," Walkinshaw said in the latest edition of his "Walkinshaw Advisory." Instead of being parked at grocery stores, the "Stuff the Bus" Fastran buses will be at Board of Supervisors' offices and other government buildings to make it easier for donors to practice social distancing. Next Saturday, May 16, and Tuesday, May 19, the buses will be parked at three locations in the Braddock District from 10 a.m. to 3 p.m.:
Community organizers request that donors maintain social distancing during dropoff by wearing face masks and loading items into the back of the bus rather than the front. Requested items include canned goods and dried rice and beans. "We need thousands of pounds of food to keep our neighbors from going hungry," Walkinshaw said. More information on the food drive is here.
From "stay at home" to "safer at home"
Northern Virginia leaders suggest our region won't be ready for Phase One reopening on Friday: Over the weekend, Gov. Ralph Northam released sector-specific details of Phase One of his plan to reopen the state, which he said will begin no sooner than Friday. But officials in Northern Virginia, including Fairfax County Board of Supervisors Chairman Jeffrey McKay, responded yesterday with a letter suggesting they don't believe the region will have met key metrics by Friday and should therefore remain closed. "We feel strongly that any changes to current policies be guided by what is occurring in our region," the officials wrote, attaching a memo from the region's public health directors stating that Northern Virginia has so far failed to meet goals required for reopening including a 14-day downward trend in hospitalizations, increased contact tracing, and having a sustainable supply of personal protective equipment (PPE). "I prefer a regional approach and haven't seen the data to back up reopening now," McKay said on Twitter.
Once Northern Virginia does meet the targets, Northam's Phase One plan would move us from "stay at home" to "safer at home," allowing non-essential retail establishments to operate at 50% capacity and restaurants to offer outdoor dining at 50% capacity. In addition, places of worship would be able to hold services, also at 50% capacity, while hair salons and barbershops would be able to operate by appointment only. Phase One would maintain a number of current restrictions, including a ban on social gatherings of more than 10 people and school closures. A summary of the Phase One plan is here, and a 22-page list of sector-specific guidelines is here.
The numbers: The past week saw 57 deaths due to COVID-19 in the Fairfax Health District, for a total of 246, according to the latest county data. The confirmed case count grew by more than 1,500, from 4,407 a week ago to 5,973 today, which is partly the result of a ramp-up in testing. In our immediate area—defined as zip codes beginning with the three digits 220—the case rate has risen to 522.2 per 100,000 people, which is higher than the county's overall rate of 512.4 per 100,000. The graph below plots total confirmed cases in the Fairfax Health District vs. new confirmed cases: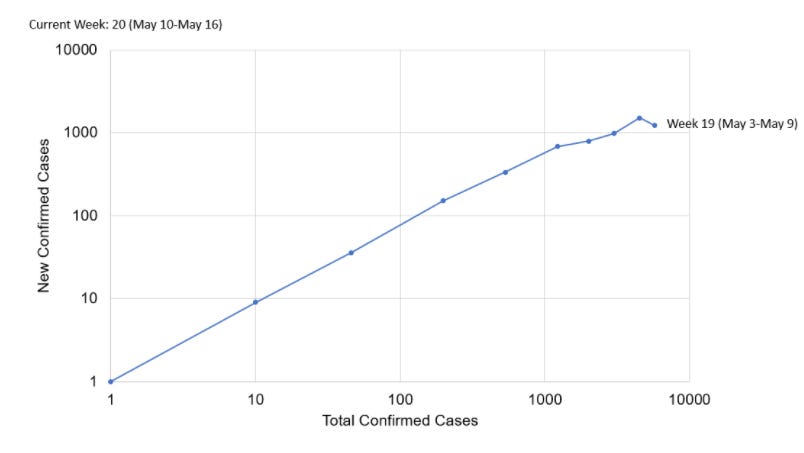 ---
Neighborhood News
Camelot pool to open Memorial Day weekend on a "limited basis:" As other local pools prepare for a delayed opening pending orders from the governor, the Camelot Community Club is moving forward with an innovative approach for a limited opening as scheduled on Memorial Day weekend. The Camelot pool, located just north of Mill Creek Park, will allow member families to rent pool slots, with no more than three families allowed on the pool deck at a time, says Camelot President Abraham McAllister.
The plan is designed to comply with state social distancing guidelines, restricting families to pre-assigned sections of the pool separated by empty lanes. Camelot, which is entirely self-managed, will not collect dues (normally about $600 per year) while the plan is in effect and will instead charge $40 during the week and $50 on weekends for 90-minute slots. "We expect this method to be funding neutral, including funding our capital reserve," McAllister says, noting that Camelot members decided on the approach following two months of discussions, including a virtual town hall and a survey that drew responses from 200 of the 240 members. "We, the board, try to listen to our community and meet them where they are. Even with our focus on communication, the memberships' biggest complaint is that we don't communicate enough."
We'll be sure to check back in with McAllister after Memorial Day to see how the plan is working out.
WCRA brings back (virtual) trivia night: Despite an expected delayed summer opening, the Wakefield Chapel Recreation Association is still moving forward with some activities, including its popular Friday night trivia event. Trivia will return this Friday, with teams competing via Google Hangouts. Participants are encouraged to practice social distancing while interacting with their teammates (deck party, anyone?). To take part, team captains should contact Patrick Smith at tpatricksmith@yahoo.com by the end of the day today. 
---
Featured Photo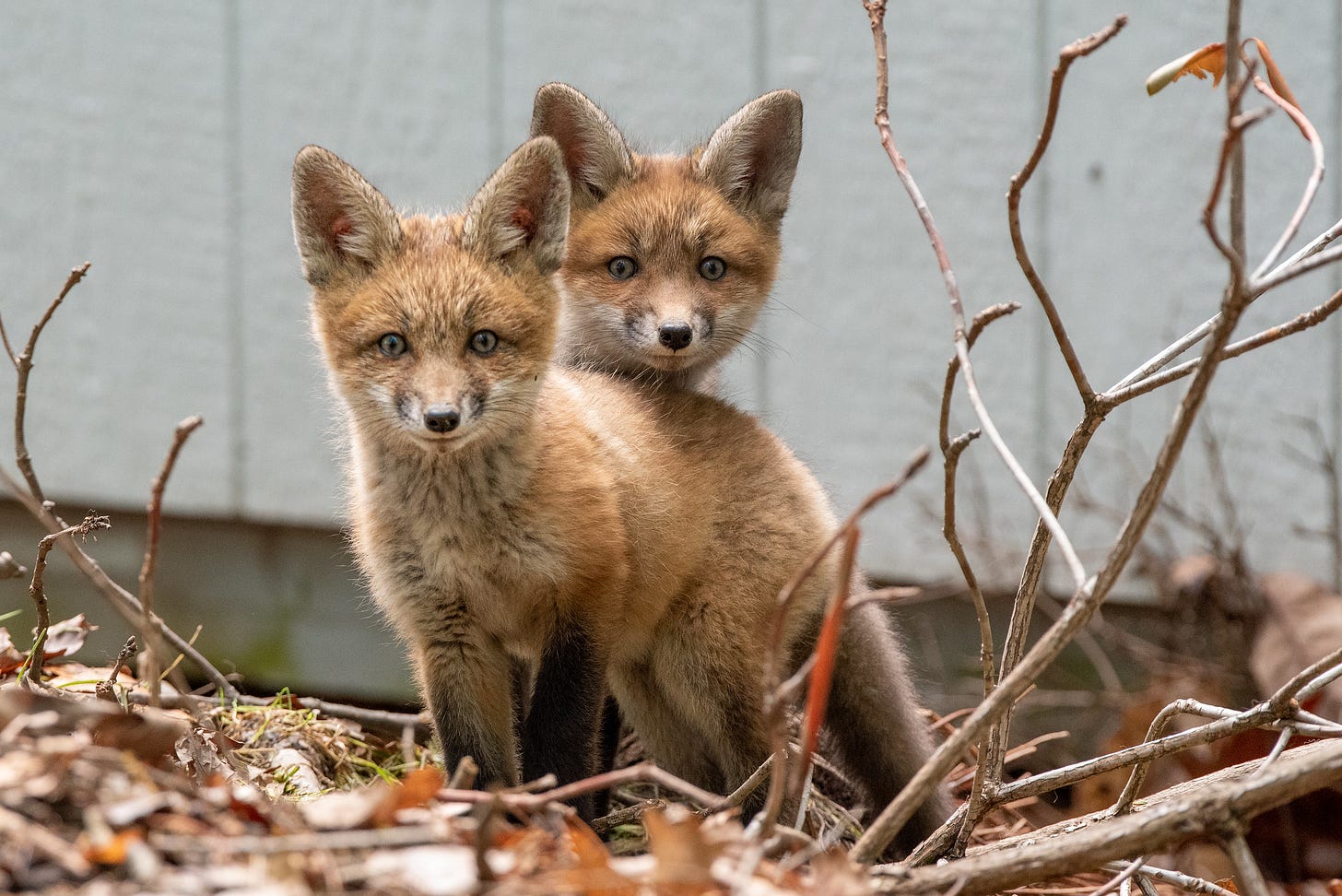 Red fox pups emerge! Red foxes are born in dens in late March to early April, meaning these kits are likely just over one month old. This week's adorable photo comes from Andrew Albosta of Truro, who photographs a wide range of subjects including people, landscapes, architecture, and more. See more from his fox photo shoot on his Flickr page. You can also follow him on Instagram. Send neighborhood photos to wakefieldweekly@gmail.com for your chance to be featured.
---
Public Safety
Fire Department wants better response times in Braddock: In last week's edition, we reported the Fairfax County Fire and Rescue Department's 2019 average response times in the Braddock District: 5 minutes, 8 seconds for EMS and 5 minutes, 58 seconds for fire. The department has since gotten back to us on how it judges its response times, saying it uses standards established by the National Fire Protection Association (NFPA). The Braddock District's EMS time is just eight seconds shy of NFPA's goal of having "a first responder with an Automatic External Defibrillator (AED) on scene within five minutes." Meanwhile, the fire response time is 38 seconds short of the goal of having "the first engine company on the scene of a structure fire within five minutes and 20 seconds, 90% of the time." 
The department "continues to strive to improve response times," says Planning Section Manager Laurie Stone, citing strategies including "streamlining call processing times, increasing staffing levels, and implementing emergency vehicle pre-emption on traffic signals throughout the county." She notes that the Fairfax City Fire Department also responds to incidents in the Braddock District, working with the county through an automatic aid agreement.
---
Real Estate
Cary Fichtner-Vu says Wakefield remains a seller's market, despite the pandemic: We chatted with one of the area's most successful real-estate agents, Cary Fichtner-Vu, to get a sense of how COVID-19 is affecting the market. So far, she tells us, Wakefield remains a seller's market—the only difference being that listings are getting 3-5 interested buyers instead of the usual 10-15, which has its own silver lining. "I personally believe the virus has given opportunity to those who would not be able to compete before," she says, citing a client with a zero-down VA loan who was able to buy a house after previously losing six contracts. Fichtner-Vu has had similar experiences with clients with 5%-down conventional loans who normally would have had to compete with cash offers. "It's given opportunity for those people who don't have as strong of financing to finally get a house."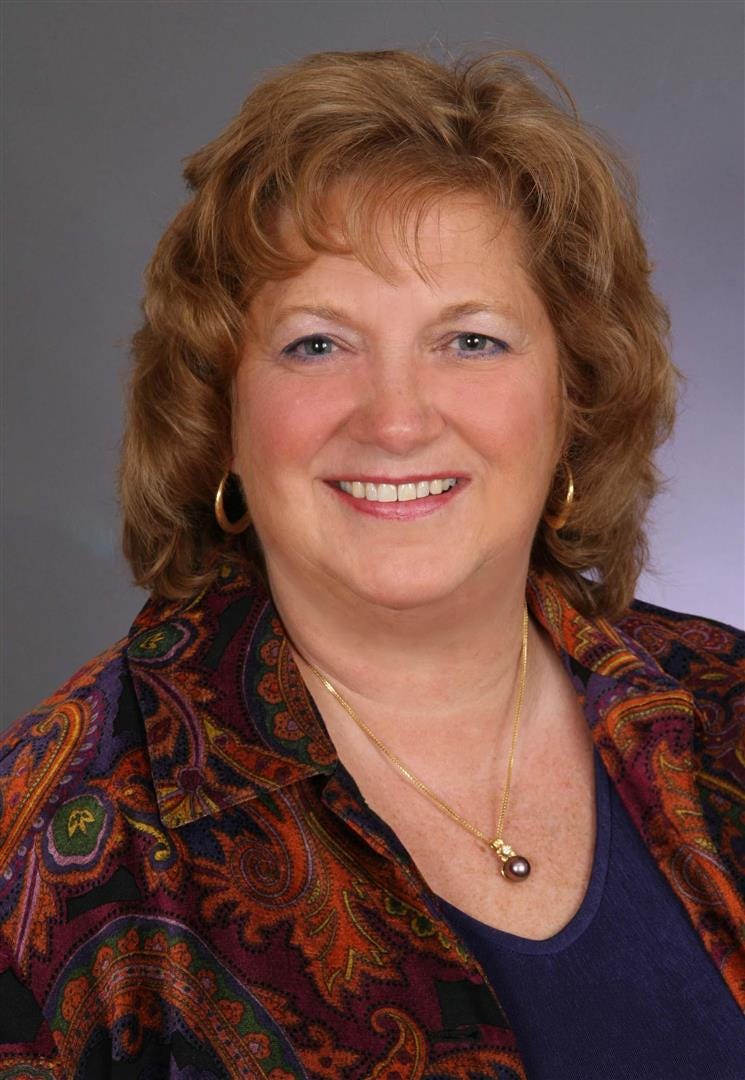 Fichtner-Vu, who has 38 years of experience selling in this area, also says she's had to adapt her marketing strategies in response to the pandemic. While she creates online virtual tours for every house she lists, she says these alone have not been successful—"most people don't want to buy something that they're not physically in." For three Wakefield Chapel homes going on the market this week, she plans to do live open houses—but by appointment only, one buyer at a time. "People will have to wear masks; they'll have to wear gloves. The house will be clorox-ed, and we'll ask them not to touch anything. Everything will be open and lit. And certainly, anyone who likes the house should always come back for a second look—you should never buy a house with one look."
A longtime fixture in this community who previously served as president of the Wakefield Chapel Recreation Association, Fichtner-Vu tells us she'll soon be putting her own house on the market. But don't worry—she won't go far. "I am going to sell my house, probably in another year and a half," she says, adding that she doesn't need as much space now that her four children are grown. "I'll downsize and I will not leave this community."
On the market:
4500 Fidelity Ct | $689,900
4 beds | 3.5 baths | 2,112 sf
Listed by Luis Lugo | LPS Real Estate, LLC
5129 Red Fox Dr | $669,000
4 beds, 2.5 baths, 2,390 sf
Listed by MaryAshley Rhule & Melanie Pissarius | Compass
8604 Norfolk Ave | $1,449,000
6 beds, 6.5 baths, 5,750 sf
Listed by Lynne DePaso | Land & Homes LC 
8618 Pappas Way | $705,000
4 beds, 2.5 baths, 2,562 sf
Listed by Jon DeHart | Long & Foster Real Estate, Inc. 
Last week's sales:
4227 Guinea Rd | $660,000
4 beds, 3 baths, 2,754 sf
Listed by Melissa Weinberg & Renee Mumford | RE/MAX Executives
Bought with Michael Gorman | Long & Foster Real Estate, Inc.
4315 Wakefield Dr | $790,000
4 beds, 2.5 baths, 2,645 sf
Listed by Melissa Weinberg | RE/MAX Executives
4305 Planters Ct | $740,718
4 beds, 3 baths, 2,479 sf
Listed by Tamoley Curran | McEnearney Associates, Inc.
Bought with Donovan Kim | Long & Foster Real Estate, Inc.
5015 King David Blvd | $655,000
4 beds, 3 baths, 2,847 sf
Listed by Eric Stewart & Helen Flynn | Long & Foster Real Estate, Inc.
Bought with Kwang Yao | NBI Realty LLC
4504 Fidelity Ct | $735,000
5 beds, 3.5 baths, 2,376 sf
Listed by Eileen Staron | Weichert, REALTORS
Bought with Debbie Dogrul | Long & Foster Real Estate, Inc.
---
Thank you for reading Wakefield Weekly! Huge shoutout to those who offered words of encouragement last week, including Teresa Brendler, Sonni Lieberman, Brian Collins, Tom Short, Sandi Goldman, Georgi Barker, Traci Griffin, Colleen Grinnell, and Camille Stern.
Contact us at wakefieldweekly@gmail.com, and, if you haven't already, we hope you'll take a minute to subscribe using the button below.