Discover more from Braddock Buzz
a weekly newsletter covering central Fairfax County
Over 1,000 subscribers
Majority of parents, teachers opt for in-person learning - An interview with School Board Rep Megan McLaughlin - Band practice in a time of pandemic
Park Authority plans $20M Phase One renovation for Audrey Moore - School Board approves September 8 start date
Welcome to Wakefield Weekly! For our next edition, we're looking to talk to parents who have experience with homeschooling or are exploring homeschooling for this fall, either full-time or as a supplement to FCPS. We think providing resources and information on this topic would be helpful to the community—and if you're interested in sharing your insights, we'd love to chat. Email us at wakefieldweekly@gmail.com
Big thanks to our sponsor, Jennifer Mack, whose column can be found at the beginning of the Real Estate section. Reach out to her with all of your real estate questions at jennifer@jennifermackproperties.com
Schools
Majority of parents, teachers opt for in-person learning: So far, 62% of those who've completed their FCPS fall enrollment forms have opted for in-person learning, according to figures provided to Wakefield Weekly on Friday. About half of FCPS parents have submitted forms for their children, with the numbers breaking down like this:
57,000 have opted for at least two days of in-person learning 

35,331 have opted for full-time online instruction
As for teachers, the majority have now submitted their selections and more than half have opted for in-person, says FCPS spokeswoman Lucy Caldwell.
The ratios could certainly change before Wednesday's extended deadline, but what we know so far suggests there's strong demand from students and parents to get back to in-person instruction and a sizable number of teachers willing to return to the classroom, despite opposition from the teachers' unions. Caldwell notes that the default selection is in-person learning for those who do not submit their preferences.
An interview with School Board Rep Megan McLaughlin
With students and parents facing such a daunting decision, we reached out to Braddock District School Board Representative Megan McLaughlin for her thoughts on the FCPS reopening plan. In the interview, which is below, McLaughlin makes several references to guidelines issued by the American Academy of Pediatrics—those can be found here.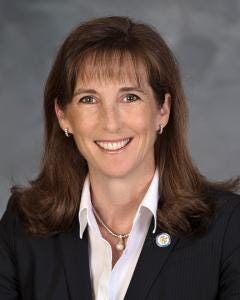 Q: What would you say to parents who feel extremely anxious about the decision they're being asked to make between at least two days of in-person instruction and full-time online learning?
I am pleased Superintendent Brabrand announced on July 6th that he is extending the Fall 2020 decision deadline for employees and parents until July 15th, and that he is also recommending a post-Labor Day start date. During the June 26th School Board work session, I had urged him to extend this Fall 2020 decision deadline by one to two weeks in light of so many important, unanswered questions. I also suggested that FCPS consider delaying the start of school. This will enable more preparation time for a successful rollout, as well as allow for continued improvements in the county's overall public health landscape. 
With respect to "two day in-person" versus "four day virtual," the number of in-person days could increase up to five days, if public health conditions continue to improve. Thus, I encourage parents to focus on which instructional model (in-person or virtual) works best for their child and their family, versus the current number of days being offered for each model. My nephew will be a Woodson senior, and has shared that many of his classmates are eager to return to school. 
Q: Why does the decision parents make by this Wednesday have to apply to the full school year? Why can't FCPS make schedule changes mid-year?
I empathize with the anxiety being felt by many parents about this important decision, and believe it is further heightened by FCPS making this a year-long commitment. I respectfully disagree with Superintendent Brabrand, and will continue to advocate that it should be done on a semester-by-semester basis. 
Q: What are your thoughts on the reaction of the teachers' unions to the reopening plan? 
As a former education advocate and daughter of a retired teacher, I value a strong partnership with FCPS' teacher associations. While I absolutely support their request for more detailed information, I do not agree with keeping schools closed until a vaccine is available. The American Academy of Pediatrics has cited extensive information about the negative effects that long-term school closures will have on our youth. The global community continues to demonstrate that there are safe ways to reopen schools. By providing the associations with more detailed information, it will hopefully ease their concerns, and ensure a more successful Fall 2020 reopening of schools.
Q: Do you feel like the reopening plan strikes the right balance between public health and our children's education?
I strongly support FCPS' decision to offer both in-person and virtual learning options for students, teachers, and school-based staff. On June 25th, the American Academy of Pediatrics (AAP) issued a formal statement in support of safely reopening school buildings full time, versus a continuation of "virtual" learning. Their statement also provides extensive safety guidelines, which I have urged Superintendent Brabrand to examine. I believe it can be an excellent "roadmap" for the safe (and essential) reopening of our schools.
I also want to highlight some important Covid-19 data related to our county of 1.1 million residents. Currently, there are 14,317 diagnosed cases and 510 deaths. Eighty-six percent of these deaths have occurred among residents 65+ years. Among 0-17 years, there have been 0 deaths, and among 18-49 years, there have been 17 deaths. These statistics reflect similar regional, national, and international data. Sadly, a member of my immediate family is currently recovering from Covid-19. Thus, I am experiencing this issue at a very personal level. However, the overall local, national, and international data indicate that society can safely reopen public schools and public services by utilizing robust public health measures. 
Q: Will students who opt for in-person learning have to bring a signed parent form with them every day that they attend school stating that they do not have Covid-19 symptoms? What's the value of these forms, given that so many children are asymptomatic?
No final decisions have been made as FCPS continues to research the best methods for screening students on a daily basis, before they get on a school bus or enter the school building. As a board member, I also continue to read the latest research. Recent reports are showing that the loss of "taste and smell" is a far more common symptom than fever. This may impact how FCPS will conduct daily screening for both students and staff.
Q: Do you think FCPS should be open to changing its plan as new information on coronavirus emerges, including the extent to which children spread the virus?
I strongly believe that FCPS must remain nimble and highly-informed about the latest research related to Covid-19. Per the AAP guidelines I cited above, current research indicates children are far less likely to spread Covid to other students or to staff. On a global scale, school-based spread of the Covid-19 virus is also very unusual, and these known cases have typically involved adult-to-adult spread. 
Q: Many working parents depend on FCPS for childcare during the school year. What do you think FCPS owes parents when it comes to childcare, and what is being done to provide support?
Before and After School childcare offered within many FCPS school buildings is called SACC. However, it is a county-run program with county-trained staff. Prior to the March 13th Covid-19 shutdown, I had been working with Supervisor James Walkinshaw in reviewing the existing SACC waitlists for Braddock District schools to see what future steps can be taken to increase SACC opportunities for FCPS parents. In light of Covid-19, it is imperative that FCPS and the county work together in addressing school-age childcare needs.
Q: What are the top questions and concerns that you are hearing from parents about the upcoming school year?
While there are an endless number of questions right now, I am primarily hearing two dichotomous concerns: is it safe for students and teachers to return to our school buildings, and how can we get FCPS to offer five days of in-person instruction due to academic, social-emotional, and economic needs.
Q: What do you think will be the biggest challenges for FCPS this fall?
As the 10th largest school system in the U.S., FCPS has almost 190,000 students and 200 school buildings. While there are many benefits to having such a comprehensive system, it also impacts FCPS' ability to be nimble and flexible when problems arise. This was painfully evident with FCPS' unsuccessful Distance Learning rollout in April. Because the Covid-19 landscape remains unpredictable, FCPS must prepare for the potential closures of a few schools, as well as the entire system. I continue to encourage exploration of other large, regional, and national school systems to see how they are preparing to handle potential Fall 2020 challenges.
Q: Last question—what would you have thought if someone had told you a year ago that you'd be helping steer FCPS through a global pandemic that threatens to upend public education as we know it?
While I never imagined our county, our nation, and our world would face such an unprecedented pandemic, I am humbled by the opportunity to promote data-driven decision-making. In times of crisis, public leadership is tested and measured. Current Covid-19 data shows Fairfax County is trending in a positive direction, and robust public health guidelines can help mitigate the spread. If the county's positive direction continues, it is very important to reopen valuable public services, including our public schools.
For more from McLaughlin, you can read her latest message to the community here. She also took part in a virtual town hall last week hosted by the Little Run Citizens' Association—it can be viewed here using the password 7s#$65$9
---
Featured Photo #1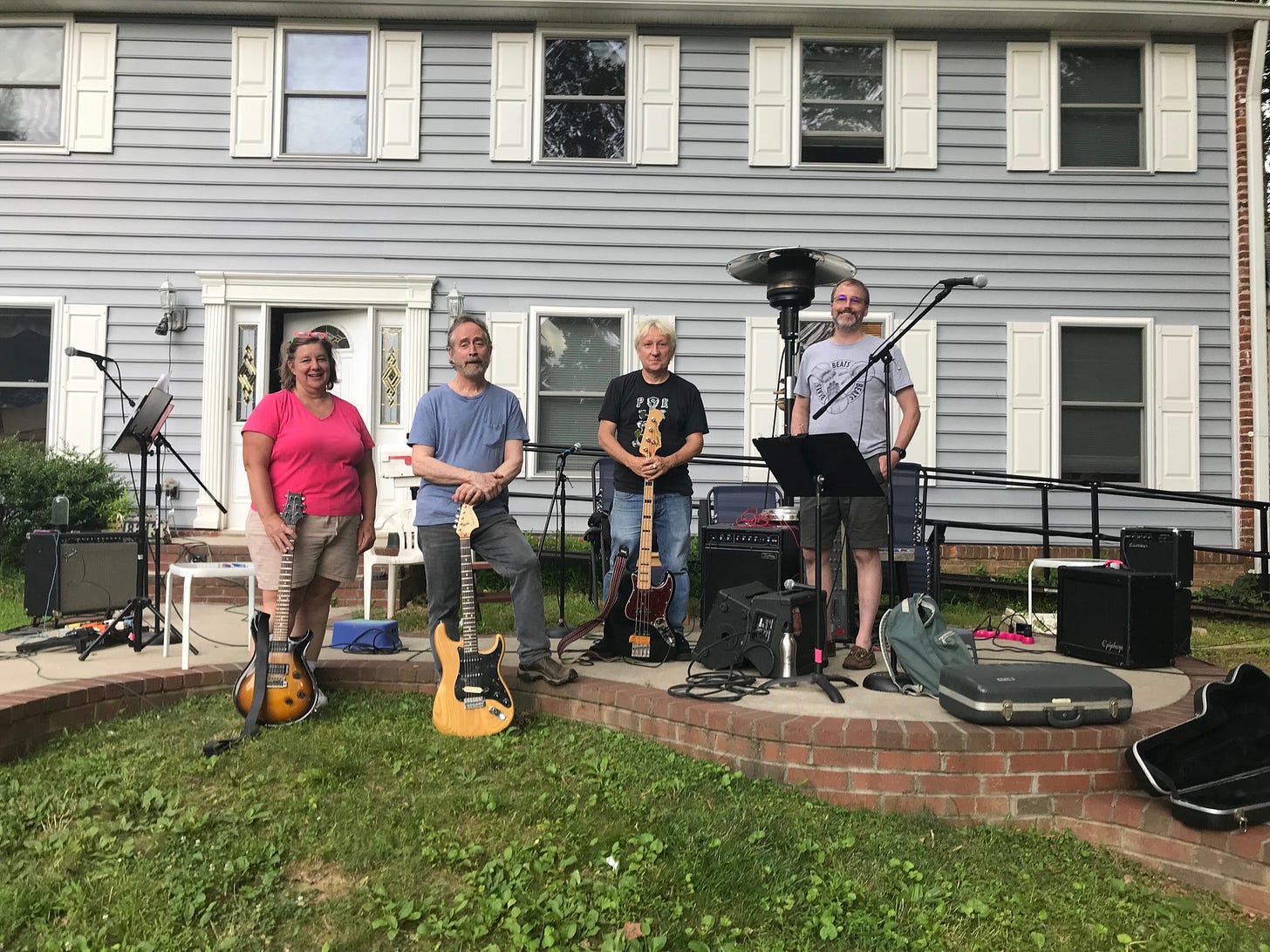 Here's what band practice looks like in a pandemic. Wakefield 221, a rock & roll group that plays gigs at local venues, held a jam session yesterday in the front yard of guitarist Anne Akers-Smith in the Chapel Square neighborhood. Akers-Smith, who teaches private guitar lessons (also in the yard), says the band has had five bookings canceled because of Covid-19 concerns. Pictured (left to right): Akers-Smith, Michael Reinemer, Tedd Magsid, and Jeff Lamb. Drummer Don Fitzgerald is not pictured. You can learn more about the band at their website.
---
County Government
Park Authority plans $20M Phase One renovation for Audrey Moore: With the Audrey Moore RECenter set to reopen next Monday, we decided to reach out to county officials for an update on plans to renovate the facility, the oldest RECenter in Fairfax County. According to Park Authority spokeswoman Judy Pedersen, $20 million will be included for Phase One of the renovation as part of the $112 million parks bond referendum that county residents will vote on this November.
"The existing building was completed in 1977 and is in need of major facility lifecycle replacements along with overall modernization to continue drawing customers for years to come," Pedersen says, adding that the renovation will include "a new expanded fitness area, check-in, multipurpose rooms, and child care area."
Braddock District Supervisor James Walkinshaw, who campaigned last year on renovating the facility, describes the project as one of his top priorities—and says it'll be more of a rebuild than a renovation. "For Audrey Moore, because it's so old, most of the facility has to be torn down and rebuilt from the ground up," Walkinshaw tells us, noting that county officials will work to ensure residents still have "access of some kind" during construction. "Some things can be saved—the pool can be saved. … But most has to come down." He adds: "I'm going to be urging everyone in the Braddock District to go out and vote in favor of that park bond referendum so we can get started."
---
News in Brief
---
Featured Photo #2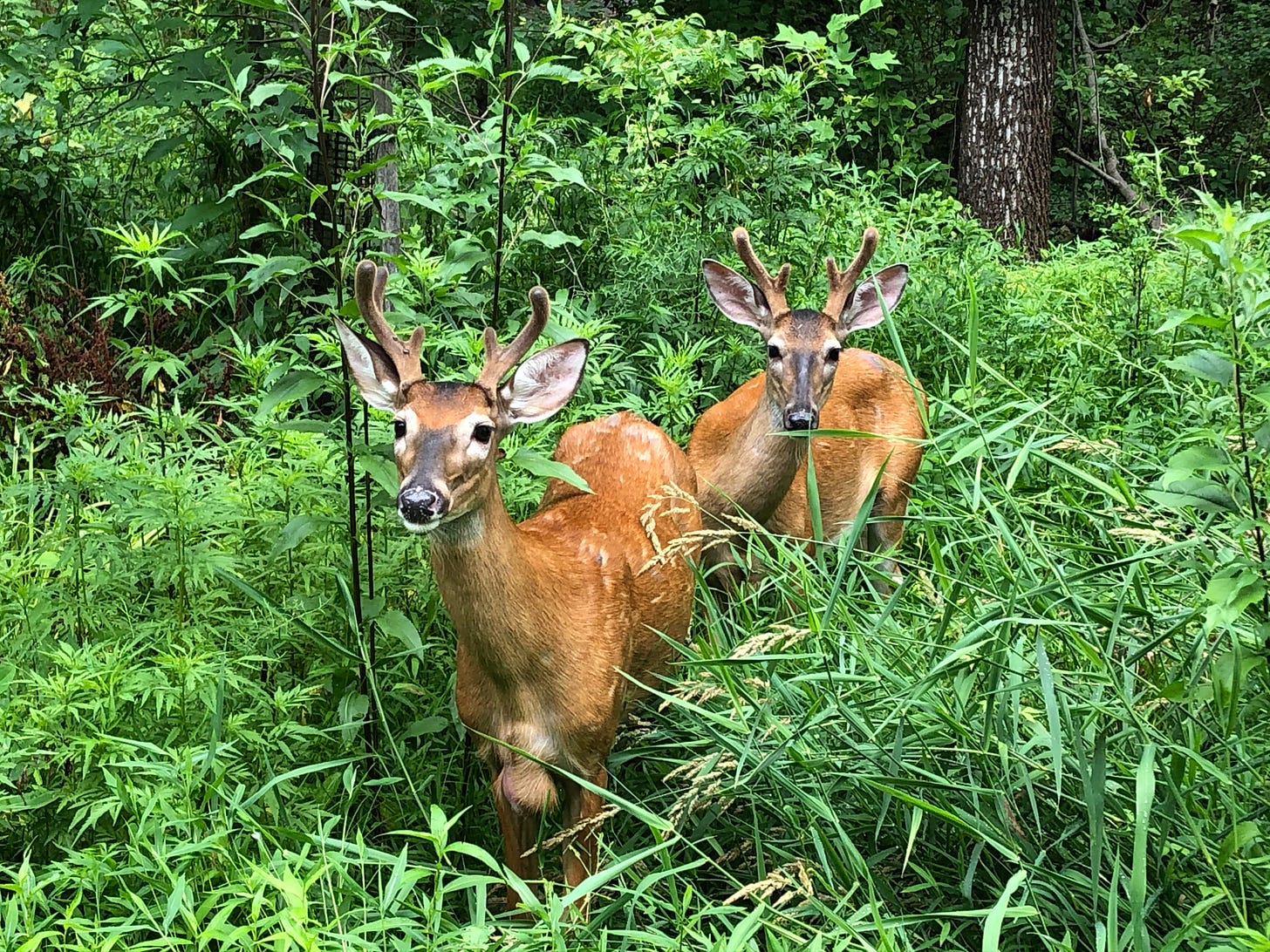 This one comes from Truro resident Andrew Albosta, who captured these young bucks in the Truro parkland, off Ann Fitz Hugh Drive. You can see more of Albosta's photography on his Instagram and Flickr pages.
---
Real Estate
Sponsored Content
Jennifer Mack column: How the real estate industry is adapting to Covid-19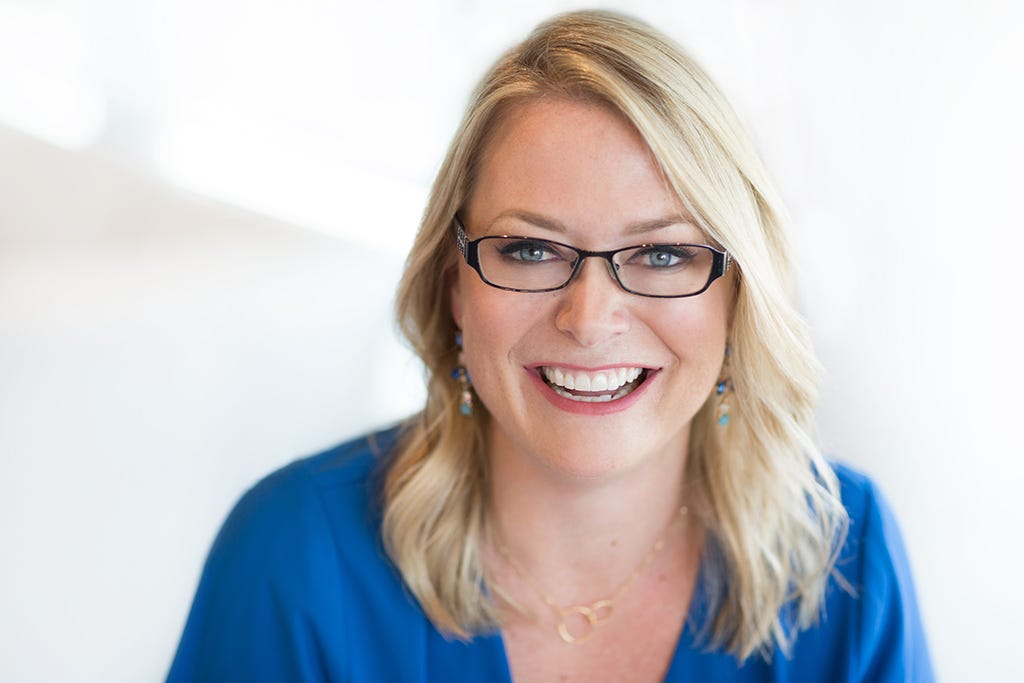 In Virginia, stay-at-home orders have not affected the real estate industry as much as in other states. Homes have continued to be listed and buyers continue to be able to view homes in person if they choose. 
But the industry has had to make big changes to facilitate transactions in a safe and responsible way. Here's a snapshot of how business-as-usual has been upended:
For sellers…
Some of those who still occupy their homes are requiring potential buyers to fill out health questionnaires prior to showings

Many are asking to see mortgage pre-approvals so they know only serious buyers are coming into their homes

They're leaving lights on and all interior doors open in advance of showings so that nothing needs to be touched unnecessarily

Many have restricted the practice of "overlapping showings" to only have one party viewing a house at a time
For buyers…
They're being asked to wear gloves and masks for showings

Children are rarely permitted at showings, putting some buyers in a bind for childcare as they look for a new home

There are much more stringent checks in place to ensure a buyer's income has not been affected by Covid-19, with mortgage lenders conducting additional checks, sometimes re-verifying employment on the day of a closing
For ancillary services…
Some home inspectors are only conducting inspections via Facetime or, if an inspection is done in-person, they are limiting the number of buyers who are allowed to attend

Many mortgage companies are allowing "drive by" appraisals where the appraiser assigned to determine the value of a home does not actually enter it, which has led to some problems with the accuracy of appraisals

Title companies have gotten very creative with how they conduct closings. Some are doing "curbside" closings where the client stays in their vehicle and signs their papers with the attorney observing from a distance. Others are conducting remote closings via Zoom or a mobile notary
Overall, I believe the Northern Virginia real estate industry has handled the pandemic as well as it possibly could have. I have observed many cases of cooperation, extensions of courtesy, and professional behavior with people working together to make real estate transactions occur, which can be difficult even under normal circumstances.
Jennifer Mack has more than 15 years of experience in the real estate industry. Her team services Virginia, Maryland, and D.C., with the bulk of her business in the Woodson High School area. You can contact her with real estate questions at jennifer@jennifermackproperties.com. She's happy to answer specific questions privately or more general questions publicly in this column.
On the market
8412 Georgian Way | $715,000
5 beds, 3 baths, 2,451 sf
Listed by Elvish Black | Coldwell Banker Residential Brokerage 
5023 King Richard Dr | $649,000
5 beds, 3 baths, 2,232 sf
Listed by Joel Miller | McEnearney Associates, Inc. 
4711 Wakefield Chapel Rd | $735,000
4 beds, 2.5 baths, 1,677 sf
Listed by Phan Pham | Fairfax Realty Select 
8519 Queen Elizabeth Blvd | $669,000
5 beds, 3 baths, 2,006 sf
Listed by Debbie Dogrul and Kathlene Holzhauer | Long & Foster Real Estate, Inc.
8604 Norfolk Ave | $1,449,900
6 beds, 6.5 baths, 5,750 sf
Listed by Lynne DePaso | Land & Homes LC 
Recently sold
4527 Sleaford Rd | $710,000
4 beds, 2.5 baths, 2,153 sf
Listed by Jeremy Dalpiaz | TTR Sotheby's International Realty
Bought with Ryan Mills | Redfin Corporation  
8611 Virginia Ave | $1,485,000
6 beds, 6.5 baths, 6,022 sf
Listed by Khalil El-Ghoul | Glass House Real Estate
Bought with Jerry Rowzie | Living Realty, LLC.
8909 Braeburn Dr | $714,050
5 beds, 3 baths, 2,303 sf
Listed by Denae Judd | Pearson Smith Realty, LLC
Bought with Turan Tombul | RE/MAX Allegiance