Discover more from Braddock Buzz
a weekly newsletter covering central Fairfax County
Over 1,000 subscribers
Fed-up Canterbury Woods residents petition for county trash collection - Fairfax County police officer charged with assault - Northern Virginia to remain in Phase 1, for now
Woodson bids farewell to 11 retiring teachers and staff - County officials address Black Lives Matter protests - Where does our police district stand on body-worn cameras?
Welcome to Wakefield Weekly, where we're working to build community through hyperlocal news. We hope you'll take a minute to complete our seven-question reader survey, which will help us decide the format and frequency of this newsletter going forward. The boxes for name and contact info are optional, so please feel free to take the survey anonymously. And, as always, you can reach us directly with feedback, news, and tips at wakefieldweekly@gmail.com.
Neighborhood News
Fed-up Canterbury Woods residents petition to move to county trash collection: A petition to move from private to county waste collection is gaining steam in Canterbury Woods, where some residents are fed up with the private collectors—and the organizer hopes the petition will inspire other neighborhoods to follow suit. "There's a lot of people interested in what we're doing," says Dale Johnson, who's in his fifth year as president of the Canterbury Woods Civic Association.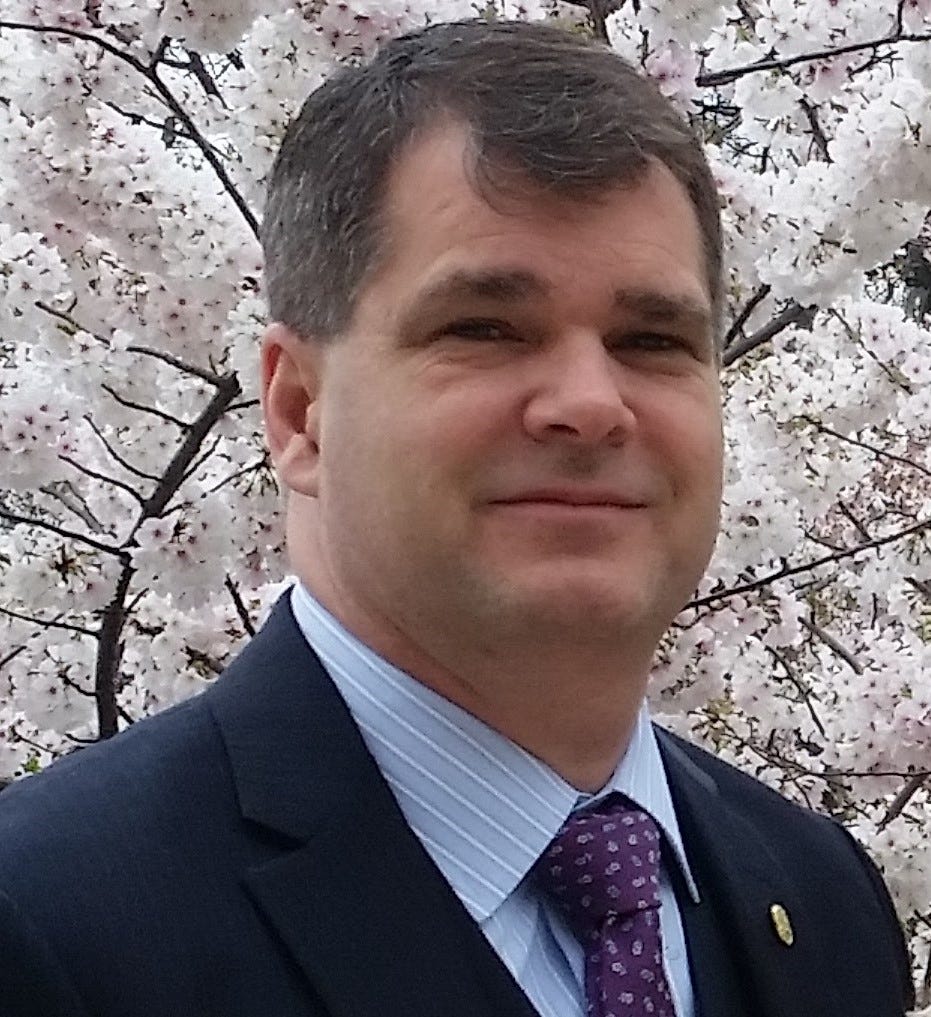 Pictured: Dale Johnson
Johnson launched the petition in April following years of mounting frustration with the two private collectors, American Disposal Services and Republic Services. Grievances include rising rates, missed pickups, a wide variation in costs from one house to the next ($18 to $54/month), and an increasingly difficult process for securing a neighborhood-wide preferred rate. In addition, Johnson says, moving to a single provider would be safer: "You've got trucks rolling through our neighborhood all the time—like, twice as many as there would be if we had one provider."
-The numbers: To get the Fairfax County Board of Supervisors to take up the trash petition, 55% of Canterbury Woods' 517 homes would have to vote to create a "sanitary district" served by the county. The petition is currently well short of that threshold, largely because homes that don't respond effectively count as "no" votes. But—and this is a big but—the portion of Canterbury Woods south of Long Branch Trail is very close to reaching 55%, with enough homes to qualify as a sanitary district on their own.
"I think that I have support south of the trail, and I think that I can get to that 55% before June 30," Johnson tells us, citing one of the two dates per year that the county accepts trash petitions—June 30 and January 30. "If that's the case—if I get to that percentage south of the trail—then what I may do is split the sanitary district and create two new sanitary districts that consist of about 250 houses each and submit the one June 30 that meets the requirements and continue to work on the other one until January 30. If I have a large enough area where I can meet the minimum, I'm going to submit it."
-The timeline: If Johnson is able to submit a successful petition by June 30, there would be a public hearing in mid-October, followed by a Board of Supervisors vote. If approved, the portion of Canterbury Woods south of the trail would begin having trash, recycling, and yard waste picked up by the county on January 1. In the current fiscal year, the cost of once-a-week county waste collection is $385, assessed on a homeowner's tax bill. At that rate, some Canterbury Woods residents would see their rates increase and others would see a decrease, depending on the prices they've negotiated with American and Republic.
-Complicating factors: One big unknown is whether the Board of Supervisors would go along with a successful petition, which would face opposition from the county's Solid Waste Management Program. County waste-management officials have come out against the petition because Canterbury Woods isn't adjacent to any existing sanitary districts. "The size of Canterbury Woods would require us to obtain more equipment/employees," says Lainie Shifflett, a management analyst with the county. "We don't collect near this neighborhood." If the county's waste management office were to support every petition, she adds, "We would constantly be having to do reroutes and adding more employees and trucks." 
Still, Shifflett acknowledges the Board of Supervisors rarely, if ever, denies successful trash petitions from county residents, regardless of her office's position. "They normally still go along with it," she said in an April Zoom meeting hosted by the Canterbury Woods Civic Association, "and we figure out how we're going to add it and what we need to do to get the job done."
-The private collectors' response: We reached out to American and Republic for their reactions to the petition. Republic hasn't responded to our email, while an executive with American called us to urge residents to think long and hard before making the switch. "I think we've been a good provider and would continue to be one and would hate to see these customers go," says District Manager Kevin Edwards. Once a neighborhood moves to county collection, he says, it's very difficult to go back. "You lose your freedom to choose." He acknowledges the past year has been "tough" for American, citing COVID-19 and a labor issue that led to missed pickups, but adds: "We feel that we're back on the right track."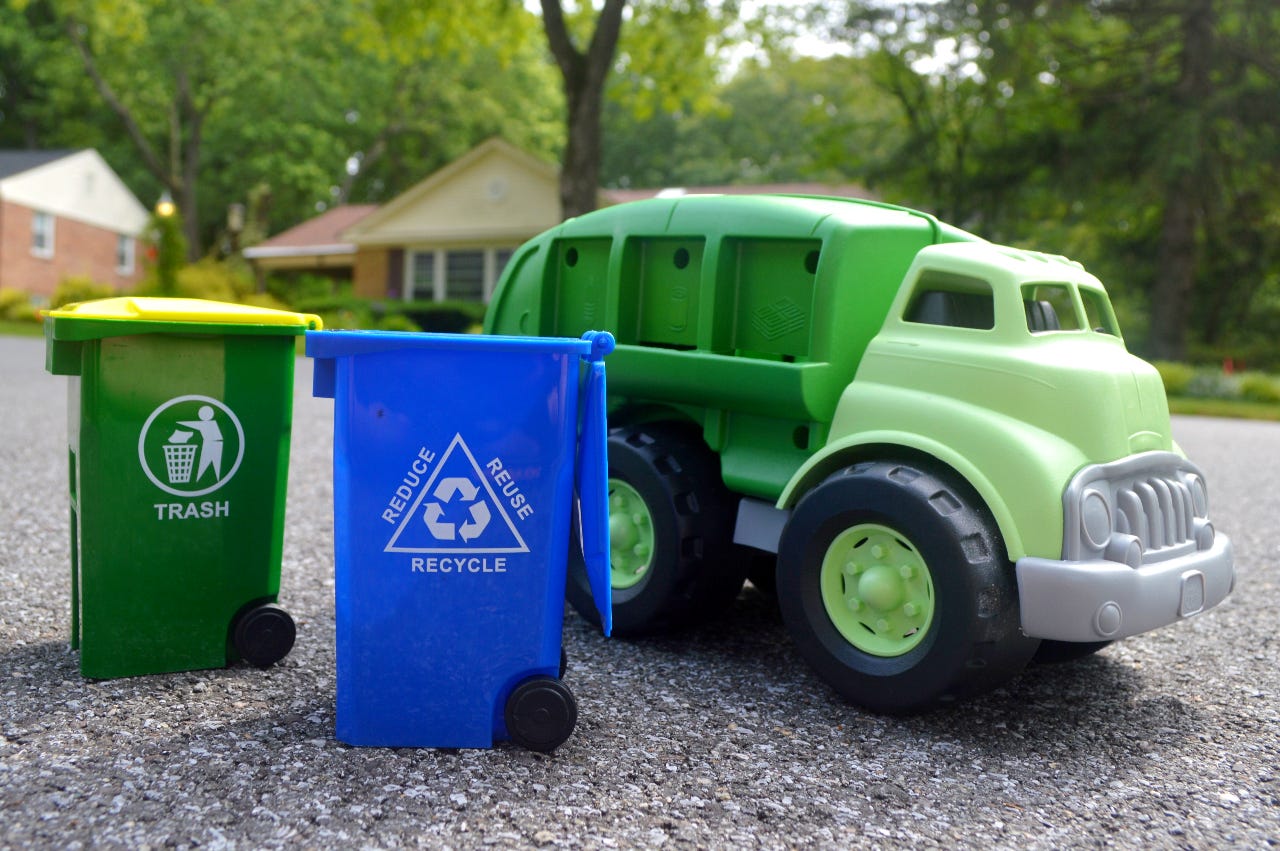 Photo illustration by Wakefield Weekly
---
Public Safety
Fairfax County police officer charged with assault: Fairfax County "is not immune to police violence," said the president of the local NAACP chapter, Sean Perryman, after the police department released video footage of a shocking incident that took place Friday. Over the weekend, Fairfax County Commonwealth's Attorney Steve Descano announced that the officer involved in the incident, an eight-year veteran of the force identified as Tyler Timberlake, has been charged with three counts of misdemeanor assault and battery and faces up to 36 months in prison.
The incident occurred in the Mount Vernon police district, which includes the Richmond Highway Corridor from Fort Belvoir to Alexandria. The body-worn camera footage shows another officer and an EMT trying to de-escalate a situation in which a black man is pacing in the middle of a residential street in apparent distress. That's when Timberlake, who is white, pulls up in his squad car, approaches from behind, and—seemingly to the surprise of the other officer—uses a stun gun to subdue the victim, pressing his knees onto the victim's back and neck as the man screams that he can't breathe. The footage can be viewed here. (Be warned: It's disturbing.)
"The victim in this video was treated at a local hospital and released," Police Chief Edwin C. Roessler Jr. said in a press conference, adding that he reached out to the victim's mother and expressed disgust "with my officer's unacceptable, criminal actions."
Also speaking at the press conference, Descano highlighted the importance of body-worn cameras, which just last month were rolled out to the Mount Vernon police district. "I cannot overstate the value of and the role that body-worn cameras have played in our investigation into this matter," he said. "Without it, I fear we would have had an unfortunately narrow and somewhat distorted view of what happened in one of our own neighborhoods."
The Washington Post has more on the incident here.
-Where does our police district stand on body-worn cameras? Prior to this incident, several readers reached out to us about the status of body-worn cameras in our police district. The answer: Officers in the West Springfield district had been scheduled to be equipped with cameras next year, but the effort has been put on hold because of COVID-19 budget cuts.
Last month, the county moved forward with "Year 1" of its multi-year plan to equip all police officers with cameras, providing 416 cameras to the Reston, Mason, and Mount Vernon police districts. But Years 2 and 3 of the effort—which would have equipped all other police districts with cameras—were delayed indefinitely in the county's COVID-adjusted budget. It'll be interesting to see whether this weekend's incident spurs county officials to reinstate funding. "We are committed to seeing the body-worn camera program through to full implementation as the economy improves in the future," Chief Roessler said in April. 
County officials address Black Lives Matter protests: Last week, several county officials issued statements addressing the Black Lives Matter protests taking place across the country, including recent demonstrations in Burke and Falls Church. The county commonwealth's attorney, Descano, announced a restructuring of his office, adding four new positions—deputies to oversee community justice, policy reform and court strategies, along with a director of data.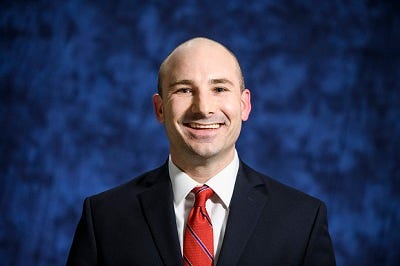 Pictured: Steve Descano
Descano said when he took office in January he was shocked by the county's lack of criminal-justice data. "We found no centralized information on arrests, charges, plea deals, convictions, sentencing, or the demographic information of victims, defendants, and everyone in between," he said. "My Director of Data will be in charge of capturing, cataloging, and processing all of this untapped data. We will not be an office that makes criminal justice decisions based on gut intuition or preconceived notions."
Meanwhile, Board of Supervisors Chairman Jeffrey McKay issued a statement listing recent police reforms, including that all officers now go through "de-escalation, anti-bias, and use-of-force training." He also noted that knee holds and choke holds are not considered acceptable uses of force for Fairfax County police.
---
Pandemic
Northern Virginia to remain in Phase 1, for now: Northern Virginia and the city of Richmond will remain in Phase 1 of Gov. Ralph Northam's plan for reopening the state, even as the rest of Virginia transitions to Phase 2. Once Northern Virginia does enter Phase 2—which could come as early as this weekend—restaurants will be able to offer indoor dining at 50% occupancy, fitnesses centers will be able to operate at 30% occupancy, and community pools will be able to open to more than just lap swimmers, among other loosened restrictions. Full Phase 2 sector-specific guidelines are here.
Walkinshaw urges extension of ban on utility disconnections: Braddock District Supervisor James Walkinshaw has sent a letter to the State Corporation Commission, which regulates utilities, urging an extension of a moratorium on service disconnections until September 15. "We are now facing the hottest time of the year when it is most dangerous for families to go without water or air conditioning," Walkinshaw wrote. "Our most vulnerable residents, who are the likeliest to find themselves unable to pay their utility bills, are also the hardest hit by the COVID-19 crisis." The full letter is here. 
---
Schools
Scoops2U benefits Wakefield Forest Elementary School PTA: Three ice cream trucks will be cruising WFES neighborhoods this Wednesday between 11 a.m. and 7 p.m. A portion of the proceeds will go to the school, and additional donations will be accepted. The trucks can be tracked in real-time here. 
Canterbury Woods, Wakefield Chapel area host graduation parades: Canterbury Woods and the Wakefield Chapel area hosted parades and outdoor get-togethers to celebrate seniors who did not have formal graduation ceremonies this month due to COVID-19. Some donned caps and gowns while others sported college logos and university paraphenalia, along with facemasks.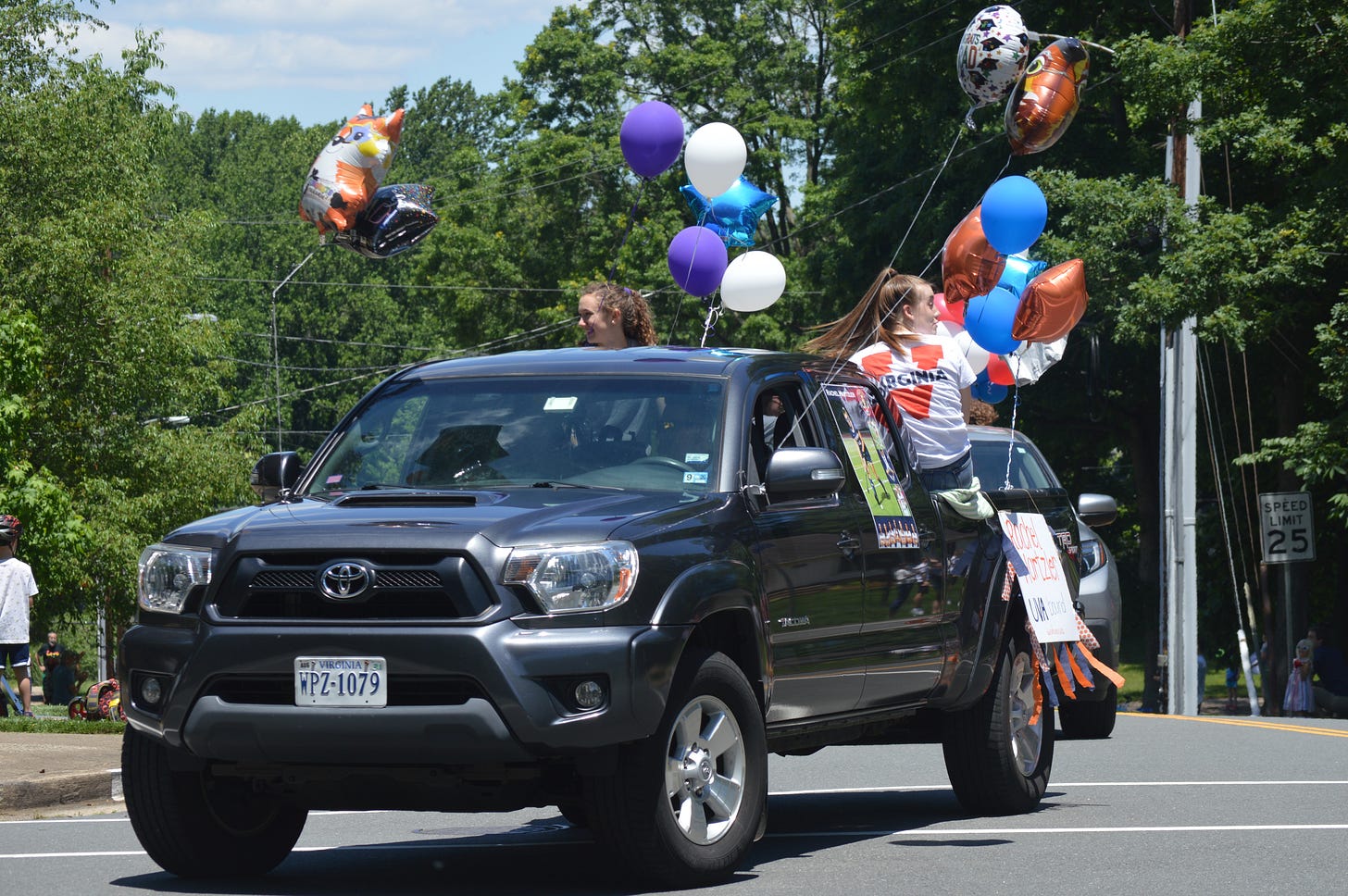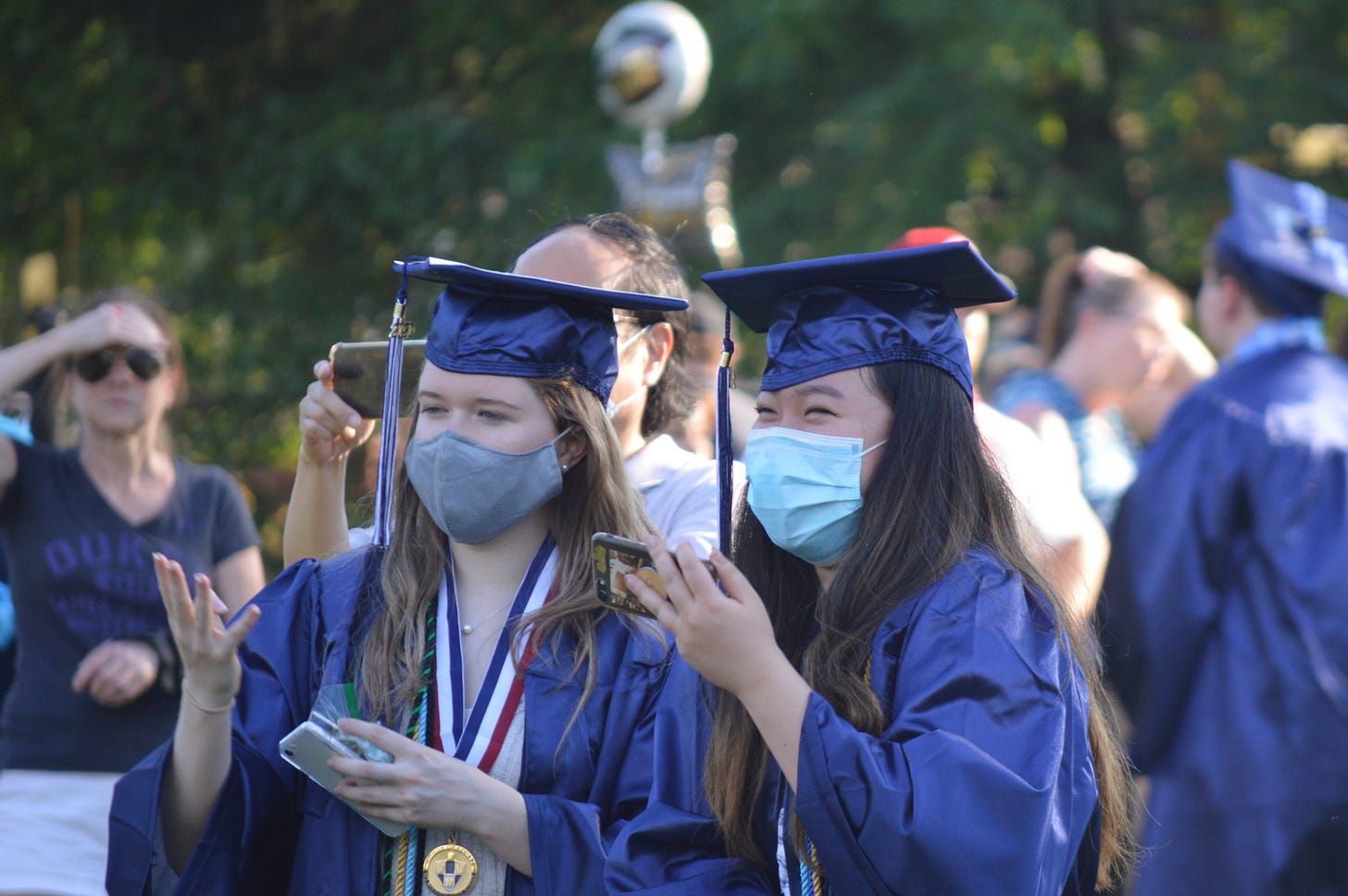 More photos of the Canterbury Woods parade are here, courtesy of John Morris.
Woodson bids farewell to 11 retiring teachers and staffers: In an email to the community on Friday, Woodson High School congratulated 11 teachers and staff members who are retiring at the conclusion of the school year:
Marianne Busman, Safety & Security Assistant

Tim Evans, Social Studies Teacher

Laura Ford, American Sign Language Teacher

Donna Head, Fine Arts Teacher

Margaret Herndon, English Teacher

Kathie Ishii, Career Center Specialist

Jae Lee, Custodian

Susan Mull, Social Studies Teacher

Kathy Thompson, Performing Arts Teacher

Josephine Trebing, Science Teacher

David Williamson, Mathematics Teacher
West Springfield District Crime Briefs
Four men arrested in Wakefield Park after report of gunfire: Four men were arrested in Wakefield Park last Saturday, May 30, following a report of guns being fired into the air. According to the Fairfax County Police Department, the men were stopped in an SUV leaving the park around 4:46 p.m., and officers found two handguns and narcotics in their possession. Police identified the men as Anis Sesay, 18, of Lorton; Saad Werzeg, 21, of Annandale; Mohamed Isse, 25, of Falls Church; and Shady Ahmed, 22, of Burke. They were arrested on a number of charges related to drug and gun possession and reckless handling of a firearm.
Weekend recap, 5/29-5/31:
Malicious wounding/stabbing: 6000 block of Burke Commons Road, 5/31/20, 2:29 p.m. A man was standing on a sidewalk talking to two other people when he was approached by another man. An argument ensued over money and the victim was stabbed by the suspect. The suspect, who is known to the victim, ran away. The victim was taken to a hospital with injures that were not life-threatening.
Larceny: 6300 block of Torrence Street, medication from vehicle

Larceny: 6000 block of Burke Commons Road, merchandise from business

Larceny: 9500 block of Wallingford Drive, package from residence

Larceny: 6300 block of Rolling Road, merchandise from business

Larceny: 7800 block of Marconi Court, radio from residence

Stolen vehicle: 5600 block of Ventnor Lane, 2015 Audi A4
Monday, 6/1:
Larceny: 5200 block of Pumphrey Drive, license plate from vehicle

Larceny: 7900 block of Hill Stream Court, bicycle from residence

Larceny: 8000 block of Rolling Road, bicycle from location
Tuesday, 6/2:
Commercial burglary: 7364 McWhorter Place (Creation Signs and Printing), 11:30 a.m. Someone broke into the business overnight and stole property.

Commercial burglary: 7364 McWhorter Place (EG USA Insurance), 10:55 a.m. Someone broke into the business overnight and stole property.

Larceny: Zion Drive/Guinea Road, tools from vehicle

Larceny: 6000 block of Burke Commons Road, merchandise from business

Larceny: 6000 block of Burke Centre Parkway, backpack from location
Wednesday, 6/3:
Commercial burglary/reckless discharge: 8915 Ox Road (Sunoco Gas Station), 4:08 a.m. Officers responded to an alarm and discovered the front door open and merchandise scattered on the ground. The investigation revealed a man broke into the business, discharged a handgun inside the store causing property damage and stole merchandise.

DWI/hit and run: 5200 block of Rolling Road, 10:51 p.m. Officers located a car involved in a hit and run crash that just occurred. The driver was taken into custody for driving while intoxicated when he became disorderly and damaged a cruiser. He was taken to a hospital for minor injuries. Diana Udom, 24, of Fairfax, was charged with driving while intoxicated, destruction of property and hit and run. 
Thursday, 6/4:
Larceny: 7800 block of Heritage Drive, merchandise from business

Stolen vehicle: 4500 block of Commons Drive, 2003 Toyota Camry
Source: Fairfax County Police Department
---
Real Estate
On the market
8807 Braeburn Dr | $699,888
4 beds, 3 baths, 2,144 sf
Listed by Debbie Dogrul and Kathlene Holzhauer | Long & Foster Real Estate, Inc.
4527 Sleaford Rd | $710,000
4 beds, 2.5 baths, 2,153 sf
Listed by Jeremy Dalpiaz | TTR Sotheby's International Realty 
8604 Norfolk Ave | $1,449,900
6 beds, 6.5 baths, 5,750 sf
Listed by Lynne DePaso | Land & Homes LC 
4500 Fidelity Ct | $674,900
4 beds, 3.5 baths, 2,112 sf
Listed by Luis Lugo | LPS Real Estate, LLC 
Recently sold
No home sales in the past seven days to report.
---
Thank you for reading Wakefield Weekly! You can contact us at wakefieldweekly@gmail.com with news, tips, featured photo submissions, volunteer opportunities, or just to say hello. And, if you haven't already, we hope you'll subscribe using the button below.