Discover more from Braddock Buzz
a weekly newsletter covering central Fairfax County
Over 1,000 subscribers
Enrollment drops at elementary schools in Wakefield - School Board divided on phase-in of 'concurrent' learning - Wakefield rock band to hold outdoor concert
'Mayhem' at Audrey Moore - Crime prevention officer addresses spate of car thefts
Welcome to Wakefield Weekly, where we'd like to once again encourage readers—if they haven't already—to make plans to vote in the Nov. 3 general election. Fairfax County has opened 14 satellite locations for in-person early voting, open on weekdays from 1 p.m. to 7 p.m. and on Saturdays from 9 a.m. to 5 p.m. The Fairfax County Government Center is also open for in-person early voting, through 10/31. The deadline to request a mail-in, absentee ballot is this Friday, 10/23—you can do so here. And for in-person voting on Election Day, you can find your polling location here.
As always, send news, tips, and more to wakefieldweekly@gmail.com.
And a big thanks to our sponsor, Realtor Jennifer Mack, whose column today explores micro-trends in the age of Covid-19, including whether the Wakefield-area market is cooling off. Reach out to Jennifer with real estate questions at jennifer@jennifermackproperties.com.
Treehouse update: In last week's edition, we reported on a Wakefield family's efforts to save their treehouse after it was cited by Fairfax County for a zoning violation. After our story ran, it was picked up by the Annandale Blog, the libertarian Cato Institute, and WUSA9, which aired a minute-and-a-half segment that includes interviews with members of the Dapoigny family. With all the attention the story is getting, it will be interesting to see if Fairfax County grants a special permit for the treehouse, or whether the family is forced to take it down. We'll keep you posted!
Schools 
Enrollment drops at elementary schools in Wakefield: Elementary schools in the Wakefield area have seen drops in enrollment as families opt for homeschool or private school over FCPS virtual instruction—which could affect funding and teaching positions. According to data released last week, Wakefield Forest Elementary School has seen an 8% decline in enrollment this school year compared to last, Canterbury Woods Elementary School has seen a 3% decline, and Little Run Elementary School has seen an 11% decline.
Across all of FCPS, there has been a 5% decline in enrollment, but this is most pronounced at the elementary school level, with middle and high schools seeing declines of just 1% on average. Woodson and Annandale High Schools have actually seen slight increases in enrollment this school year compared to last, while Frost Middle School has seen enrollment drop 2%.
School funding is tied to enrollment, and there is debate at both the state and county levels over whether the declines should result in budget cuts—or whether FCPS and other school systems should get a pass this year because of the pandemic. In an email last month, FCPS spokesperson Lucy Caldwell told us it was "still very early to predict" what the budgetary impact would be. "We do not know how many students will return to school when buildings reopen but would anticipate that the numbers will rise," Caldwell said. "This will be a challenge to balance if the budget is reduced prematurely."
Here's a table showing membership data for select Wakefield-area schools, along with trends across all of FCPS: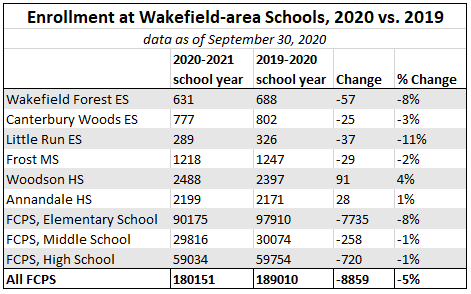 School Board divided on phase-in of 'concurrent' learning: FCPS Superintendent Scott Brabrand has put forward a plan for a partial return to in-person learning to be phased in between now and February. The plan calls for "concurrent" learning where students would receive two days of in-person instruction each week and two days of virtual instruction, with Mondays still reserved for independent learning. The idea is to reduce the number of students inside a school at any one time to allow for social distancing. All students would continue to have the option of 100% virtual instruction.
A pilot "concurrent" learning program is set to begin this week at West Springfield High School for English, math, and science classes, and at Kings Park Elementary School for first graders.
The School Board deliberated late into the night on Thursday and decided to approve part of the plan while directing Brabrand to return next month with an "interim report" that will help them decide whether to endorse the full plan. You can read the details of the proposal here. And the slide showing the phased timeline for returning to in-person learning is below (click to enlarge):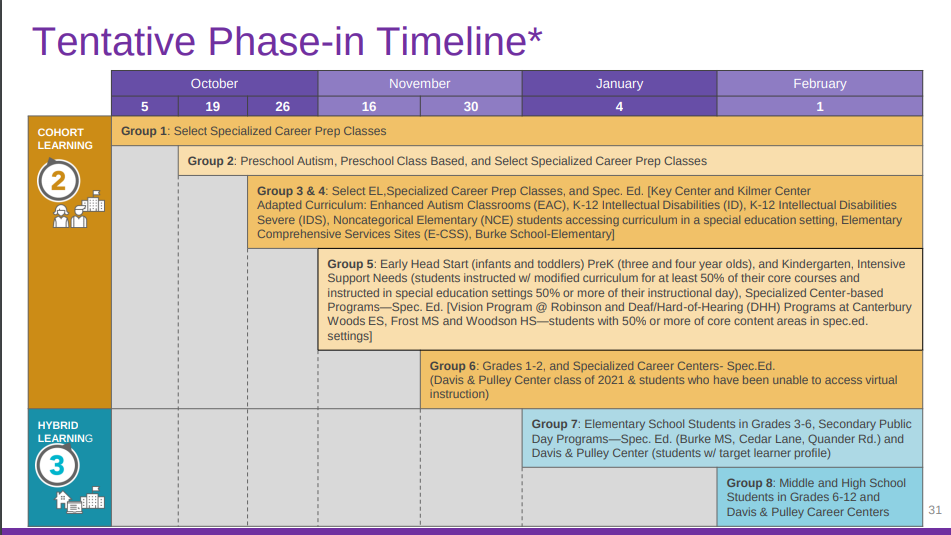 Crime
"Mayhem" at Audrey Moore: The Audrey Moore RECenter has re-opened after being closed last Wednesday following a burglary and vandalism that included "broken windows, damaged and destroyed equipment, holes in doors and walls, and heavy objects thrown into the pool," according to Park Authority spokesperson Judy Pedersen. We sent a news alert Wednesday night that included a photo of the building roped off with yellow tape. Pedersen has since provided more details, describing the scene on Wednesday as "mayhem."
"We are very pleased to report that Audrey Moore RECenter reopened on time Thursday morning," she said. "That was due in large measure to the staff who assisted in cleaning up the tremendous mess made by these vandals. ... We want to thank the community for their outpouring of support regarding this senseless destruction. As so many people noted on social media, this is a community asset and this crime was really against those who use and appreciate this park facility." She added that the Park Authority is working with the Fairfax County Police Department on the investigation and "remain confident that the vandals will be brought to justice."
Audrey Moore and other Fairfax County RECenters are currently operating through a reservation system to allow social distancing—you can reserve a slot here. 
Crime prevention officer addresses spate of car thefts: The Little Run Citizens' Association held a virtual town hall last week with PFC Anthony (Tony) Capizzi, a crime prevention officer with the Fairfax County Police Department's West Springfield District. "The biggest concern we're having right now—it's not just your area; it's county-wide—is theft from motor vehicles and theft of motor vehicles," Capizzi told residents. The vast majority of these incidents, he noted, involve unlocked vehicles. "Lock it or lose it," he warned.
He explained that the Wakefield area is a prime target for car theft because of its proximity to Interstate 495, with many recovered vehicles being found in D.C. or Prince George's County. "You're in one of those spots where it's really easy to just hop on the Beltway and go."
Among other tips, Capizzi advised:
Always lock vehicles, even if they're parked in a garage

Don't leave a spare key in your car

Don't keep valuables in plain sight, even if your car is locked

Have your vehicle information easily accessible, in case you need to report a theft

If your car is rummaged through, always file a report, even if nothing is stolen. You can call the police department's non-emergency line or file a report online. This allows the police department to follow trends and focus resources in the right areas.
Coming Attractions
Wakefield rock band to hold outdoor concert: Residents of Chapel Square have likely heard them practicing—the rock band Wakefield 221 has been holding outdoor jam sessions all summer and fall. Now they're ready to showcase their talent with a concert on Saturday, 10/24, from 4:30 to 6:30 p.m. The outdoor event will be held on Light Horse Court in Chapel Square—with masks and social distancing encouraged.  
"Wander by or bring a chair," says the official invite. The rain date is Sunday, 10/25, at the same time.
Here's a photo taken by Wakefield Weekly in July of the band during a practice session in the front yard of guitarist Anne Akers-Smith: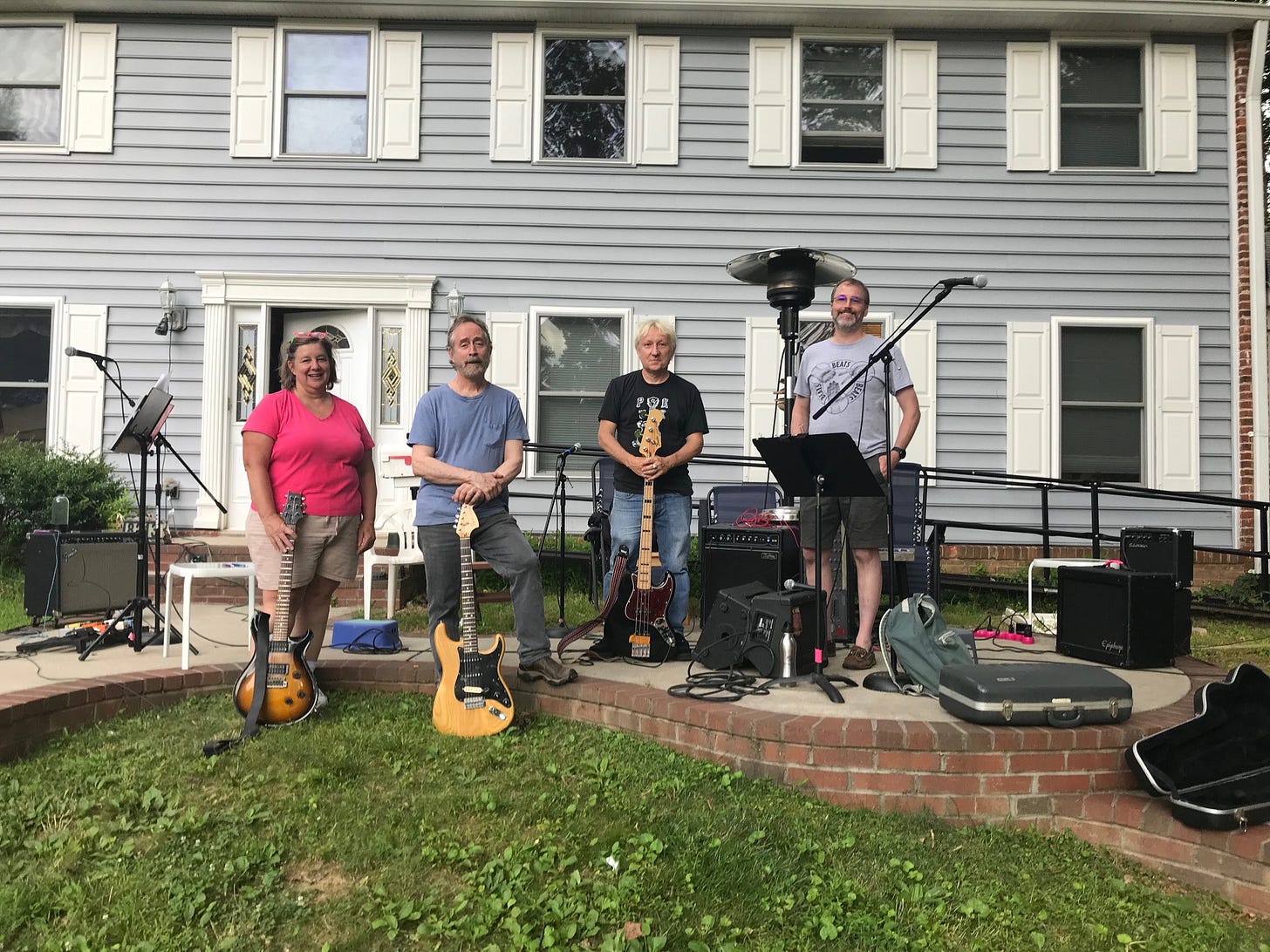 Events
Wednesday, 10/21: Braddock District School Board Member Megan McLaughlin hosts two virtual town halls on virtual learning and the return-to-school plan, the first at 10 a.m. and the second at 7 p.m. Login instructions will be sent via McLaughlin's newsletter; you can sign up here.

Wednesday, 10/21: The Braddock District Council holds its October meeting at 7 p.m. via Zoom. The topic is the Fairfax County Zoning Ordinance Modernization Project, zMOD. The meeting link is here (ID: 847 0122 9448; passcode: 764971).
Real Estate
Sponsored Content
Jennifer Mack column: Is the Wakefield market cooling off?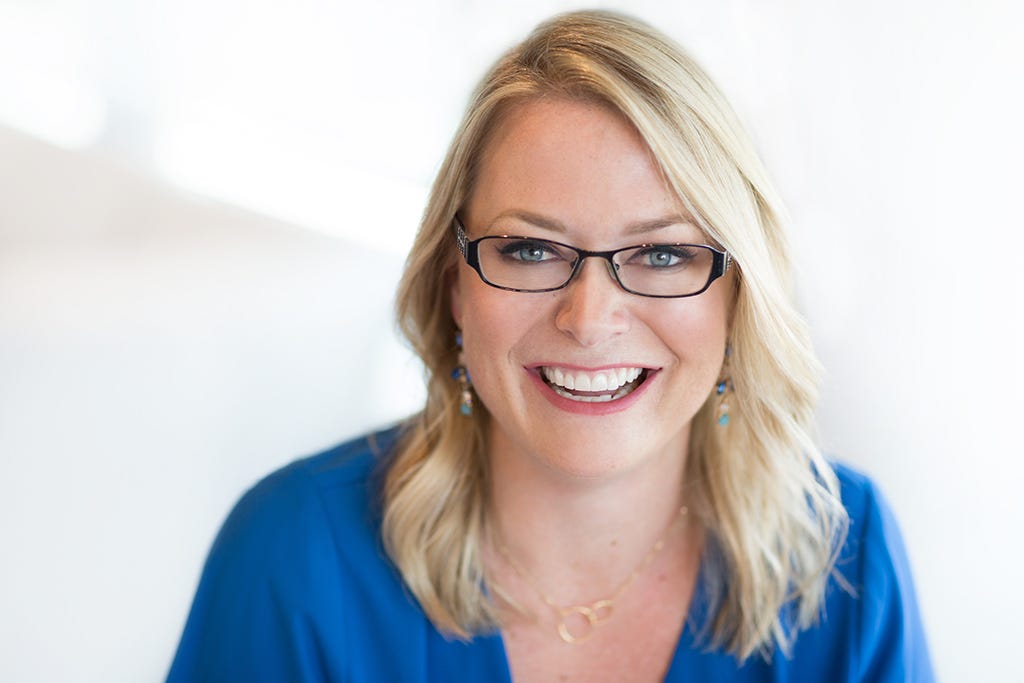 If there's anything we can learn from recent Northern Virginia real estate activity, it's that trends must be viewed on a micro level more than ever before. 
Covid-19 and the resulting quarantine have impacted the industry in interesting ways. For instance, we have evidence that many buyers are now prioritizing work-from-home spaces when making long-term housing decisions. There's a desire to spend more time with family and have more space, both inside and outside the home. Huge lifestyle shifts are occurring that signal many people are embracing a new way of life in a very permanent way. Local real estate activity suggests that most people are feeling confident enough in the stability of their jobs to purchase new homes. We're also seeing unprecedented interest in vacation homes near nature—whether it be mountains, beaches, or lakes. As commuting becomes less of a factor, we're seeing people move farther out from DC in search of more house for their money.
My team is advising our sellers to invest in their outdoor spaces if needed. It's a great time to consider adding a screened porch, deck, or fence. I predict these investments will yield a good return on future sales as people spend more time at home. 
In the Wakefield area, we're starting to see some evidence that the market is cooling, as evidenced by price reductions on five of the ten listings currently available. Some sellers may be overpricing their homes based on the record prices that we've seen the last couple months. Price and presentation will be more important than ever for listings as we enter the late fall and winter market. The data are literally changing on a weekly basis and timing is everything. In some cases, I advise my clients to prepare for market completely and then hold off on going active until the inventory levels are favorable to them. This strategy can pay off big if a house hits the market on a weekend with little to no new competition. 
Jennifer Mack has more than 15 years of experience in the real estate industry. Her team services Virginia, Maryland, and D.C., with the bulk of her business in the Woodson High School area. You can contact her with real estate questions at jennifer@jennifermackproperties.com or by calling 703-672-0038. She's happy to answer specific questions privately or more general questions publicly in this column.
On the market
8406 Briar Creek Dr | $739,900
4 beds, 2.5 baths, 2,691 sf
Listed by Jana Gilbert & Kay Graff | Weichert, REALTORS
8285 Private Ln | $1,550,000
4 beds, 4.5 baths, 5,788 sf
Listed by Debbie Dogrul Associates & Jamie Petrik | Long & Foster Real Estate, Inc.
8506 Bromley Ct | $699,900
5 beds, 2.5 baths, 1,248 sf
Listed by Steve Patten | RE/MAX 100
4104 Accotink Pkwy | $849,900
3 beds, 4.5 baths, 3,216 sf
Listed by Leela Singh | Keller Williams Fairfax Gateway
4604 Sleaford Rd | $789,000
5 beds, 4 baths, 3.608 sf
Listed by Nancy Gordon | Long & Foster Real Estate, Inc.
4025 Guinea Rd | $600,000
3 beds, 2 baths, 1,460 sf
Listed by Nathan Johnson & Philip Johnson | Keller Williams Capital Properties
4600 Duncan Dr | $669,000
4 beds, 2.5 baths, 1,661 sf
Listed by Avi Ron | SSG Real Estate LLC.
8503 Paul Revere Ct | $719,900
5 beds, 2.5 baths, 1,457 sf
Listed by MIKE SIN | NewStar 1st Realty, LLC
4309 Holly Ln | $499,000
0.90 acres
Listed by Jonathan Kennedy | McEnearney Associates, Inc. 
4702 Declaration Ct | $699,900
5 beds, 3 baths, 3,257 sf
Listed by Cary Fichtner-Vu | RE/MAX Allegiance
Recently sold
4832 Red Fox Dr | $641,000
4 beds, 2.5 baths, 1,930 sf
Listed by Debbie Dogrul Associates & Jay D'Alessandro | Long & Foster Real Estate, Inc.
Bought with Debbie Dogrul Associates | Long & Foster Real Estate, Inc.