Chapel Precinct officer: This election "will be like no other" - FCPS to begin phased reopening - Bond referendums include several Wakefield-area projects
West Springfield police captain addresses constant car thefts - Foundation Coffee opens in Fair City Mall
Welcome to Wakefield Weekly! A quick programming note: There will be no newsletter next week, as half of your Wakefield Weekly team faces a looming deadline for finishing edits on a novel (which is scheduled for publication in April). The next edition will hit your inboxes on October 12—and will feature information on how Wakefield-area neighborhoods are handling Halloween amid the pandemic. Until then, send news, tips, and more to wakefieldweekly@gmail.com.
Big thanks to our sponsor, Realtor Jennifer Mack, whose column today discusses the latest trends in home design. Reach out to Jennifer with real estate questions at jennifer@jennifermackproperties.com.
Elections
Longtime Chapel Precinct officer: This election "will be like no other"
Mike Moser, a former Chapel Square resident, has been serving as an elections officer since the Bush-Dukakis race of 1988—and has been stationed since 2010 at the Chapel Precinct at the Sprague Technology Center. This year's election, he said, "will be like no other."
We reached out to Moser to hear how voting will be different this year because of the pandemic. We should first note that Virginia and other states are trying to make it as easy as possible to vote early or absentee to avoid spreading coronavirus—you can find more on how to do that here. But those who decide to cast their votes in-person on November 3 should expect long lines and lots of social distancing protocols. Elections officers will wear face masks, lines will be spread out to keep voters six feet apart, and there will be plexiglass at the table where you show ID, according to Moser. There will also be fewer places for marking ballots per table to maintain six feet of distance. 
Asked whether he thinks poll workers—who tend to be older people at higher risk for Covid-19—will be able to maintain six feet of distance throughout the day, Moser responded: "I'll tell you what happens. In this work, you get very busy, and there are demands placed upon you to respond in certain prescribed ways. To maintain six feet of distance between you and others as you perform all the work there is to perform in a polling place can be challenging. But we will strive to meet the need for social distancing, certainly."
He added that the list of acceptable IDs has expanded this year (full list here), which could create some confusion. "Voters will present ID, and because of the expansion of acceptable IDs, it may not be immediately clear that it is acceptable, but our training and reference charts should enable us to determine quickly whether the ID is valid for voting purposes." New for this election is the designation of a special officer to attend to non-routine situations. "The precinct at Nancy Sprague, 104 Chapel, is a high turnout precinct, so I anticipate that November 3 will be an extremely busy election day, with the inevitable stress that high volume and high intensity work generates," he explained.
At the end of our conversation, Moser said that after 32 years working the polls, he intends this to be his last election: "At the end of the very long day and evening you are drained which inclines you to say, 'This is the last election I'm ever going to work.' And then when you wake up the next morning you feel better and you commit to working another election if you get the call, and I've gotten the call every time."
Bond referendums include funding for several Wakefield-area projects: Fairfax County residents are voting this year on four bond referendums to fund capital improvement projects for libraries ($90 million), parks ($112 million), transportation ($160 million), and community health and human services ($79 million). If approved, the bonds will pay for several projects in the Wakefield area, including the renovations of the George Mason Regional Library and the Audrey Moore RECenter. For Audrey Moore, the bond would provide $20 million for Phase One of a planned rebuild, including "a new expanded fitness area, check-in, multipurpose rooms, and child care area," according to Park Authority spokesperson Judy Pedersen.
Schools
FCPS to begin phased reopening: The School Board has approved a plan from Superintendent Scott Brabrand to begin in-person instruction in October for small cohorts consisting of about 6,707 total students and 653 teachers, or about 3.5% of the FCPS population. The cohorts beginning next month include:
Select high school career and technical courses

Preschool Autism and Preschool Class-based Students

Key Center, Kilmer Center, and Burke School (elementary only)

Adapted Curriculum Programs

Elementary Comprehensive Services Sites

English Learner Newcomers and Students with Limited or Interrupted Formal Education (SLIFE)
"We have had a very successful virtual start to our school year but all of us recognize that the ideal setting for education is delivered in the classroom through in-person instruction," Brabrand said in a statement.
You can find the full details of the phase-in plan here.
Crime
West Springfield police captain addresses constant car thefts: Captain Eli Cory of the West Springfield police district addressed the spate of car thefts that continue to plague the Wakefield area in the latest edition of Braddock District Supervisor James Walkinshaw's Braddock Advisory. "There has been an increase in people stealing cars, and stealing from cars, in the past couple months," Cory wrote. "The officers and detectives at the West Springfield Station are working diligently on those cases, and I am working on trying to decrease the number of those cases."
He continued: "I want to remind everyone to please lock their car, do not leave keys or other valuables in your car, and always 'See something, Say something.' You may also consider joining a Neighborhood Watch, or sharing information with your neighbors about things you see. Contact the police at (703) 691-2131 to report suspicious activity, or other non-emergency events and 911 for an emergency."
Featured Photo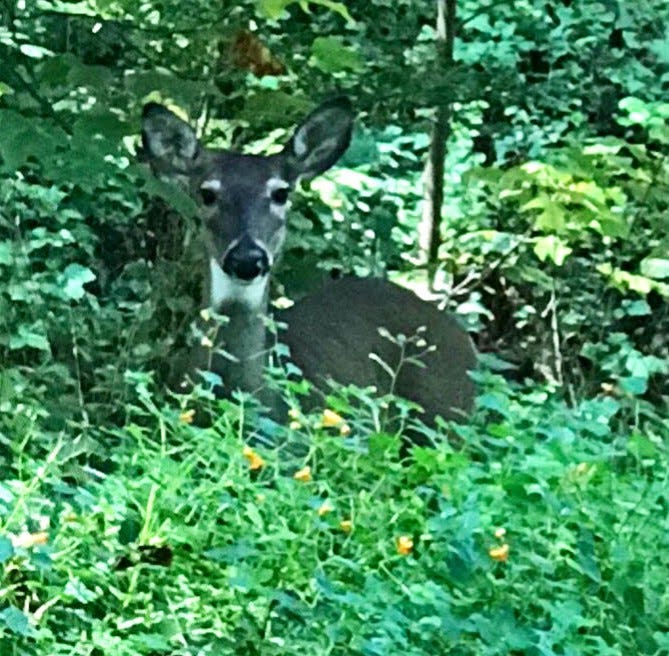 Today's photo comes from Ilda resident Bob Bissen, who caught this doe last week in Willow Woods Park.
Volunteering
The nonprofit Kids Give Back has three upcoming family volunteer days at the Bethlehem Lutheran Church on Little River Turnpike:
On October 24, volunteers will plant a fall garden at the church

On November 21, volunteers will fill and decorate Thanksgiving baskets for families in need

And on December 12, volunteers will make baskets for newborns to be distributed by the Fairfax County Department of Family Services
Kids Give Back founder Denise Gavilan is collecting items for the December 12 event including clothes, bottles, pacifiers, books, and more. You can contact Gavilan at denise@kidsgiveback.org, and you can register to attend the three events here.
News in Brief
Real Estate
Sponsored Content
Jennifer Mack column: The latest trends in home design
I get asked all the time about trends in home design. Many people have tired of the all gray and white kitchens and bathrooms that have been popular for several years now. We are seeing homeowners swap out chrome fixtures for a muted gold finish (not brass). Changing out fixtures and cabinet hardware is an easy way to give your kitchen a stylish boost. We are also seeing more black bathroom and kitchen fixtures. This pairs well with white cabinets and counters for people who want to keep that in their kitchen and bathrooms. 
Navy cabinetry with gold accents is also very popular, although I predict that will be a shorter-lived trend. Bold tile is another trend we're seeing, especially in bathrooms, laundry rooms, and kitchen backsplashes. This can be a fun and inexpensive way to personalize a space with a pattern you love and isn't too hard to undo later if you decide you're ready for a change.
Sherwin Williams released their "color of the year" this week—"Urbane Bronze." It is a darker, earthy gray/brown with gold undertones. Sherwin Williams is most likely underscoring the concept of the home as a retreat, due to many people staying home in quarantine. The color pairs well with design details such as wood finishes, stone accents, and mixed metals, which are all very trendy right now. 
When preparing your home for sale it can be smart to incorporate the latest design trends, especially in an older home that may not have as current of a floorplan. However, I do always advise my clients that, first and foremost, they should do what they love. Don't pay too much attention to trends unless you plan to list your home right away.
Jennifer Mack has more than 15 years of experience in the real estate industry. Her team services Virginia, Maryland, and D.C., with the bulk of her business in the Woodson High School area. You can contact her with real estate questions at jennifer@jennifermackproperties.com or by calling 703-672-0038. She's happy to answer specific questions privately or more general questions publicly in this column.
On the market
4702 Declaration Ct | $725,000
5 beds, 3 baths, 3,257 sf
Listed by Cary Fichtner-Vu | RE/MAX Allegiance 
5015 Migonette Ct | $679,000
4 beds, 2.5 baths, 2,725 sf
Listed by Ronald Riddell | Promax Management, Inc. 
4604 Sleaford Rd |  $799,000
5 beds, 4 baths, 3,608 sf
Listed by Nancy Gordon | Long & Foster Real Estate, Inc. 
4200 Wakefield Chapel Rd | $669,000
4 beds, 2 baths, 2,588 sf
Listed by Mark Melikan | Long & Foster Real Estate, Inc. 
8625 Blackpool Dr | $658,000
4 beds, 4 baths, 3,305 sf
Listed by Debbie Dogrul Associations and Nicole Dash | Long & Foster Real Estate, Inc.
4309 Holly Ln | $499,000
0.9 Acres
Listed by Jonathan Kennedy | McEnearney Associates, Inc. 
8506 Bromley Ct | $719,000
5 beds, 2.5 baths, 1,248 sf
Listed by Steve Patten | RE/MAX 100 
Recently sold
4325 Willow Woods Dr | $727,000
4 beds, 3 baths, 1,344 sf
Listed by Chris Pritchard | McEnearney Associates, Inc.
Bought with Kathy Kratovil | Coldwell Banker Residential Brokerage 
5013 Woodland Way | $575,000
Listed by Tracy Dunn | McEnearney Associates, Inc.
Bought with Fallak Sial | Greater Washington Area Realty LLC 
4807 Autumn Lake Way | $1,331,588
5 beds, 4.5 baths, 5,905 sf
Listed by Debbie Dogrul Associates and Jamie Petrik | Long & Foster Real Estate, Inc.
Bought with Raquel Gutierrez | TTR Sotheby's International Realty