Discover more from Braddock Buzz
a weekly newsletter covering central Fairfax County
Over 1,000 subscribers
Canterbury Woods votes for county trash collection - Vandalism at Woodson HS - Area pools set to open for free swim
Teachers unions balk at FCPS return-to-school plan - Little Run transitions to vehicles-only Fourth of July Parade - Gerry Connolly picks up 90% of the home-turf Mantua vote
Welcome to the 10th edition of Wakefield Weekly, where we're building community through hyperlocal news. We're thrilled to announce our first sponsor: real estate agent Jennifer Mack, whose support will make it possible for us to continue providing this newsletter as a free service to the community. We worked with Jennifer when we bought our home in Chapel Square, and we're delighted to bring her expertise to our readers each week through a sponsored column at the beginning of our real estate section. You can reach her at jennifer@jennifermackproperties.com—she's happy to answer questions about all things real-estate.
And, as always, you can contact us at wakefieldweekly@gmail.com with news, tips, events, featured photo submissions, and more.
Neighborhood News
Canterbury Woods votes for county trash collection: Some big news for the entire area—Canterbury Woods residents have voted to move from private to county trash and recycling, a move that could pave the way for adjacent neighborhoods to follow suit. It was a photo finish, with the 517 homes that make up Canterbury Woods just barely reaching the 55% threshold of "yes" votes ahead of tomorrow's deadline to submit the petition to the county. Dale Johnson, president of the Canterbury Woods Civic Association, was still corralling votes over the weekend.
"It was a lot of work and effort for a lot of people in the neighborhood, and now it is going to be up to the mercy of Fairfax County to see whether or not they are going to honor the request of the majority in our neighborhood," says Johnson, who started organizing the petition six months ago. Ultimately, he explains, about 65% of those who voted opted for county trash collection—but because those who didn't respond effectively counted as "no" votes, the final tally ended up at 56% in favor. "I have no doubt that if everyone had voted and turned in a petition, that our final percentage would be around 65% in favor of going to county services, and this is a clear indicator that the private companies are not providing value and good customer service," Johnson adds.
He plans to submit the successful petition later today, which will trigger a vote this fall by the Fairfax County Board of Supervisors on whether to approve the proposed "sanitary district." If approved, county collection would begin as soon as January 1. A big question is whether other neighborhoods in the area will follow the lead of Canterbury Woods in spurning the two private collectors, American Disposal Services and Republic Services, in favor of county trash, recycling, and yard waste pickup.
Here's a map of the proposed sanitary district: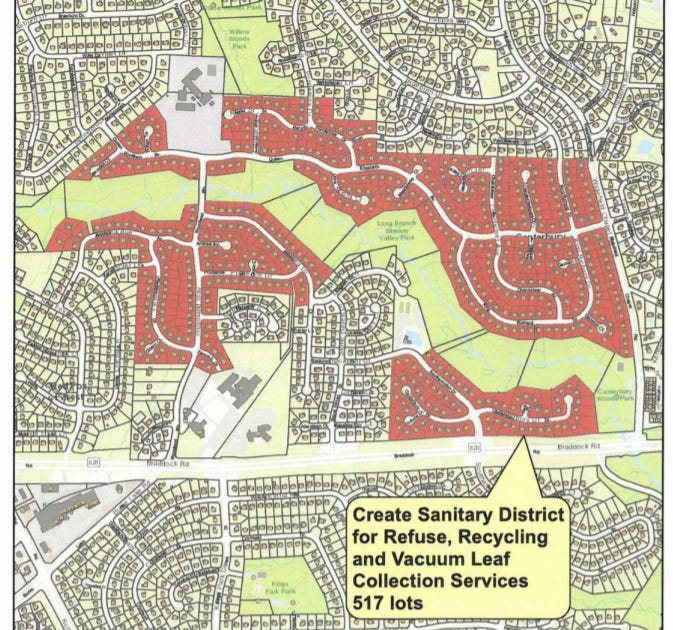 For more background on this issue, including the reasons behind the petition and a response from an executive with American Disposal Services, see our June 8 edition.
Area pools set to open for free swim: Northern Virginia is expected to join the rest of the state on Wednesday in entering Phase 3 of Gov. Ralph Northam's reopening plan, which allows pools to offer free swim, as opposed to just lap swimming. The Wakefield Chapel Recreation Association announced that its maximum capacity will increase from 50 to 150 guests, with pool slots continuing to be reserved online. "We must continue to stress that WCRA members who are immunocompromised or in high-risk categories should follow the 'safer at home' guidance," WCRA President Brad Otto said in an email to members. You can find full Phase 3 sector-specific guidelines here.
Swim teams practice despite canceled NVSL season: Despite NVSL canceling the entire swim season, WCRA and other pools in the area are adapting their models to allow swim practices to continue while adhering to social distancing requirements. WCRA practices are open to children ages seven to 18 who can independently swim. We checked in with Kristen Anderson, the swim team representative, to ask how the new model is going. "Swim is going great," she tells us. "We have almost 100 swimmers across 4 different practice sessions per day." 
Although the number of swimmers had to be limited due to pandemic restrictions and the team size is less than half of typical seasons, the atmosphere remains positive, Anderson says. "The kids seem so happy to be there—enjoying the water, the exercise, and seeing their friends—even socially distantly." 
---
Schools
Teachers unions balk at FCPS return-to-school plan: Fairfax County's three major associations representing the interests of teachers are refusing to go along with the school system's fall reopening plan, urging their member teachers to request virtual teaching assignments. A joint statement from the associations notes that FCPS is asking all students and teachers by July 10 to choose between virtual and in-person learning for next school year. "Without providing much more detailed information about each of these options, neither group is able to make an informed decision at this time," says the letter from the three associations—the Association of Fairfax Professional Educators, the Fairfax County Federation of Teachers and the Fairfax Education Association.
If the vast majority of teachers follow the associations' guidance and opt for virtual teaching assignments next year, it would represent a major roadblock to the school system's efforts to return to in-person instruction in the fall for those students and parents who want it. The associations' defiant posture comes after Superintendent Scott Braband sent an email to all FCPS parents asking them to choose by July 10 between these two options:
Full-time online instruction. Virtual, interactive instruction will be provided four days a week. 

Or

At least two full days of instruction in your child's school each week with students engaged in independent study and work on the days they are not in the school building. It's possible we will be able to provide more than two days of instruction at school each week depending on the number of students who choose to go virtual, full time.
FCPS has set up a website that seeks to answer questions about its fall return-to-school plan here.
School Board votes to rename Robert E. Lee High School: The School Board has voted to rename Robert E. Lee High School—a move that had been stalled by the COVID-19 shutdown but was put back on the front burner as Black Lives Matter protests swept the nation. After the vote, we reached out to Kimberly Boateng, whom we interviewed about the issue for our June 15 edition, to get her reaction. Boateng, a rising senior at Robert E. Lee, is nearing the end of her one-year term as the elected student representative to the School Board.
"I, of course, am very happy about the outcome of the vote, but, in all honesty, I expected nothing less because it is truly and honestly the right thing to do," she tells us. "Regardless of which name they end up choosing I'm just so glad I'll never have to explain why I go to Robert E. Lee High School ever again."
New names under consideration include John Lewis, Barack Obama, Mildred Loving, Cesar Chavez, Legacy, and Central Springfield. The School Board will solicit feedback at a July 15 community meeting and vote to decide the new name on July 23.
Vandalism at Woodson: Woodson High School has experienced several recent acts of vandalism, Principal Carlyn Floyd said in an email to the community Friday. These include trailers and sheds being spray painted and the theft of the "Cavaliers" portion of the "Home of the Cavaliers" sign on the Main Street fence, as you can see in this photo: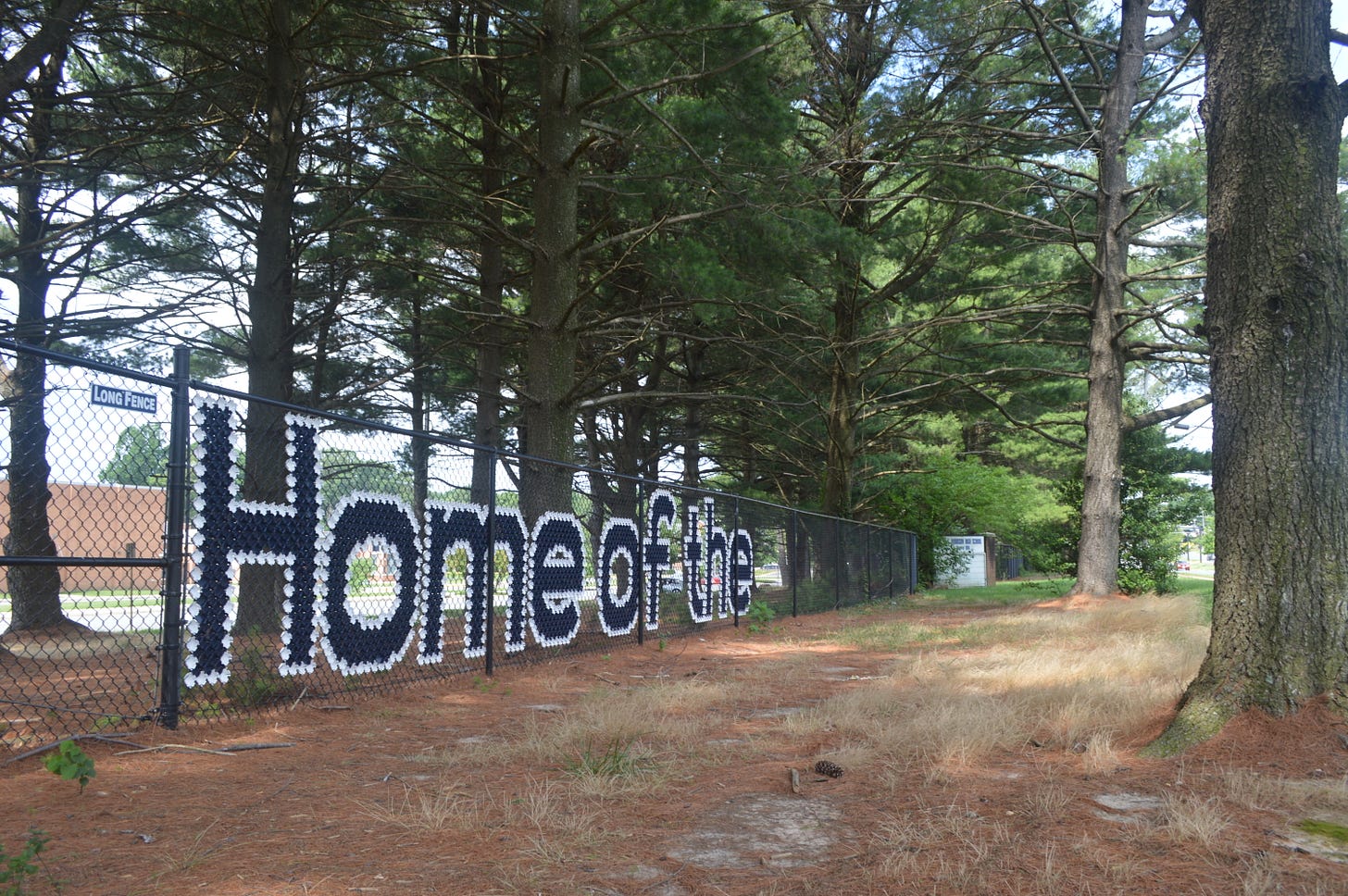 Principal Floyd said this in her note to the community:
This vandalism is not acceptable and while our video surveillance often indicates who the perpetrator is, the time and energy to rectify the incidents is costly. Please know that when we do identify the vandal, we make police reports and hold Restorative Justice sessions with the vandals, often to include restitution. We must come together as a community to stop this; when you see something, please say something. In addition, if you have some of the pieces (cups) from the fence at home, please let me know as we would like to replace the Cavaliers but will need to purchase more pieces to do so. We appreciate your assistance and please have conversations with your sons/daughters about the impact of vandalism around any public place.
Woodson QB nabs D1 offer: The Woodson football team's quarterback, rising senior Joe Pesansky, has received his first offer from a Division 1 program, Marist College, according to the scouting website Ultimate Recruit. "It's a great feeling to be able to fulfill my dreams of being a D1 athlete," Pesansky said. "It just lets you know that hard work really does pay off."
Break-in at Braddock Elementary School: There was a burglary at Braddock Elementary School around 1:47 p.m. last Monday, 6/22. "Someone broke into the school and stole property," says the daily police recap. The department declined to provide additional information, citing an active investigation.
---
Elections
Connolly picks up 90% of the home-turf Mantua vote: Six-term congressman Gerry Connolly defeated challenger Zainab Mohsini in last week's Democratic primary in Virginia's 11th District—winning 78% of the overall vote and 90% of the 178 votes cast in his own neighborhood, Mantua. The Republican Senate primary went to Daniel Gade, a retired Army lieutenant colonel who works as a professor at American University. Gade received 67% of the statewide vote and will face off in November against Democratic Sen. Mark Warner.
-The majority of Democratic primary votes were absentee: We reached out to the Fairfax County Elections Office to get a sense of whether county officials were successful in their efforts to encourage residents to vote absentee to avoid spreading coronavirus. In the 11th District Democratic primary, 61% of votes cast were absentee, according to figures provided by Cheryl Jones, the county's Assistant Registrar for Absentee Voting. The county-wide absentee numbers were far smaller in the Republican primary, with just 16% casting absentee ballots. Here in the Braddock District, 62% of all votes cast—across both primaries—were absentee, including curbside voting and mail-in ballots. Here's a Braddock District breakdown:

In all, Fairfax County approved 43,683 applications for absentee ballots, the most since the 2016 general election, when 57,256 applications were approved.
---
Events
Little Run transitions to vehicles-only Fourth of July Parade: The Little Run Citizens' Association has been hosting an annual Fourth of July Parade for decades—and it typically features neighborhood children walking, biking, and riding wagons through a large loop around the Ilda Pool. This year, the parade is transitioning to an all-vehicle event to comply with social distancing. Tricked-out vehicles will be driving this route next Saturday, starting at noon in the Ilda Pool parking lot. Prizes will be awarded in eight decorating categories: most patriotic, most creative, top Woodson senior graduate vehicle, most family-friendly, best summer/beach theme, oldest vehicle (aka the Old-Timer), most colorful, and top vehicle for supporting essential workers.
"Everyone is encouraged to join the fun," Little Run Citizens' Association President Brian Bishop said in an email to members. "The prizes are purchased. The categories are set. Judges are secured. The route is mapped out. Summer is here. Everything is a go."
Calendar
Tuesday, June 30: Woodson's virtual graduation begins at 11 a.m. It can be streamed here.

Friday, July 3: The Rocklands Barbeque food truck will be at WCRA on Friday evening, part of WCRA's Food Truck Fridays lineup.
---
Volunteer Opportunities
FCPS collecting donations to provide supplies for students in need: The Foundation for FCPS Collect for Kids program is accepting donations to provide school supplies to some of the county's 57,000 students who live at or below the poverty line. A $25 donation will provide a student with a backpack and supplies that are essential to a successful academic year. You can donate here.
---
Real Estate
Sponsored Content
Jennifer Mack column: How careful planning led to a sale on Braeburn Drive at $55K above list price
Hello, and welcome to my debut real estate column, where I look forward to offering strategies to help you make more informed decisions about one of your most important assets—your home. First, an introduction: My name is Jennifer Mack, and I've been a Realtor for 15 years. My team services Virginia, Maryland, and D.C., with the bulk of my business in the Woodson High School area. I work with Pearson Smith Realty, and I'm active in the community, serving on the Board of the Central Fairfax Chamber of Commerce.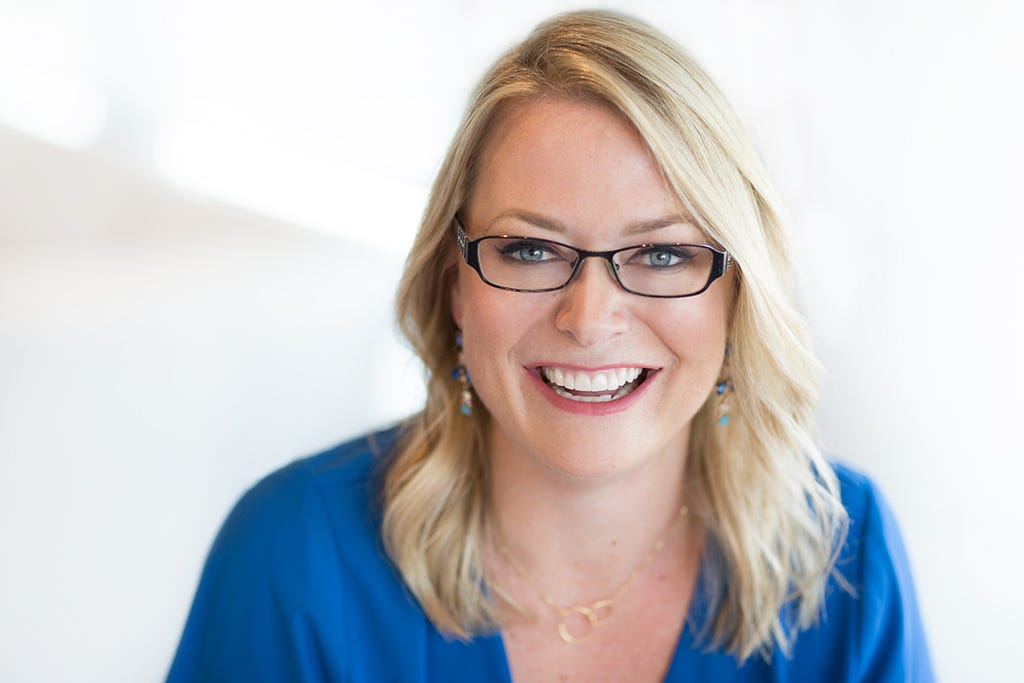 Today, I'd like to tell you about a recent sale at 9021 Braeburn Drive, which is in the Springbrook Forest community near Canterbury Woods Elementary School. The sale shows how careful planning well in advance can yield fantastic results once it's time to list.
I met the owner of the home in early 2019 at a community event, where he mentioned plans to sell in the coming year. Together, we decided he should take advantage of the intervening months to make improvements that would have the biggest impact without breaking the bank.
During a consultation, I gave him a short but important list of things to do to prepare. For example, the bedroom in the basement that he was using as a woodworking shop was cleaned up, painted, and repurposed as a legal bedroom, bringing in huge value. Here's a before-and-after photo:

In addition, several outdated light fixtures were replaced, and some taste-specific accents were removed and replaced with modern, crowd-pleasing pieces. We staged at no additional cost with items from our inventory and had a twilight photoshoot of the backyard to showcase this truly special feature of the home, as you can see here: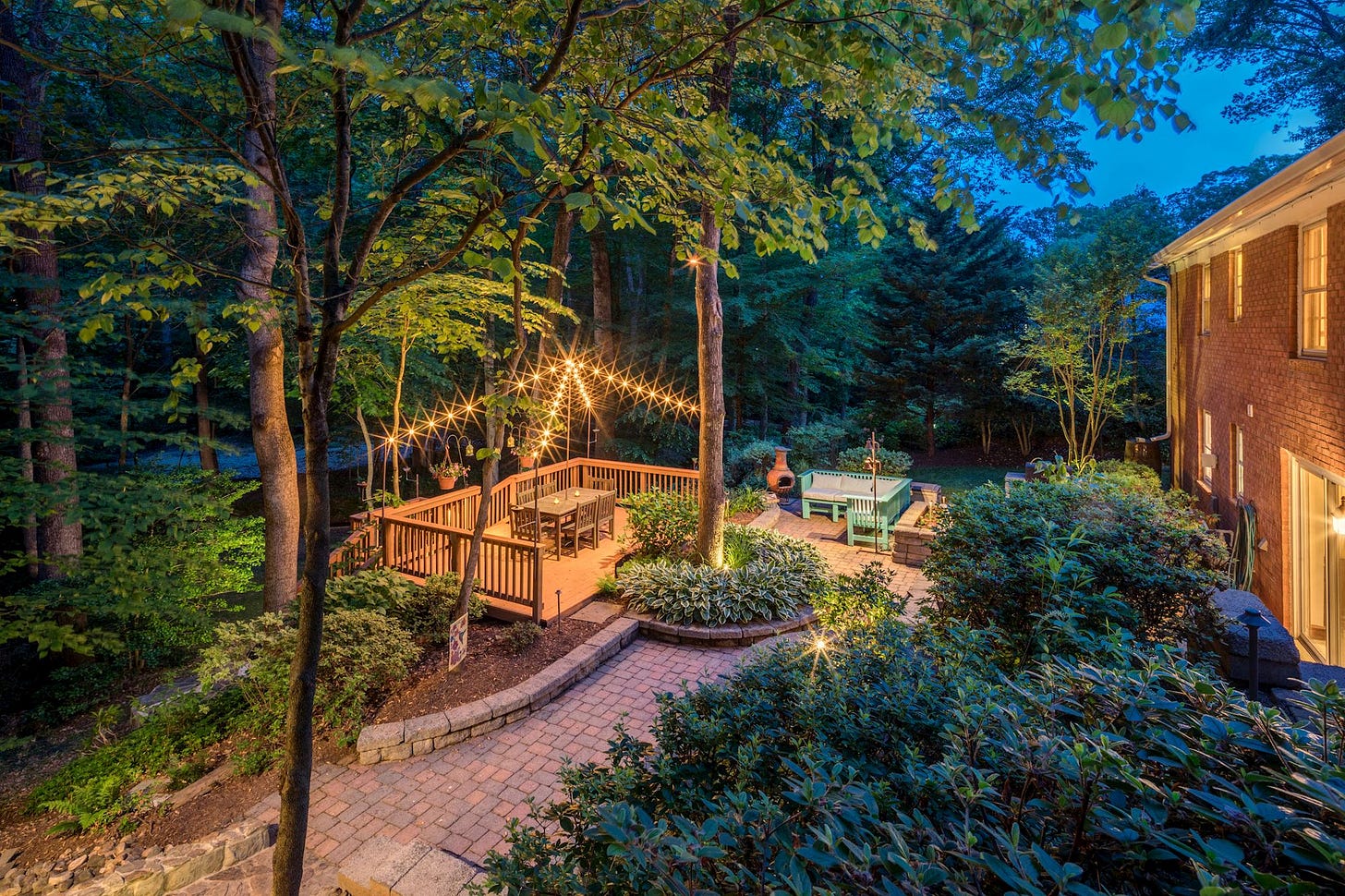 Ultimately, I was able to present ten offers and we closed this month at $55,000 over list price. Best of all, there were no contingencies, which means no additional cost for repairs or risk that the house would not appraise. 
I truly enjoy partnering with local homeowners to get them the most money for their property—and I look forward to telling you more about this process next week. In the meantime, feel free to reach out to me with real-estate questions at jennifer@jennifermackproperties.com.
On the market
4711 Wakefield Chapel Rd | $735,000
4 beds, 2.5 baths, 1,677 sf
Listed by Phan Pham | Fairfax Realty Select
4500 Fidelity Ct | $674,900
4 beds, 3.5 baths, 2,112 sf
Listed by Luis Lugo | LPS Real Estate, LLC 
8604 Norfolk Ave | $1,449,900
6 beds, 6.5 baths, 5,750 sf
Listed by Lynne DePaso | Land & Homes LC 
Recently sold
9021 Braeburn Dr | $655,000
4 beds, 3 baths, 2,250 sf
Listed by Jennifer Mack | Pearson Smith Realty, LLC 
Bought with Elizabeth Lord | Keller Williams Realty
8618 Pappas Way | $700,000
4 beds, 2.5 baths, 2,562 sf
Listed by Jon DeHart | Long & Foster Real Estate, Inc. 
Bought with Karen Olmstead | Coldwell Banker Residential Brokerage 
5111 Kind David Blvd | $750,000
4 beds, 3.5 baths, 3,221 sf
Listed by Kathleen Stark | Weichert, REALTORS
Bought with James Fox | Imaginova LLC
8324 Briar Creek Dr | $843,000
5 beds, 2.5 baths, 3,165 sf
Listed by Jana Gilbert and Kay Graff | Weichert, REALTORS
Bought with Thomas Arehart | Samson Properties
---
Thank you for reading Wakefield Weekly! You can contact us at wakefieldweekly@gmail.com with news, tips, featured photo submissions, volunteer opportunities, or just to say hello. And, if you haven't already, we hope you'll subscribe using the button below.