Discover more from Braddock Buzz
a weekly newsletter covering central Fairfax County
Over 1,000 subscribers
Bicyclist killed by falling tree near Accotink Trail - Park Authority updates residents on Long Branch Stream Valley Trail maintenance
Canterbury Woods trash petition hearing delayed - Deer management archery program resumes
Welcome to Wakefield Weekly, where we're building community through hyperlocal news. Reach out to us with news, tips, and more at wakefieldweekly@gmail.com.
Big thanks to our sponsor, Realtor Jennifer Mack, whose column today discusses the importance of accurate pricing. Reach out to Jennifer with real estate questions at jennifer@jennifermackproperties.com.
Bicyclist killed by falling tree near Accotink Trail: Some tragic news for our community—a bicyclist was killed on August 30 by a falling tree near the Accotink Trail in the Kings Park area, according to the Fairfax County Fire and Rescue Department. Here's the full statement on the incident from department spokesperson Ashley Hildebrandt:
On August 30, at 9:25 a.m., Fairfax County Fire and Rescue responded to reports of an accident involving a cyclist near the intersection of Uxbridge Court and Danbury Forest Drive in the Kings Park area of Fairfax County. Arriving units discovered a male bicyclist with injuries resulting from a fallen tree. The patient sustained significant injuries and was transported to a local hospital. He later succumbed to his injuries.
Hildebrandt did not release the victim's name, citing HIPAA.
We reached out to the Fairfax County Park Authority to ask if the many trees and branches that overhang local trails represent an ongoing public safety concern. Park Authority spokesperson Judy Pedersen responded that the department "would not consider this to be an ongoing hazard." She noted that such incidents are "exceedingly rare," adding: "To our knowledge there has not been a similar occurrence in our parks." 
"We are saddened by the terrible event in which the cyclist was killed and offer our condolences to his family and friends," Pedersen said.
She provided the following statement explaining how the Park Authority handles resident complaints of dangerous or leaning trees:
We have a forestry program which responds to resident complaints and reports of dangerous leaning trees or snags. Once it is reported, it is logged and then responded to. In Fiscal Year 2020, funding in the amount of $670,000, a funding increase of $250,000 from previous years, was provided to address hazardous trees that exist on parkland.  FCPA has about 24,000 acres of which about 77% is forested. FCPA Forestry averages about 1,500 removals per year.

Trees are impacted by weather, age and disease. FCPA Forestry responds to all public inquiries/requests for tree work. We get notified via phone, email, BOS office, etc. about a tree needing attention, we enter a work order for inspection of the tree(s) and Forestry schedules the inspection usually within 10-14 days of initial receipt of a tree inquiry. Reports can be sent to https://www.fairfaxcounty.gov/parks/tree-removal

As for the inspections, they are conducted by one of our two Certified Arborists. They assess the tree using industry standard Tree Risk Assessment for risk rating. If deemed appropriate for removal, they will process that next step and the tree will either be removed by staff or a contractor. Where an imminent threat to public safety is reported or determined by park staff, we assess the situation and take corrective action.
Neighborhood News
Canterbury Woods trash petition hearing delayed: Fairfax County has postponed by at least six months a public hearing that was slated for October on the successful petition drives in Canterbury Woods and other neighborhoods to move from private to county trash pickup. "We have put another hold on creating new Sanitary Districts or enlarging districts with over 20 lots for now, postponing them from going to Public Hearing until normal operations can resume," the county said in an email to petition organizers. "Your petitions will get advertised and rescheduled for Public Hearings once this crisis is over."
The county listed the following reasons for the delay:
a national shortage in commercial truck drivers

a low regional unemployment rate which makes hiring collection crews difficult

changes in industry economics caused by the collapse of regional recycling markets

related struggles by one of the county's largest waste collectors to provide reliable service

the Covid-19 pandemic, which further challenges worker attendance, safety, and operational efficiency
In June, the 517 homes of Canterbury Woods reached the 55% threshold of "yes" votes to move to county trash, recycling, and yard waste. But for the petition to take effect, it would have to be approved by the Board of Supervisors, following a public hearing. In Truro, some residents have also voiced dissatisfaction with the two private collectors, American Disposal Services and Republic Services. Truro residents are considering launching their own petition drive—but they're waiting first to see whether the Canterbury Woods effort gets approval.
Featured Photo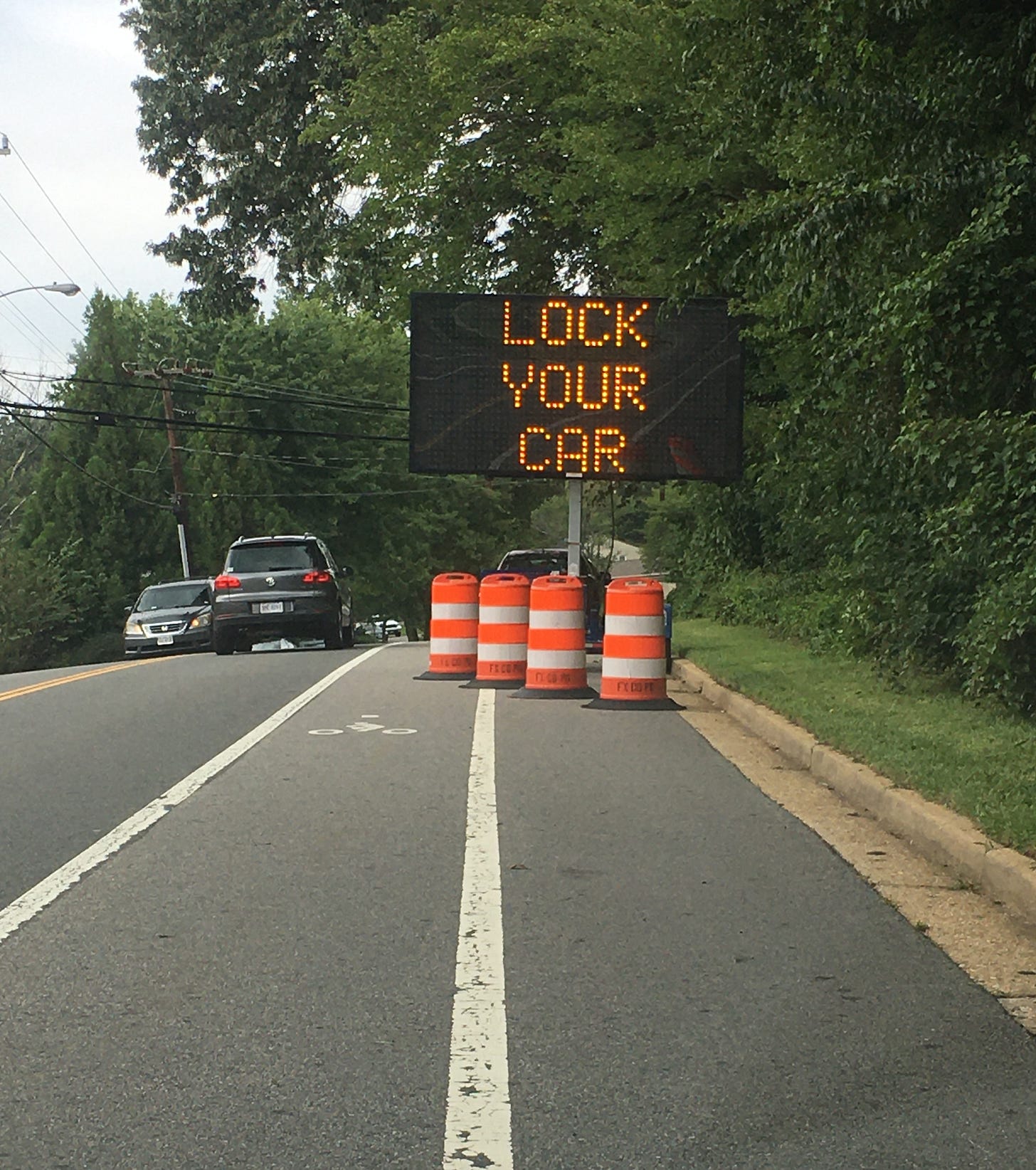 A message board was stationed on Wakefield Chapel Road last week reminding residents to take precautions to prevent car theft. This follows a spate of car break-ins in the area, including four cars stolen the night of August 24 in Canterbury Woods. Photo by Wakefield Weekly.
Parks
County updates residents on Smokewood Park bridge, Long Branch Stream Valley Trail maintenance: The Park Authority held a virtual meeting last week to update the community on two projects in the area—a new pedestrian bridge at Smokewood Park and the paving of the Long Branch Stream Valley Trail.
-In Smokewood Park, a pedestrian bridge was determined earlier this year to be structurally unsound, its "bottom trusses almost completely rotted away," according to Braddock District Supervisor James Walkinshaw. Since then, the county has identified funding to replace the bridge with one made of fiberglass. Construction is set to begin in February and wrap up in March.
-As for the Long Branch Stream Valley Trail, the current crushed gravel trail will be paved with asphalt, a $674,650 project to be completed in three phases to allow continued access to portions of the trail during construction. The majority of the trail is in "poor condition," according to Tom McFarland of the Park Authority, who cited several reasons for paving the trail, including the constant flooding that has led to widening and braiding. You can find more info on the project here.
Deer management archery program resumes: Fairfax County's deer management archery program resumed on Saturday at parks and other locations, including Lake Accotink Park, Long Branch Stream Valley Park, and Wakefield Park. The program, intended to reduce an overabundance of deer, will run through February 20, according to the Fairfax County Police Department. Parks will remain open, but visitors are urged to stay on the trails.
In a blog post, the police department addressed safety concerns about the archery program:
Because of its proven track record of safety, archery is a preferred deer management method in Fairfax County. Archery is a compatible use with residential areas and community parks, allowing for deer population management in urban and suburban areas. Since Virginia began tracking hunting injuries in 1959, no bystanders have been injured by an archer hunting deer anywhere in the Commonwealth.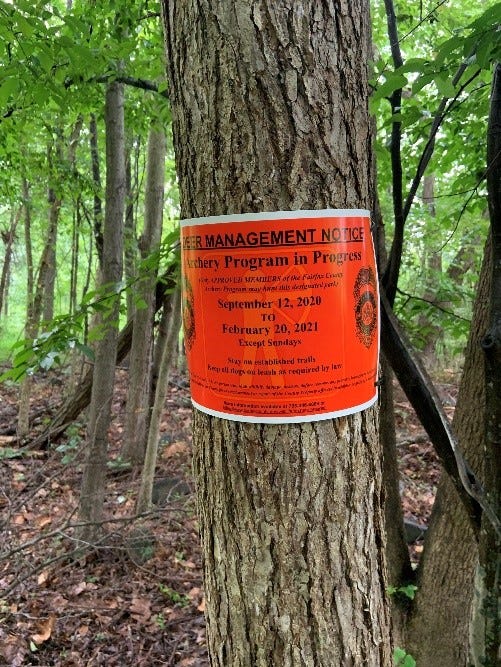 Courtesy: Fairfax County Police Department
Events
September 16: The Braddock District Council will hold a virtual meeting at 7 p.m. to discuss insurance requirements for community associations. Dial-in information can be found in the latest edition of Supervisor Walkinshaw's Braddock Beacon.

September 26: The "Stuff the Bus" food drive will be collecting donations via Fastran bus from 10 a.m. to 3 p.m. at three locations in the Braddock District: the Braddock District office at 9002 Burke Lake Road Burke, the Government Center at 12000 Government Center Parkway, and the Oaks Community Center at 5708 Oak Leather Dr.
Real Estate
Sponsored Content
Jennifer Mack column: The importance of accurate pricing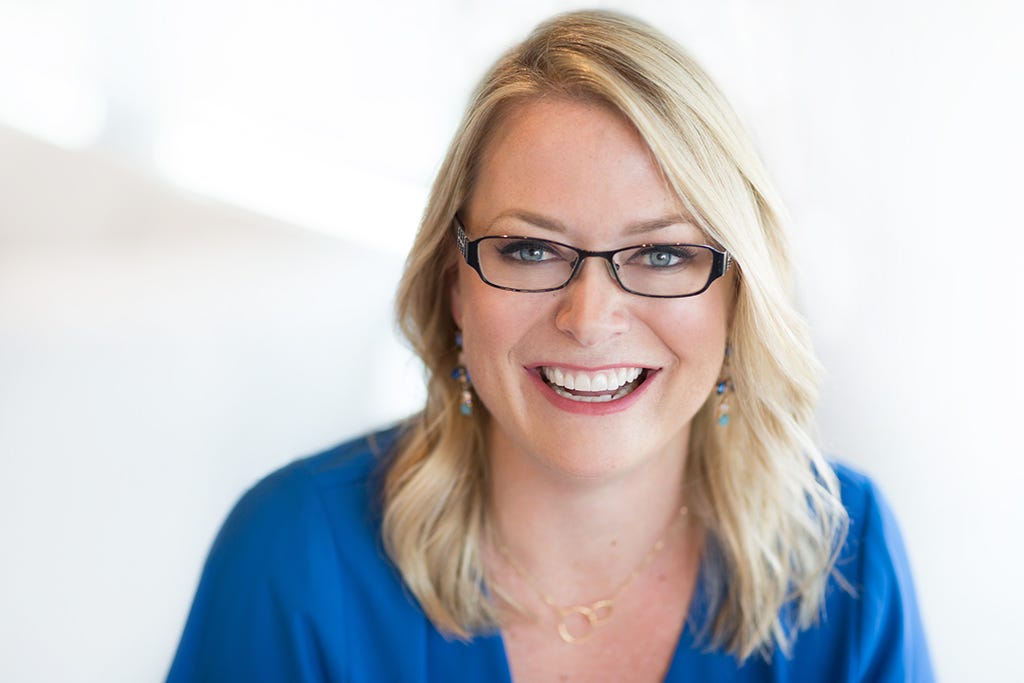 Pricing a home accurately is one of the most valuable skills you pay a real estate agent for when you list your home. Although some homes are easy to price, such as a newer condo or townhome in a neighborhood with lots of recent sales, most homes are complicated. In my opinion, there is nothing more important than pricing a home correctly to ensure the highest net proceeds for a seller. 
Many homeowners believe they should list at the highest price they can imagine commanding and then reduce the price if they do not receive an offer. In practice, that strategy often fails. Why? Homebuyers in our market are conditioned to look for homes that are "fresh" to market. Given how competitive our area is, homes are considered somewhat stale after just six or seven days on market. This means that homes start to become stigmatized quickly if it appears the market is rejecting them. This is when we see offers coming in below list price and buyers having more leverage than they otherwise would.  
Today's homebuyers have access to more sales data than ever before and are easily able to identify when a home is priced too high. In my experience, when buyers believe that a home is overpriced they do not even want to view it. Between the busy schedules of most people in this area and the safety precautions needed around Covid-19, most buyers do not want to view homes in person that they don't see as viable options. For this reason, overpriced homes will not get as many showings and hence fewer offers, if any at all.
In a robust market like we have in this area right now, homeowners who carefully prepare for market can trust that the market will respond favorably to an accurately priced and well-presented home with strong offers—oftentimes above the listed price should the home warrant it.
Jennifer Mack has more than 15 years of experience in the real estate industry. Her team services Virginia, Maryland, and D.C., with the bulk of her business in the Woodson High School area. You can contact her with real estate questions at jennifer@jennifermackproperties.com or by calling 703-672-0038. She's happy to answer specific questions privately or more general questions publicly in this column.
On the market
9213 Claytonia Ln | $693,888
4 beds, 3.5 baths, 2,008 sf
Listed by Debbie Dogrul Associates and Nicole Dash | Long & Foster Real Estate, Inc.
5038 Glen Park Rd | $899,900
4 beds, 3.5 baths, 4,434 sf
Listed by Casey Samson and Pat Samson | Samson Properties
4832 Red Fox Dr | $609,888
4 beds, 2.5 baths, 1,930 sf
Listed by Debbie Dogrul Associates and Jay D'Alessandro | Long & Foster Real Estate, Inc.
8506 Bromley Ct | $719,000
5 beds, 2.5 baths, 1,248 sf
Listed by Steve Patten | RE/MAX 100
8625 Blackpool Dr | $665,000
4 beds, 4 baths, 3,305 sf
Listed by Debbie Dogrul Associates and Nicole Dash | Long & Foster Real Estate, Inc.
5002 Wakefield Chapel Rd | $650,000
5 beds, 3 baths, 2,464 sf
Listed by Chris Colgan | Keller Williams Realty/Lee Beaver & Assoc.